With one of Southeast Asia's fastest growing economies, a skilled and cost-competitive talent pool, and an expanding group of middle-class consumers, it comes as no surprise that Vietnam sits on the top of the list on many Singapore startups' international expansion plans.
Vietnam was among the few countries in the world to achieve positive economic growth amid the pandemic and an up-and-coming hotspot for innovation and startup activities in the region. In 2022, it emerged as the third largest startup ecosystem in Southeast Asia, after Indonesia and Singapore, with its 3,800 startups and four unicorns.
Since 2020, Vietnam has recorded emerging sectors which include education technology (EdTech), health technology (HealthTech), and business automation. Coupled with rapidly rising interest in innovative solutions across sectors such as sustainability, smart cities, and cybersecurity, these trends present invaluable opportunities for Singapore startups with the right innovation and global expansion game plan to find success in Vietnam.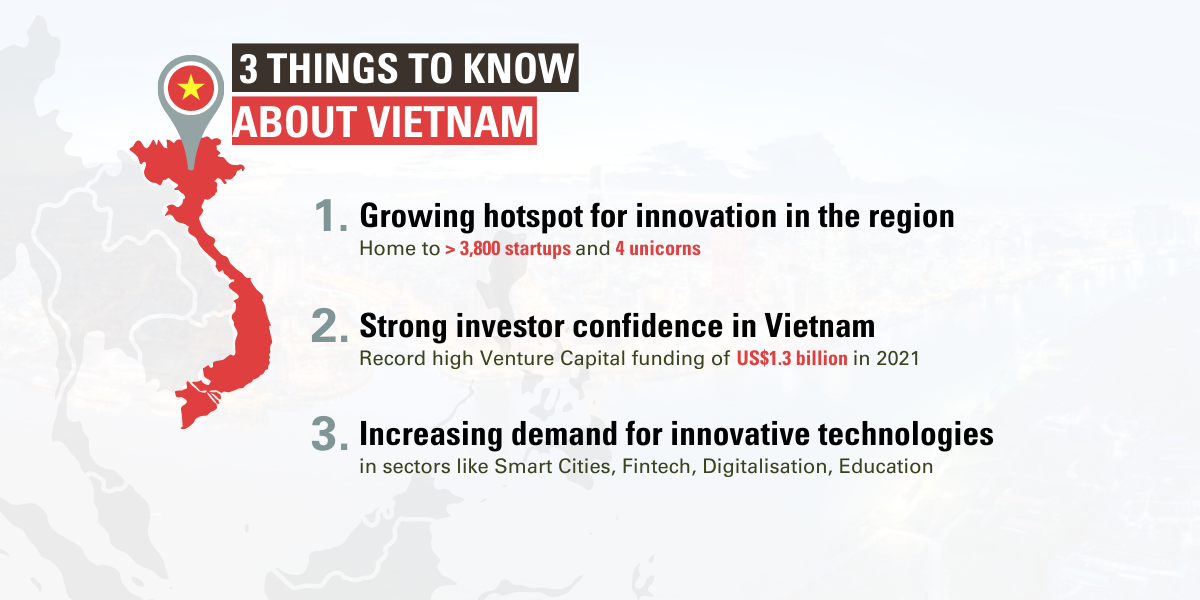 Access Vietnam with the Global Innovation Alliance (GIA)
In your business expansion into any foreign market, it is pivotal to build a trusting network with the right local partners and clients. Not only will these connections equip startups with a deeper understanding of the local markets and trends, it will also open doors to new co-innovation collaborations that may be vital for further growth.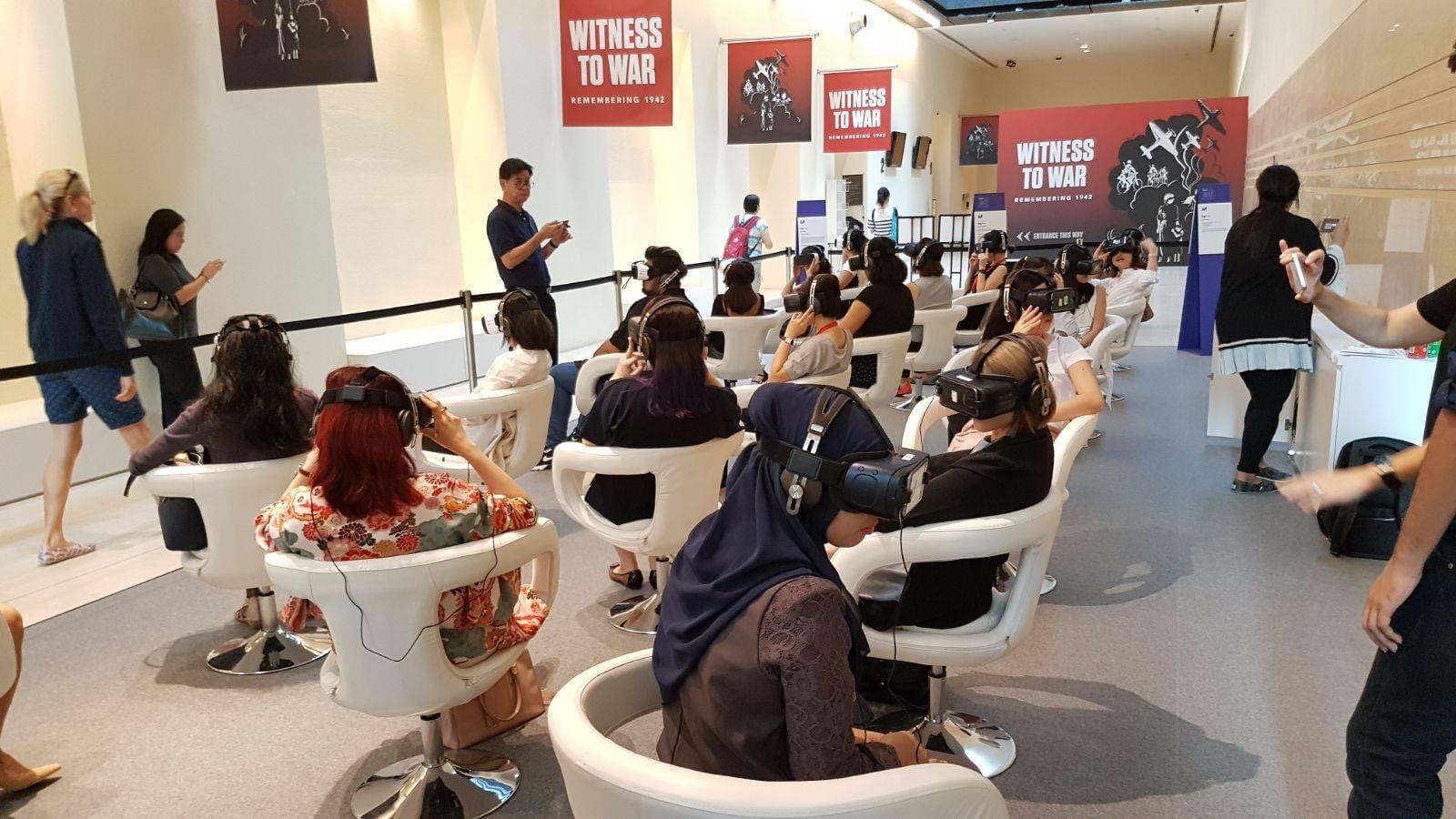 Hiverlab is one such company which harnessed the power of networking through the GIA network to find success beyond Singapore. Hiverlab drives digital transformation with emerging technologies such as augmented reality (AR), virtual reality (VR), mixed reality (MR), data analytics, cloud computing and many more.
Looking to enter a new market to reach a whole new customer base and diversify their revenue stream, Hiverlab looked into Vietnam as its next market of choice. The rapid economy growth and development in key sectors such as manufacturing, logistics and supply chain proved to be especially attractive for the Singapore-based startup.
Like many other startups first setting foot abroad, Hiverlab knew that a strong network of in-market business partners could make the difference between success and failure in Vietnam. With that in mind, the Singapore-based startup participated in the very first cohort of the GIA Acceleration Programme to Ho Chi Minh City.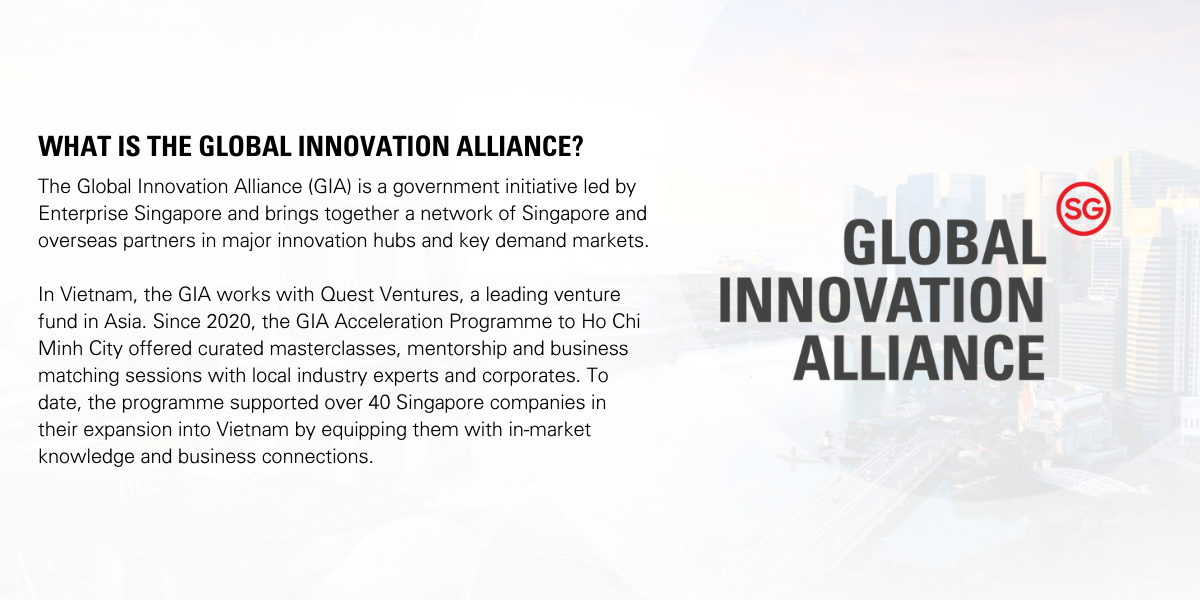 Through the GIA programme, Hiverlab was connected to in-market partner, YellowBlocks, a consulting firm in Vietnam which provides local insights and networks for leading technology companies. Together, they explored the suitability of immersive technology solutions in Vietnam and how Hiverlab's innovative technology could benefit potential in-market clients.
This project with YellowBlocks proved to be invaluable, opening doors to further connections within the local market. Armed with the right product offering to enter the Vietnam market, Hiverlab was introduced to Tech JDI Ltd, a venture studio which provided key legal insights and accounting expertise needed to form the foundational structure of Hiverlab's business in Vietnam.
Tapping local knowledge and adopting best practices, the GIA programme accelerated Hiverlab's entry into Vietnam and propelled its growth within the market. With the right product and business knowledge, it was not long before Hiverlab gained critical credentials as mixed reality (MR) hardware supplier and connected with Microsoft to become its exclusive reseller for Hololens 2.
The partnership with Microsoft has since cemented Hiverlab's role to develop the mixed reality (MR) ecosystem in Vietnam, with the Singapore startup now securing collaboration projects with 40 different companies across industries.
Recruit right with the Global Tech Talent Alliance
Whether in Singapore or abroad, having the right talent is crucial for many technology startups. The Global Tech Talent Alliance (GTTA) aims to support startups' internationalisation efforts by facilitating access to in-market tech talents within Vietnam.
With its close geographic proximity to Singapore, an offshore tech talent team that is easily managed from local headquarters may be the first step into Vietnam for Singapore startups. These talents come equipped with knowledge of the local market and language, and can provide valuable insights such as market fit.
First launched in 2021, the GTTA helps to provide curated list of talent service providers who are experienced in building the right local teams.
Building an innovation ecosystem between Singapore and Vietnam
For startups who are looking to make their foray into overseas markets, starting out can seem like a daunting task. A strong network of Singapore and in-market partners will provide the much needed guidance across each startup's international expansion journey.
Homegrown players like BLOCK71 and Eduspaze have made the move in Vietnam, paving the way and supporting other Singapore startups looking to do the same.
As Singapore's first education technology (edtech) specialised accelerator, EduSpaze aims to nurture a vibrant edtech startup ecosystem to serve the education sector in Singapore and Southeast Asia.
Having recently conducted its fourth accelerator programme, EduSpaze provides Singapore startups with the necessary industry connections and networking opportunities throughout its three-month programme.
Got a brilliant innovative technology and looking to expand beyond Singapore?
Vietnam might be the market for you. Dive deeper into the Vietnam market and learn more about how GIA could pave your way into Vietnam.