Enterprise Leadership for Transformation
For business owners seeking to transform and grow the business to the next level
Strengthen business fundamentals and be exposed to new business models and practices
Be guided by business coaches to develop a business growth plan
About this programme
Enterprise Leadership for Transformation (ELT) is a one-year programme to help business leaders strengthen business capabilities and develop strategies for the next bound of growth. The programme is conducted by a network of partners including public and private education institutes, financial institutions, and industry experts.
This programme has four key components:
---
Profile of ELT Companies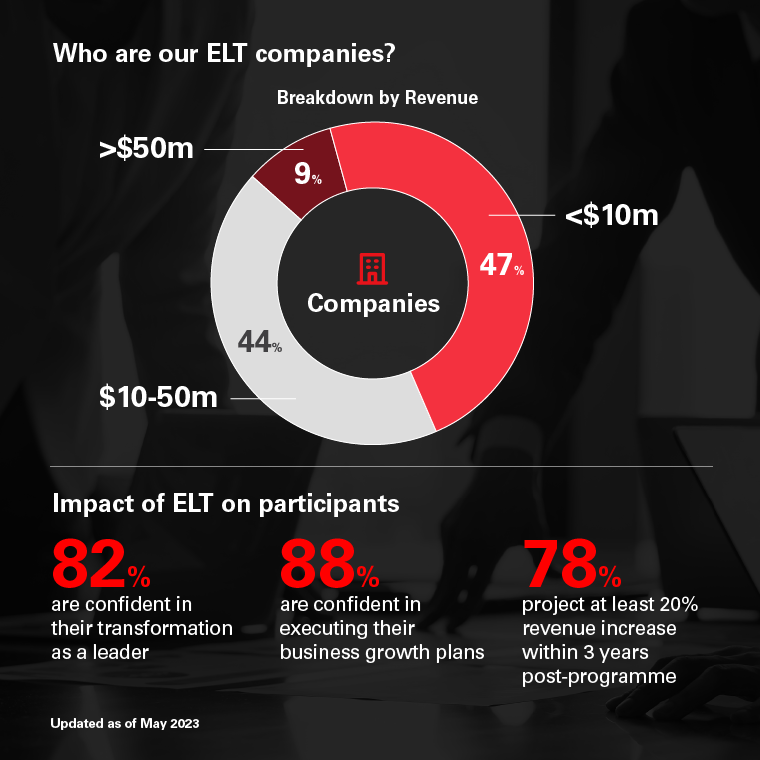 ---
Programme Managers
Nanyang Technological University (NTU)

Conducted by NTU Entrepreneurship Academy (NTUpreneur), the ELT by NTU programme helps to transform your company with innovative and actionable business growth plans – through a technopreneur-centric and experiential learning approach. Gain access to NTU's industry contacts, global alumni network, and NTUpreneur's experience in the digital space.

Click here for more information on the ELT by NTU programme.

National University of Singapore (NUS)

Designed by CEOs and academia, the ELT by NUS programme combines classroom learning with practical 'doing' from the start. The programme includes professors who are ranked top 2% globally in their fields of study and teach on NUS' internationally-recognised MBA/EMBA programme. An advisor team comprising CEOs and senior leaders with global backgrounds will also be sharing their experiences and mentoring you through the programme.

Click here for more information on the ELT by NUS programme.

Singapore Management University (SMU)

The ELT by SMU programme—led by both SMU Academy and UOB-SMU Asian Enterprise Institute—offers an application-oriented learning experience with tailored coaching. Join the programme to learn strategies for overcoming multi-generational mentality, glean insights from guest speakers, and take on challenges to seize new opportunities for your business.

Click here for more information on the ELT by SMU programme.

Singapore University of Social Sciences (SUSS)

The Centre for Continuing and Professional Education (CCPE) manages the ELT by SUSS programme, which prioritises practical application over theory. The programme is designed within a simulated boardroom environment for you to build and expand your network. Upon completion of the programme, you can receive personalised coaching for six additional months to implement your strategic growth plans.

Click here for more information on the ELT by SUSS programme.

Singapore Institute of Management (SIM)

As a leading private education and lifelong learning institution, SIM equips enterprises to be future-ready. The ELT by SIM programme adopts a structured framework called D.A.S.H.+ and offers practical know-how to accelerate business growth. Develop enhanced leadership and innovation competencies, build business growth capabilities, and learn from industry experts with extensive corporate experience through the programme.

Click here for more information on the ELT by SIM programme.
Programme Partners:
Citi Commercial Bank
DBS
HSBC Singapore
United Overseas Bank
---
Eligibility
---
Fees
The course fee is on average S$30,000 per participant before subsidies. Companies eligible for subsidies pay approximately S$4,000, or S$1,000 (if tapping on the SkillsFuture Enterprise Credit).
For more details on the course fees and funding support, please contact the respective Programme Managers.
---
How to apply
Please prepare the following documents before submitting the ELT application form:
ACRA Bizfile (within past 6 months)
Company's financial statements for the most recent financial year
Recent resume for each participant
Recent organisation chart with participants' positions

Information requirements (from the most recent four years)

Shareholding details
Annual sales turnover, operating profits
Internationalisation track record
Annual wages
Annual sales turnover and operating profits
Total number of employees
Participant details
Receive your confirmation
Upon submission, you will receive an application reference number and confirmation email to acknowledge your application. Please keep a record of the email.
If you do not receive this acknowledgement within 1 working day, please contact us at elt@enterprisesg.gov.sg.
Please note that programme admission is not guaranteed upon application. As placements are limited, only shortlisted applicants will be invited for a follow-up discussion with the Programme Managers. We seek your understanding that only fully completed applications will be processed.
Submit your application for the Enterprise Leadership for Transformation (ELT) programme through our online form today.
---
Enterprise Leadership for Transformation
Other growth and transformation initiatives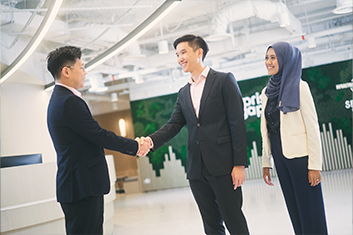 Growth partnership programme for high-growth local companies to scale and become future global champions.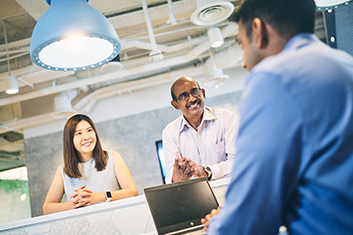 Tap a network of experts for projects to transform your business in areas of expertise.