SME Centres
~25,000 enterprises are assisted by SME Centres yearly through 1-1 business advisory, capability workshops and group-based upgrading projects.
Make the SME Centre a partner in your business growth journey. We have teamed up with five trade associations and chambers to set up a network of 11 SME Centres across Singapore.
Our experienced Business Advisors at the SME Centres act as consultants and are here to support you in growing your business, through areas such as overseas expansion, financing, productivity and HR. Book a complimentary consultation at a SME Centre of your choice here.
Working with the Business Advisors
They offer:
Vast experience and networks in consulting with SMEs across different industries
1-on-1 engagement with you to understand your company's needs to problem solve
Standardised workshops by capability areas/skills identified for SMEs
Other services such as: facilitating technology adoption, process design and conducting business diagnosis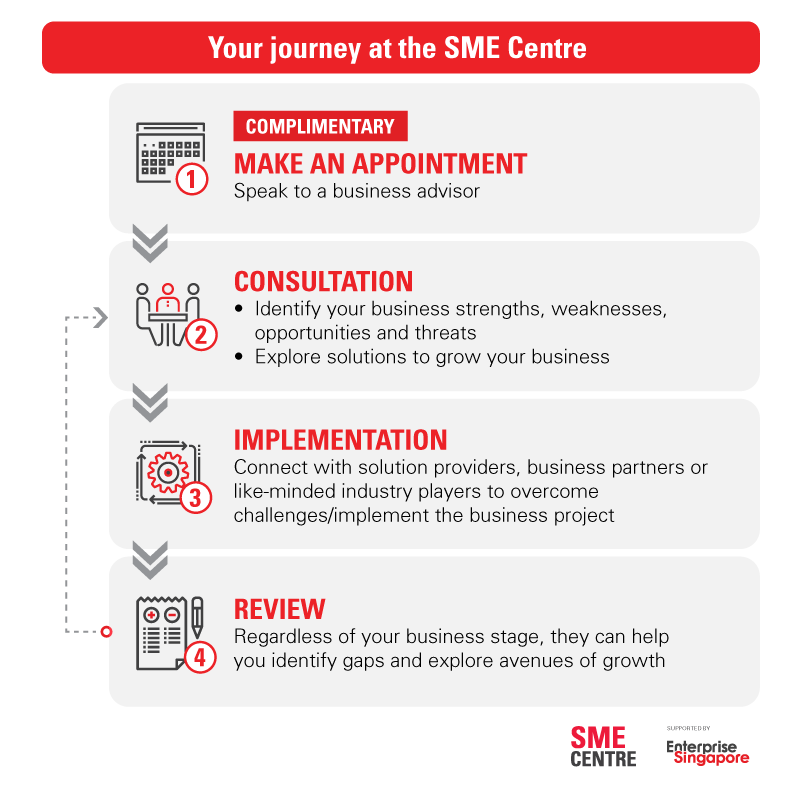 Find out how the other SMEs are transforming with the help of the SME Centre.
Victor is knowledgeable in all areas related to HR and client relationship management. Aside from being responsive, he takes a proactive approach in updating me on the available support for my business. Since then, I have recommended SME Centre services to fellow business owners.
June Sun
MindChamps Preschool @ Raffles Town Club Pte Ltd (Visited SME Centre@ASME)
Guna understands the needs of SMEs and taps their centre's network to help us explore solutions that will help our business grow. The SME Centres are great hand-holding resources within short reach.
Tai Seng Yee
Executive Director, ZENXIN Agri-Organic Food Pte Ltd (Visited SME Centre@SICCI)
Sneha has provided timely and top-notch support in operational, functional and strategic factors involved in our expansion to Hong Kong. She has also been responsive in facilitating with our application for support to accelerate our diversification plans. We will continue to refer fellow SMEs to SME Centre and Sneha for help.
Raymond Chan
Director, Piloto Asia Pte Ltd (Visited SME Centre@SMCCI)
We are grateful to Davin for his valuble advisory, which facilitated our applications for support in our business growth. With his extensive knowledge of available programes, Davin could recommend the most suitable ones for our needs. We appreciate his attentive listening and insightful advice, particularly during the challenging pandemic period. 
Joseph Tan
Director, Lian Eng Pte Ltd (Visited SME Centre@SMF)
I jumped on the opportunity and signed up for the multi-channel e-commerce programme, after attending one of SME Centre@SCCCI's workshop. The timing was perfect - having started on this before the COVID-19 outbreak, enabled me to expand overseas, despite border closures.
Lily Loh
Owner of Lilo Health Food Pte Ltd (Visited SME Centre@SCCCI)
---