Year-In-Review 2022
Find out how we helped enterprises transform and grow.
Overview
In 2022, we helped enterprises seize opportunities locally and abroad against the backdrop of significant economic challenges. 18,100 Singapore enterprises built new business capabilities, innovated and expanded overseas with our support.
This is estimated to create S$17.8 billion in value-add and 23,800 skilled jobs for the Singapore economy.
This year, as we shift our focus beyond the pandemic, businesses must remain agile to navigate the potential headwinds ahead. We will continue to work alongside companies to deepen their capabilities and help them remain resilient, capture new growth opportunities, and scale globally.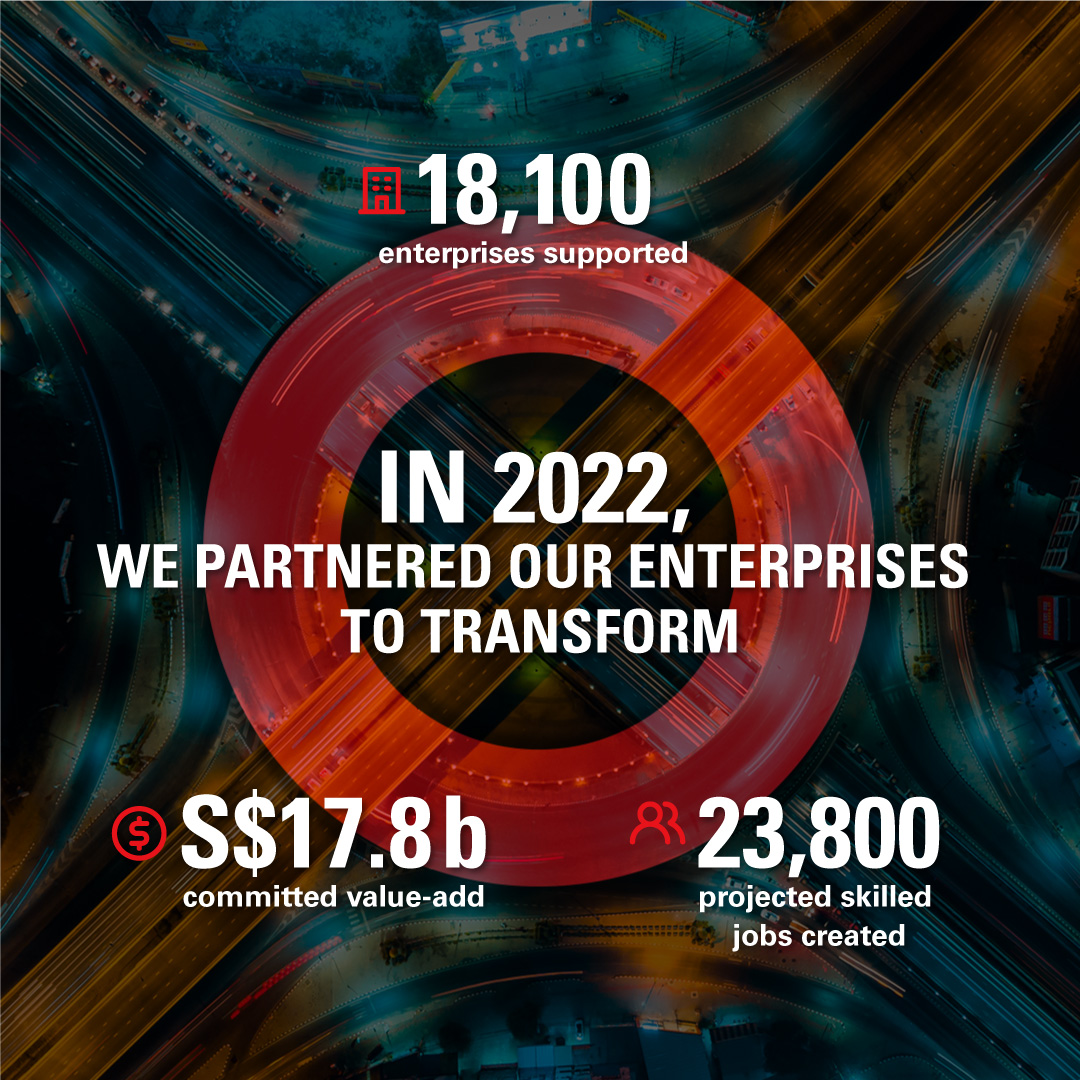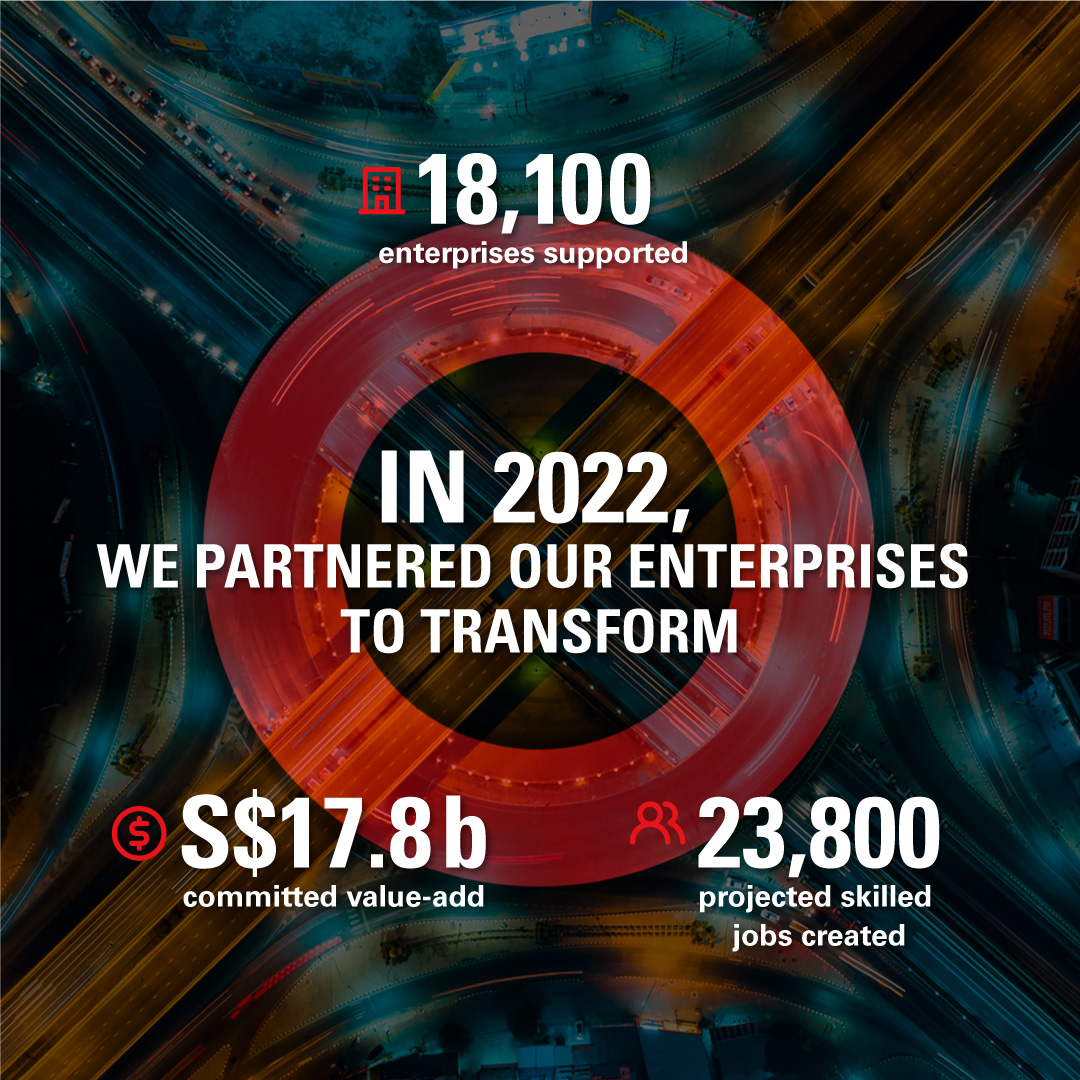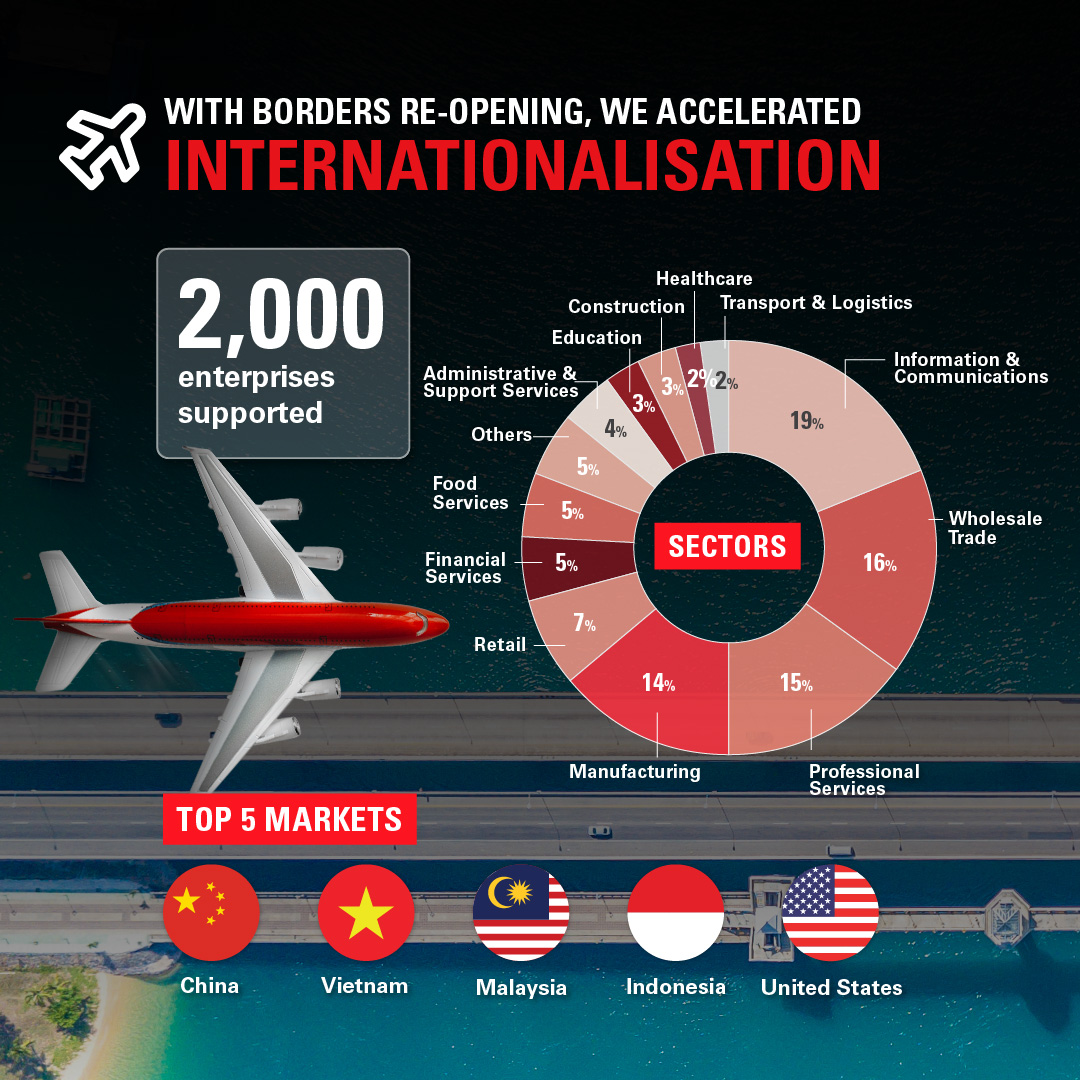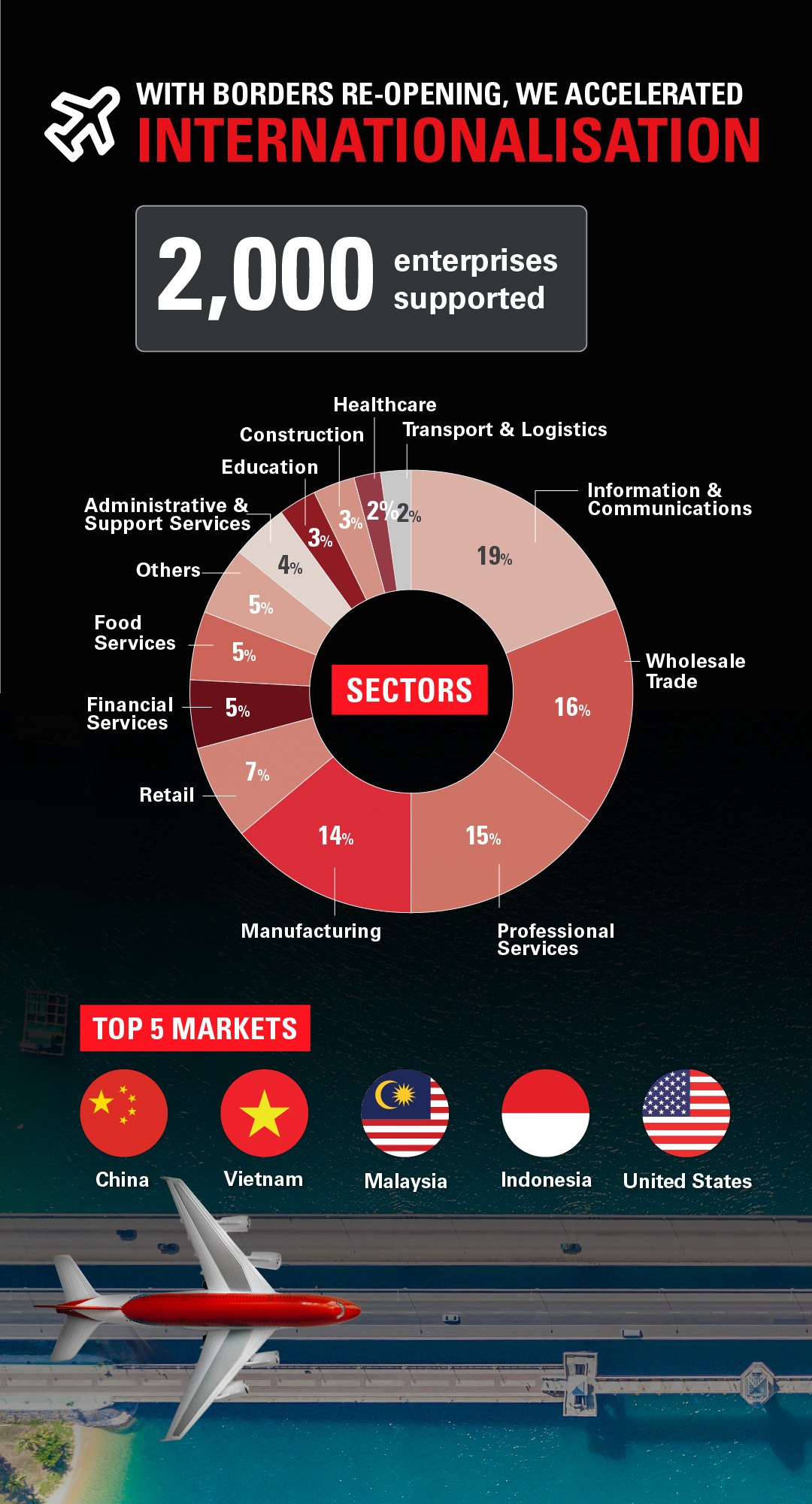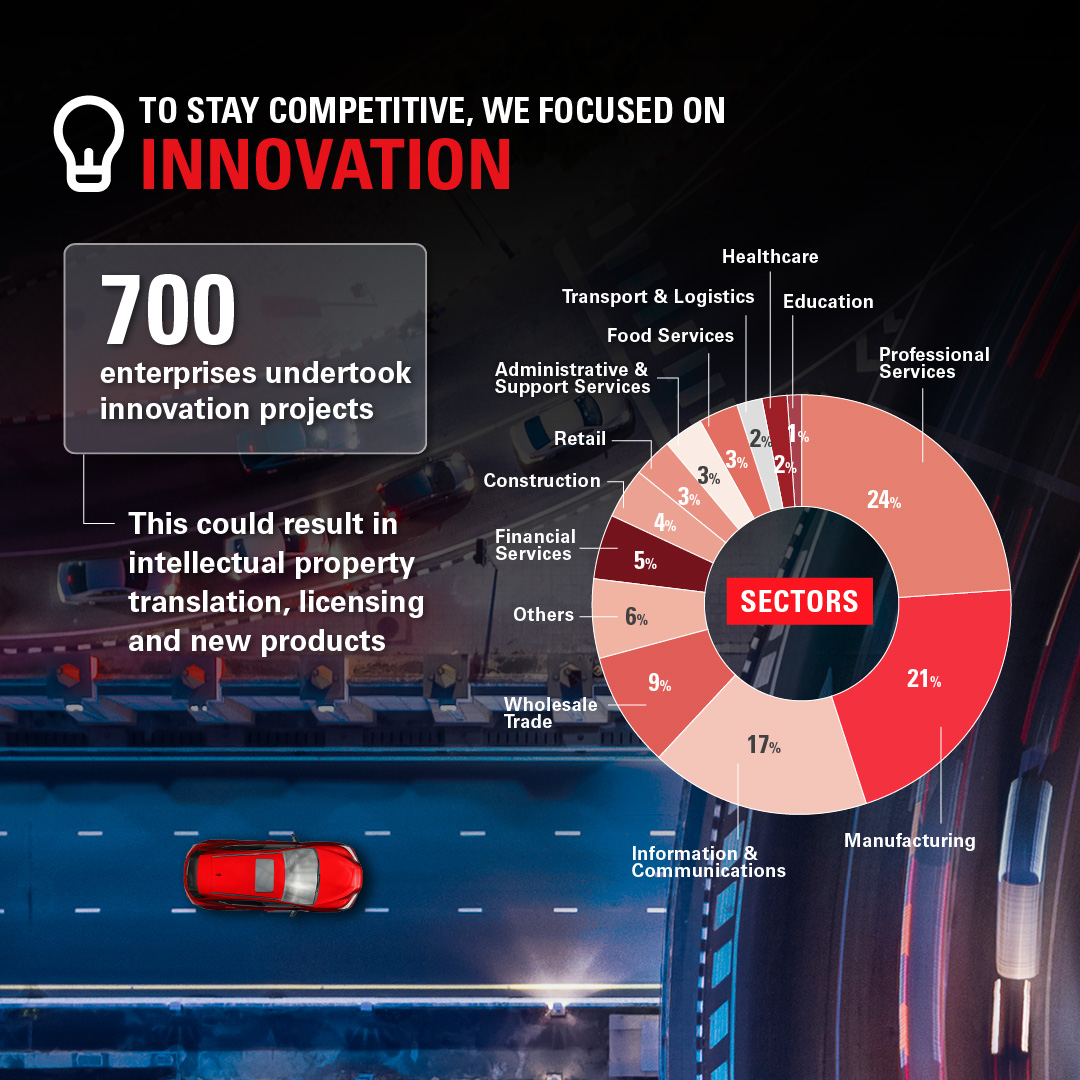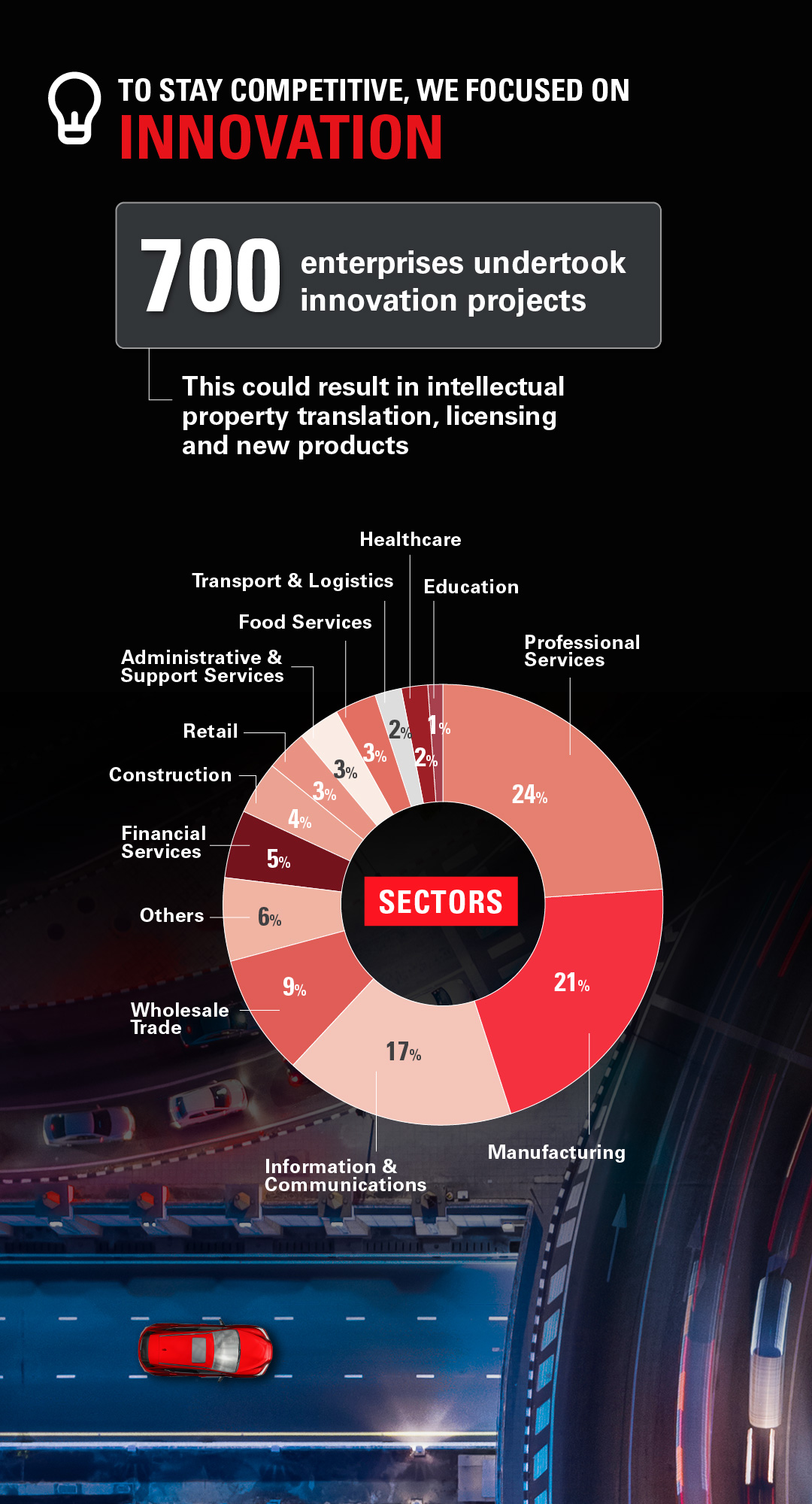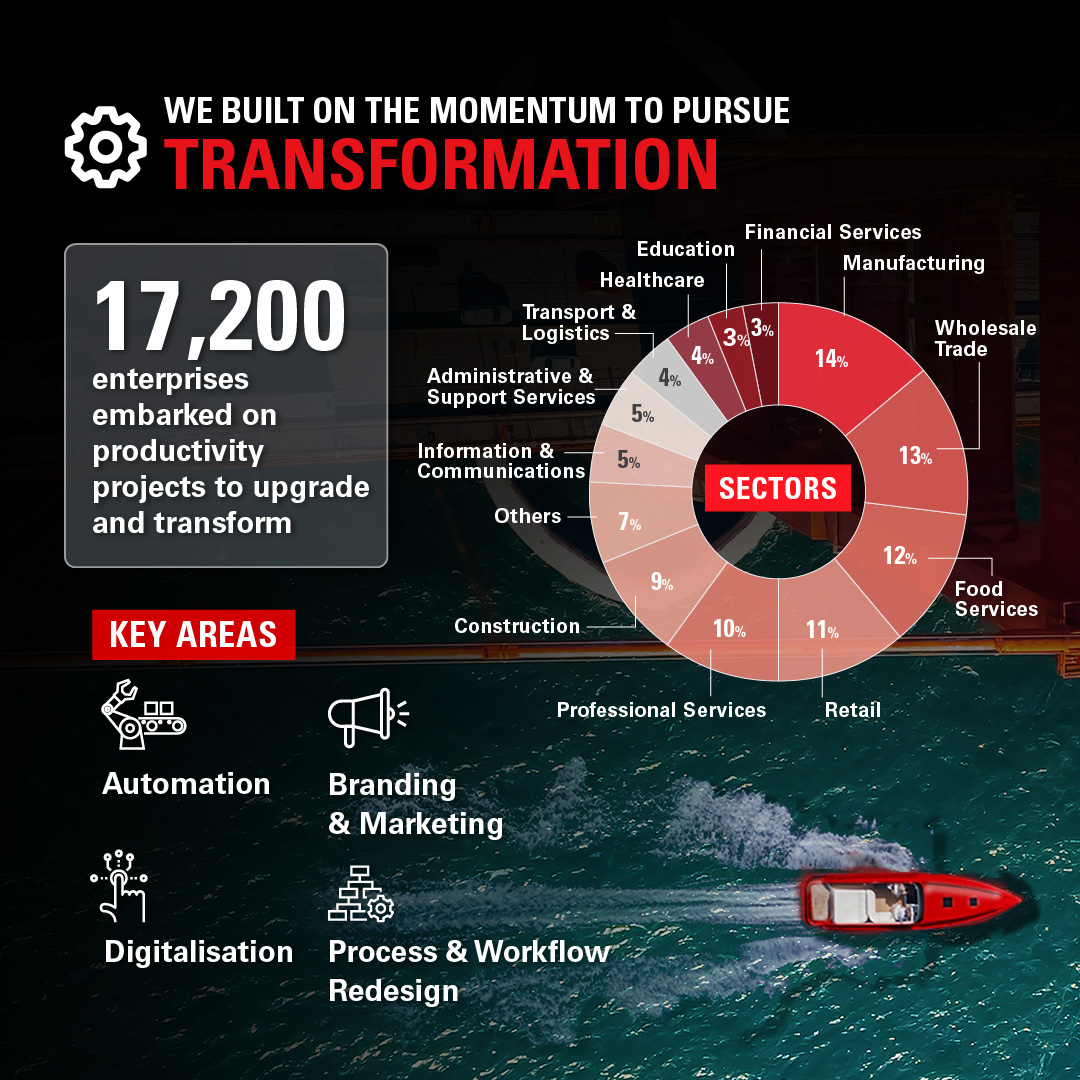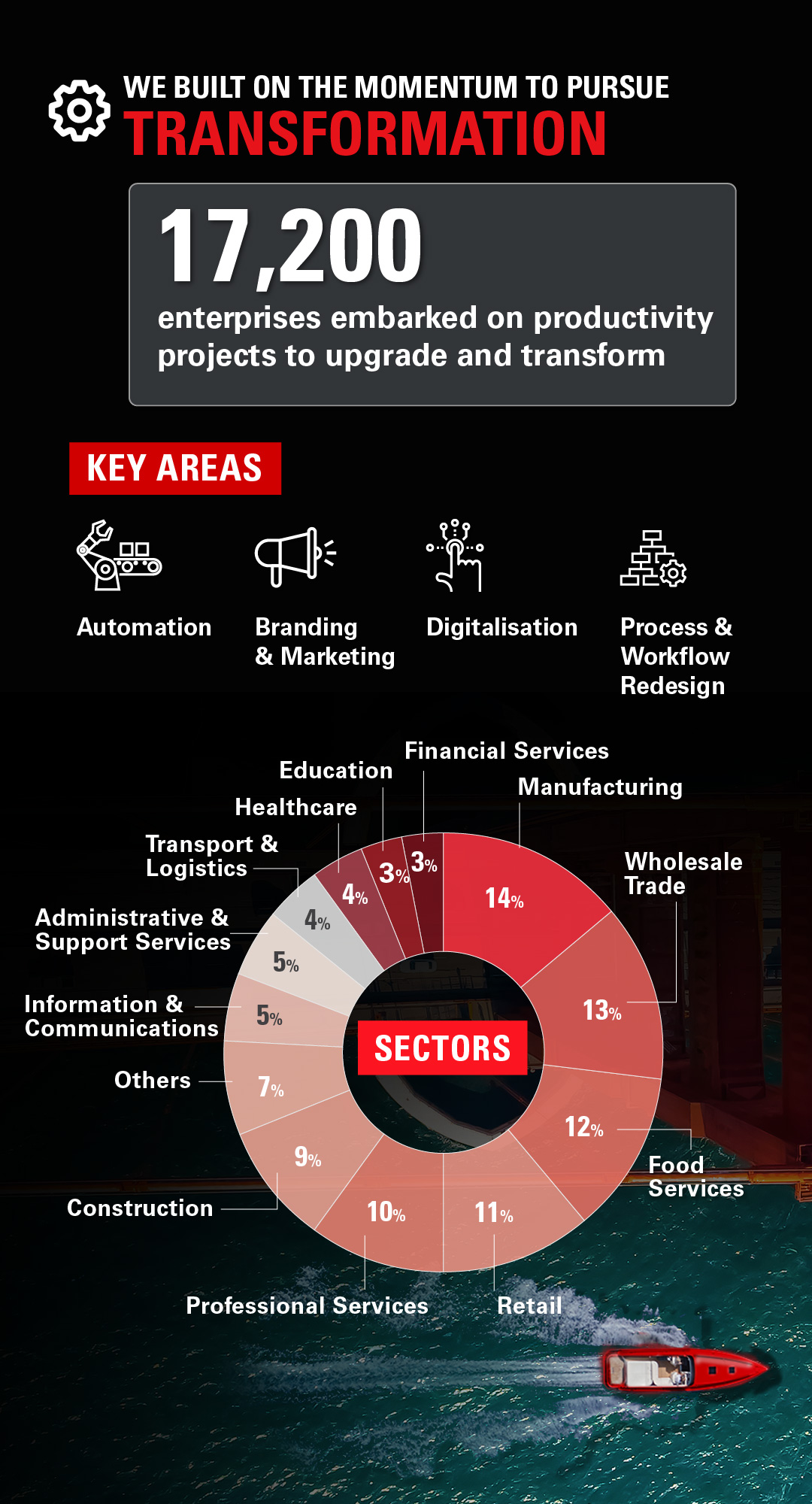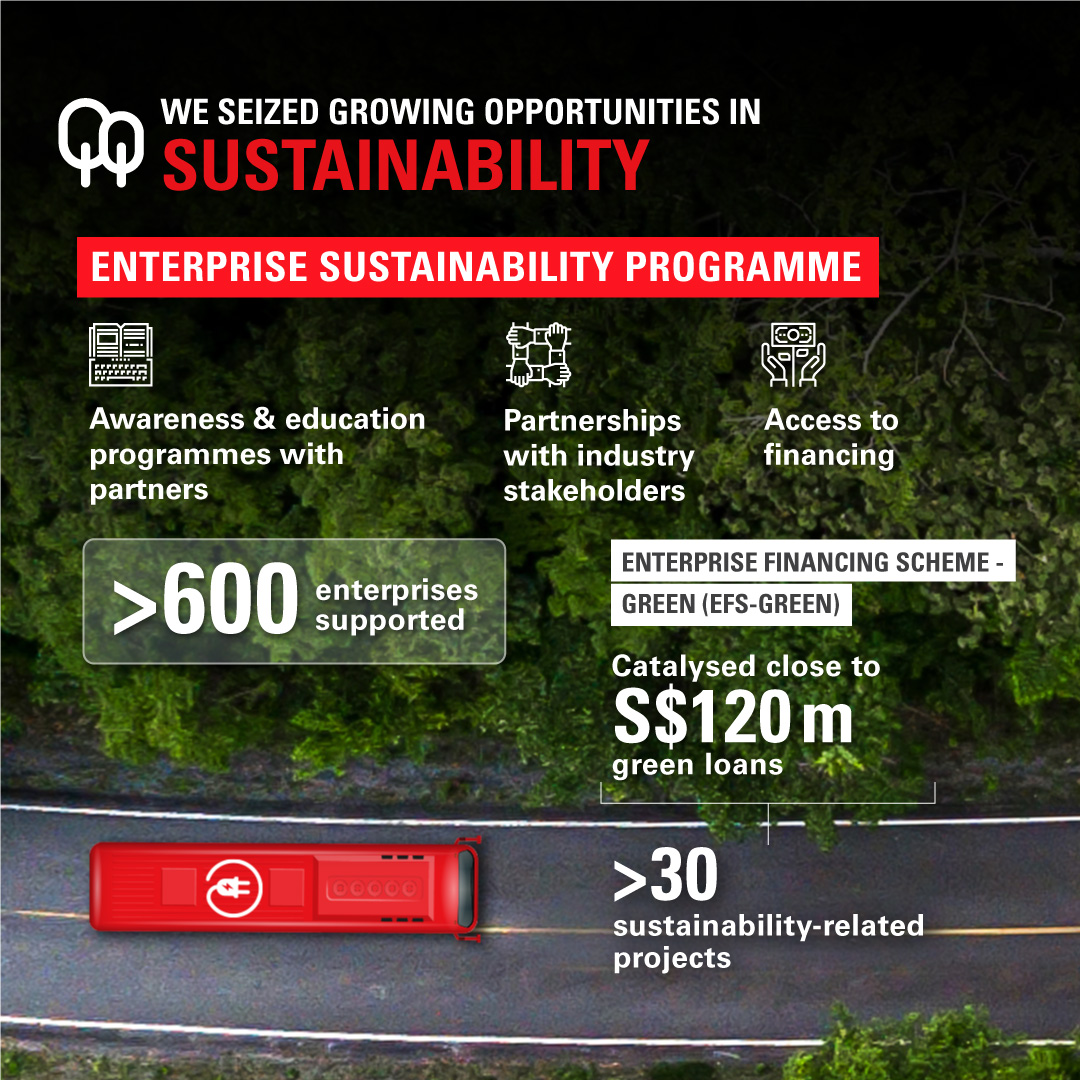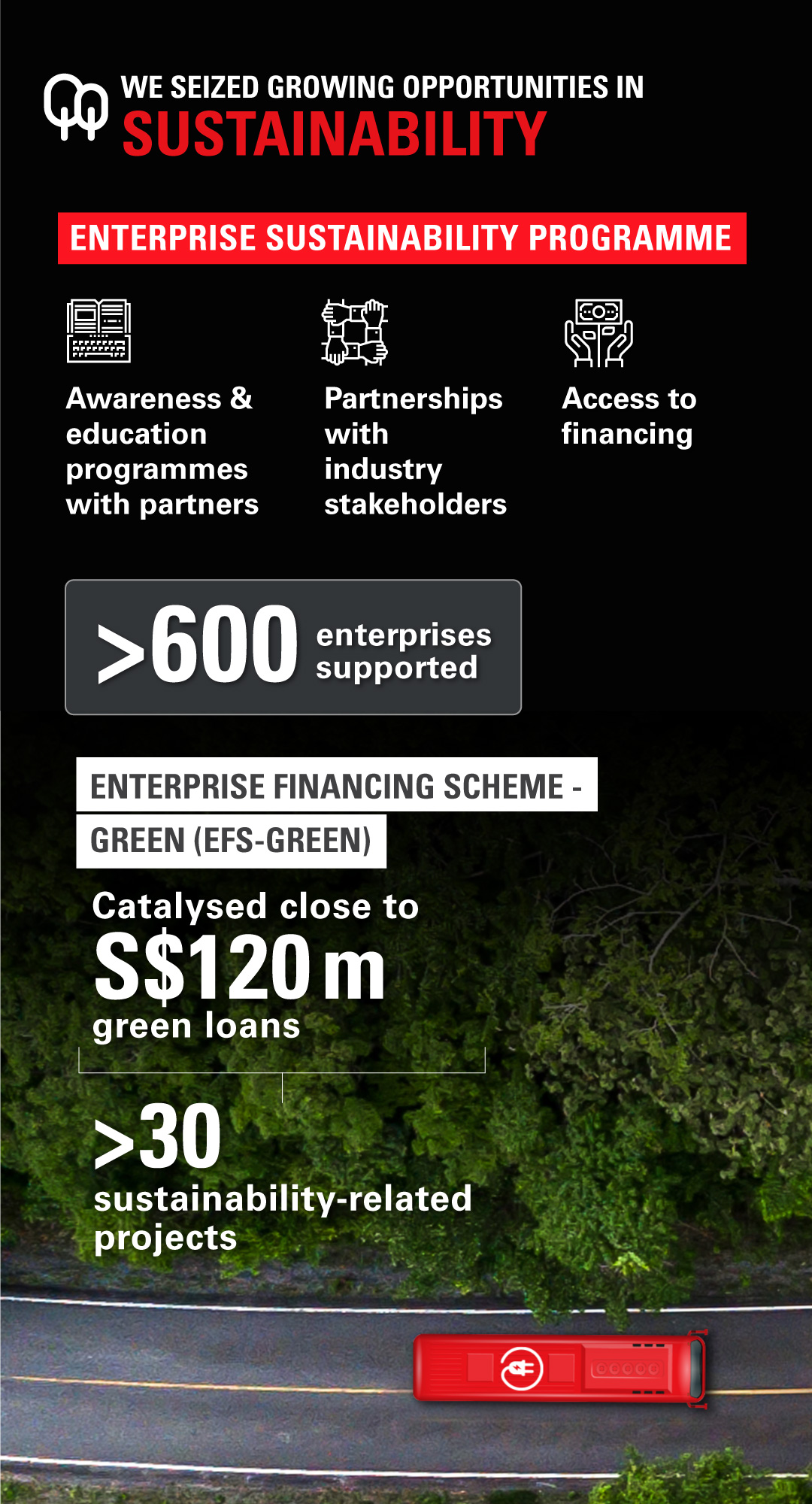 Please click here for the detailed infographics.
---
Helping enterprises transform
With our support, many enterprises took steps to build new business capabilities, innovate and seize opportunities globally in 2022.
2,000 enterprises embarked on internationalisation activities, 25% higher than 2021.
Southeast Asia remained the top destination market, with more companies also venturing into markets further afield, including the US, Europe, Africa, Latin America and the Middle East.

Productivity and industry transformation

17,200 enterprises embarked on productivity projects to upgrade and transform their business.
Refreshed Industry Transformation Maps for Food Services, Food Manufacturing and Retail to help enterprises adopt sustainability, adapt to supply chain shifts and ramp up internationalisation activities in line with global developments.

Grooming high-growth companies

15 new participants joined Scale-Up in 2022, making a total of 80 enterprises in the programme to date.
130 business leaders from 90 SMEs joined the Enterprise Leadership for Transformation (ELT) programme, bringing the total to more than 400 business leaders being trained since the programme's launch in 2020.

700 enterprises undertook innovation projects to develop new products and solutions, so as to sharpen their competitive edge.
Established three new Centres of Innovation (COIs) in built environment, beauty and personal care and urban agriculture to support up to 1,500 Singapore enterprises over the next five years.
2,700 startups gained access to funding, incubation and mentorship through the StartupSG programmes and assistance from partners.

The Enterprise Sustainability Programme (ESP) continued to help enterprises get started on their sustainability journey:

Capability building: More than 600 enterprises benefited from awareness and education programmes with partners, developing basic know-how in sustainability, such as reducing carbon footprint.


Partnerships with industry stakeholders:

Partnered Schneider Electric to launch the SME Kickstarter Decarbonisation Programme where enterprises can work with industry experts to set targets and reduce energy use; and
Worked with TÜV SÜD PSB to offer a Sustainability-as-a-Service programme that helps businesses meet customer and regulatory requirements.



Access to financing: The Enterprise Financing Scheme – Green (EFS-Green) catalysed close to S$120 million of green loans for over 30 SMEs.
---
Driving partnerships for enterprise growth
We continued to work with both local and global partners in various ways to help enterprises transform and grow.
Partnerships with Trade Associations and Chambers (TACs)

TACs intensified efforts to help enterprises expand overseas. For example, Singapore Business Federation (SBF)'s Global Connect@SBF assisted some 5000 SMEs looking at overseas opportunities, and the Singapore Chinese Chamber of Commerce and Industry, through its two Singapore Enterprise Centres in Shanghai and Chengdu, helped close to 800 Singapore enterprises looking to set up or expand their presence in China.
Through joint efforts with TACs, we supported more than 760 companies to participate in 70 business missions to 29 markets. In addition, over 1700 enterprises took part in over 90 international trade fairs to explore overseas opportunities.
Our network of SME Centres operated by our TAC partners assisted 25,000 SMEs through business advisories, capability development workshops and upgrading initiatives.

Cross-border partnerships

Expanded the Global Innovation Alliance (GIA) to Seoul and Abu Dhabi, making a total of 17 GIA nodes globally.
---
Our priorities for 2023
This year, as we shift our focus beyond COVID-19, we will work with enterprises to strengthen capabilities and increase their global competitiveness. Here are four key areas:
Intensify internationalisation efforts

To strengthen their supply chains and achieve scale, it is crucial for companies to diversify their business in overseas markets. We will help companies:

Venture into the mainstay markets such as Southeast Asia and China
Get an early mover advantage in emerging markets such as Africa and Latin America
Consider markets with specific focus such as the US and Europe for technology and innovation collaborations.


To quicken enterprises' internationalisation drive, Enterprise Singapore will facilitate new market entry modalities, such as strategic partnerships, joint ventures and consortiums.

Accelerate innovation to drive global competitiveness

Innovation remains key for enterprises to enhance their global competitiveness. To strengthen Singapore's innovation and startup landscape, we will:

Introduce more Open Innovation Challenges to enable startups and SMEs to access industry demand in areas such as agri-food, renewable energy and sustainable packaging.
Drive more innovation collaborations through our COIs to help more enterprises capture opportunities in Food Manufacturing, Advanced Manufacturing and Aquaculture.

Acquire sustainability capabilities

Sustainability is at the forefront of business and consumers' priorities. To support the green transition, we will:

Continue to help companies build new capabilities in sustainability through various initiatives including the Enterprise Sustainability Programme, Schneider Electric's SME Kickstarter Decarbonisation Programme and TÜV SÜD PSB's Sustainability-as-a-Service programme.
Launch a series of Sustainability Playbooks, courses and initiatives with knowledge and industry partners and TACs to provide specific recommendations at the sectoral level.

Grow the next generation of Singapore Global Enterprises

To achieve international success, companies must expand their global footprint, develop innovative products or services, and build stronger brand recognition. We will:

Ramp up support for high-growth companies through growth partnership programmes like Scale-Up and the Singapore Global Executive Programme (SGEP).
---
Additional resources
---