A model for smart eco-business parks
JTC CleanTech Park is Singapore's first eco-business park – a research and development (R&D) and test-bedding site for the early adoption of sustainable technology and solutions. Located next to Nanyang Technological University, this 50-hectare park fosters the cross-fertilisation of ideas and collaboration between industry and academia, and is a choice location for forward-looking corporations that embrace environmental sustainability. The park was also developed with an emphasis on retaining the natural biodiversity of its site. Contact us
here
to begin your smart and sustainable journey with Singapore companies.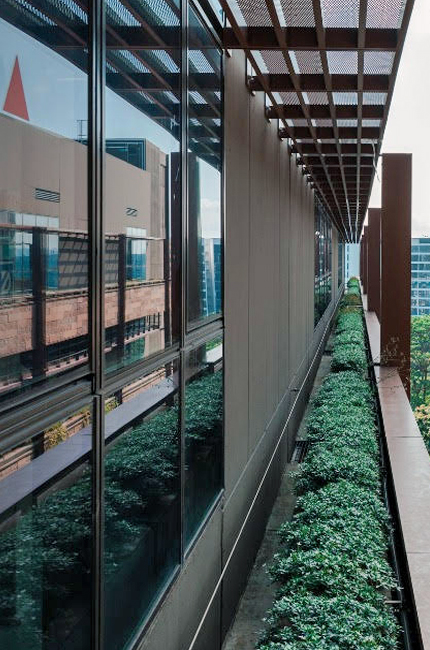 Featured companies
Learn more about the innovative urban solutions offered by Singapore companies that made JTC Cleantech Park possible.
Surbana Jurong is a master planner for sustainable industrial development and urban living, and one of Asia's largest infrastructure consultancies. It provided its expertise in areas such as environmental consultancy for CleanTech One – the pioneer building in the CleanTech Park. The company was also awarded the CleanTech Two project, which will house cleantech incubation facilities and state-of-the-art green features. Surbana Jurong's sustainable solutions cover the entire project life cycle – from planning and design, to delivery and management, and decommissioning and closure. The company provides a full suite of multidisciplinary consultancy services across a diverse range of sectors, including aviation, healthcare, hospitality, transport, water and energy.
Ecosoftt provides a wastewater treatment system for the CleanTech Park's Water SMART Blue Building. The recycled water is used for toilet flushing, cooling towers and landscaping, and enables the building to be less reliant on centralised municipal systems and discharge less sewage waste into the public sewage network. As a water solutions provider, Ecosoftt (which stands for ECO Solutions for Tomorrow Today) is a pioneer and innovator in decentralised water and wastewater management technologies. It can manage water at every point in the water cycle, and offers world-class technologies and sustainable solutions for areas such as rainwater harvesting, drinking water treatment, and the protection of rivers and lakes. These solutions are implemented to meet compliance standards, reduce costs, enhance water security and ensure sustainability.
For the park's CleanTech One building, VFlow Tech developed and installed a 10 kW-100 kWh system to demonstrate its battery technology, which – together with 250kW rooftop solar panels – supplies power for the building's corridor lighting, lifts, and carpark lighting. VFlow Tech is a spin-off of Nanyang Technological University's Cleantech lab, and its vanadium flow batteries have an expected life span of 25 years and are safer and more environmentally friendly than their lithium ion counterparts. The company is also exploring Proof of Concept for their MWh range batteries, while its smaller batteries are commercially ready and suited for enterprises and independent power producers that use micro-grids or require off-grid usage.