A symbol of smart and sustainable Singapore
With a stunning man-made waterfall in a lush terraced garden as its centerpiece, this mixed-use development has augmented Changi Airport's position as a leading global air hub and boosted its appeal as a stopover destination.
Jewel Changi Airport's groundbreaking features are innovative feats of sustainable engineering and construction. Its complex is made of materials and infrastructure systems that are energy-efficient and responsive to our tropical environment.
Now a vibrant destination for visitors and locals alike, Jewel has a curated range of attractions, retail and dining options, a hotel, and facilities that support airport operations, all housed under its striking dome. Behind the scenes, advanced technology solutions have been deployed to manage its systems, security and maintenance with cutting-edge precision.
Contact us here to begin your smart and sustainable journey with Singapore companies.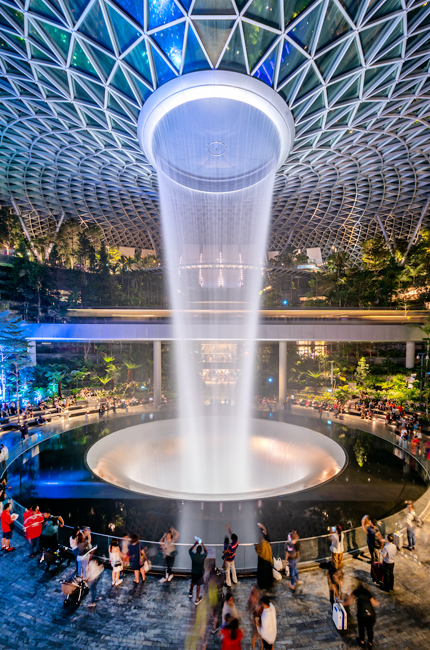 Featured companies
Learn more about the innovation urban solutions offered by Singapore companies that made Jewel possible.
Architecture & engineering
Capitaland developed Jewel together with Changi Airport Group, and the destination's mix of iconic and new-to-market brands and innovative retail concepts reflects this developer's multi-faceted capabilities. This landmark project augemented Capitaland's track record in large-scale projects integrated with transportation nodes, and its expertise extends well beyond lifestyle and retail projects. With a real estate portfolio that spans 200 cities in over 20 countries, CapitaLand is one of the largest developers of business parks and industrial spaces in the Asia Pacific. It is also well-versed in integrated development, urban development, and lodging and residential projects.
RSP Architects Planners & Engineers
RSP Architects Planners & Engineers served as the executive architect and civil and structural engineer for Jewel, working in collaboration with Safdie Architects. In this role, this Singapore firm was responsible for statutory, contractual, and design development efforts, and administered the building contract between the client and main contractor. Founded in 1956, RSP has since become one of the largest architectural practices in the world, and its global talent pool provides a wide range of services for town and master planning, urban design, architecture, engineering and interior design. Known for functioning as a one-stop service provider, it can customise its suite of modular services to suit different client needs.
The Woh Hup - Obayashi Joint Venture project team completed the construction of the 1.65 million sqft Jewel over 51 months, delivering a ten-storey building threaded with a sky train track, and comprising five levels above ground and five basement levels (possibly the deepest basement for a building in Singapore). Woh Hup was founded in 1927 by Mr Yong Yit Lin. From a one-man construction company, Woh Hup has become Singapore's largest privately-owned construction and civil engineering specialist with a 2,500-strong workforce and is responsible for iconic projects such as Jewel Changi Airport.
To keep Jewel humming, leading security provider Certis provides a full suite of integrated facilities management, security and guest experience solutions via Mozart, an innovative platform developed by the company. The platform integrates data from smart operations, Internet of Things sensors, closed-circuit televisions and mobile devices, to enhance operational efficiency and enforce safety and security. Certis' Integrated Operations Centre is a state-of-the-art facility in Singapore that fuses cutting-edge technology solutions into a single command-and-control centre. As a result, it provides value-adding solutions beyond physical security services, and is a recognised leader in providing aviation security services and technology to leading aviation hubs worldwide.
Anacle, a leading provider of commercial property management software and building energy management systems, automates the management of Jewel's infrastructure and equipment through an integrated end-to-end platform. Its tenancy management, e-inspection and instant feedback systems provides real-time insights into utility consumption, and helps to streamline operational processes. Founded in 2006, Anacle has customers spanning the aerospace, defence, education, healthcare, real estate and utilities industries, and has completed projects in Malaysia, China, Taiwan, Qatar, United Arab Emirates, and more. Its pioneering software and hardware products reflect deep industry expertise, and stress user-friendliness and smart functionality.
Energy services company G-Energy Global implemented sustainable energy solutions for Jewel that ranged from a state-of-the-art chiller plant system to dynamic balancing control systems for targeted cooling. Staffed with a team of energy specialists and qualified Green Mark consultants, the company offers services in integrated energy audit, and engineering, procurement and construction. It also provides green building design consultancy services for clients looking to make their buildings more energy-efficient and sustainable. Clients include Universal Studios Singapore and Resorts World Sentosa, as well as industrial and commercial projects across Asia.
Chye Thiam Maintenance provides general cleaning services for Jewel, including the deployment of autonomous cleaning robots. Founded in 1979, this pioneering cleaning and waste management services company is known for incorporating innovative technologies into its solutions. It has forged strategic collaborations with partners in areas such as robotics, the Internet of Things, and anti-viral chemicals. From the deployment of autonomous robots, to the implementation of smart washroom systems, the company seeks to optimise manpower deployment for sustainable growth.