A landscape of urban solutions
The waterfront
Marina Bay
district is a testament to Singapore's progress. Here, the glittering skyscrapers of the Central Business District are surrounded by a multitude of world-class leisure destinations and civic community spaces, truly making it the People's Bay. The idea for Marina Bay first took shape in the 1970s, when the city's planners envisioned an expansion of the city centre that could catalyse and crystallise Singapore's aspiration of becoming a business and financial hub. Land reclamation works began in the same decade. Over time, an array of architectural masterpieces emerged along the waterfront to define the new Singapore skyline. These include Esplanade - Theatres on the Bay, Marina Bay Sands, and Gardens by the Bay. The area's built environment required a wide range of engineering, construction and systems management solutions, many of which were provided by Singapore companies. Contact us
here
to begin your smart and sustainable journey with Singapore companies.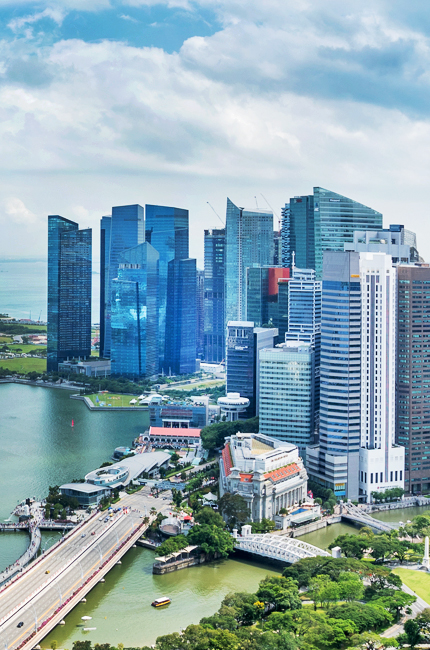 Featured companies
Learn more about the innovation urban solutions offered by Singapore companies that made the Marina Bay District possible.
Specialist engineering solutions

Building façade specialist solutions

Precast and prefabrication manufacturing
Concrete from Pan-United Corporation was used in the construction of Gardens by the Bay. Specifically, this flagship attraction made use of PanU Green™, which is eco-friendly as it has a high content of recycled raw materials; and PanU Colour™, which is low-maintenance and thus cost-effective. Pan-United Corporation is Singapore's largest concrete producer, and the local industry leader in sustainable concrete innovation. It has developed many specialised solutions for large-scale infrastructure development. These include structural green concrete made with recycled raw materials, structural lightweight concrete, and underwater concrete. In Singapore, the company's projects include Jewel Changi Airport, and it has also supplied materials for projects in Vietnam and Malaysia.
Woh Hup served as the contractor for Gardens by the Bay, which comprises two dome conservatory complexes and a Supertree Grove. Both domes are feats of complex construction, with composite steel grid-shell structures supported by a radial web of steel ribs, and covered entirely in glass.
Woh Hup was founded in 1927 by Mr Yong Yit Lin. From a one-man construction company, it has become Singapore's largest privately-owned construction and civil engineering specialist with a 2,500-strong workforce, and is responsible for iconic projects such as Jewel Changi Airport.
To build the 300m Marina Bayfront Bridge, structural engineering and post-tensioning specialist Utracon supplied and installed post-tensioning works, as well as precast T-shaped wing slabs. The bridge's main deck was designed as a triple-cell box girder, and was constructed by the company using the form traveller method. Utracon is experienced in the building and civil engineering sectors, and well-versed in various bridge construction methods. The company has worked on projects across Asia and Africa, including the Permata Hijau Flyover in Indonesia and Jinja Bridge in Uganda.
The Marina Barrage dam across the Marina Channel created Singapore's first urban freshwater reservoir and the island's largest and most urbanised catchment area. To construct this dam, the Koh Brothers company designed nine steel crest gates, and seven drainage pumps capable of displacing a combined total of 280m³ of water per second. Founded in 1966, Koh Brothers has a strong track record in specialist engineering solutions. Its subsidiary, Koh Brothers Eco Engineering Limited, is a sustainable engineering solutions group that provides engineering, procurement and construction services for water and wastewater treatment, hydroengineering, bio-refinery and bio-energy projects.
District cooling is an innovative urban utility service, where the centralised production of chilled water is piped to commercial buildings for air-conditioning. Singapore District Cooling (SDC) is the world's largest fully underground district cooling system, and it is located deep under Marina Bay. It was created with engineering know-how from SP Group, which operates Singapore's electrical grid and gas grid. SDC's first district cooling plan supplied chilled water to office development One Raffles Quay, and its second plant at Marina Bay Sands increased its total cooling capacity to 60,000RT. It also provides district cooling and heating services to developments in China.
SolarGy was responsible for the 52 kWp solar photovoltaic project at the Gardens by the Bay Office and its Family Forest, installing solar photovoltaic panels on the Family Forest's metal roof that formed a curve to follow the roof profile. SolarGy was founded by a team of practising professionals in the building construction industry. Well-equipped with over 20 years of experience in electrical installations and building architecture, the team specialises in providing solutions to suit the specific energy requirements and creative architectural design of different projects.
Gardens by the Bay has an Energy Resource Centre, which uses horticultural and other wood waste as biomass fuel to generate electrical power, and heating and cooling services for the gardens' daily operations. By-products from its highly efficient biomass furnace and boiler system, such as fly ashes and bottom ashes, are also repurposed as soil amendments and fertilisers. The centre is the brainchild of EcoWise, an integrated sustainable environment solutions partner. A major player in the environmental arena since 1979, the company provides cost-effective waste management and treatment strategies through innovative R&D, and the incorporation of applicable technologies.
Marina Bay Sands has a roof that measures 12,400 sqm, and only nine stacks of 150mm pipe. How can water be drained from this roof efficiently? Enter the Fast Flow Siphonic System, which is able to work with other services and structures within the tight cladding space without a need to enlarge or lower any structural or architectural elements. The system was designed by rainwater drainage solution provider Fast Flow. This company has created siphonic, pressurised and hybrid draining solutions spanning 20 million sq m of roof area across the Asia Pacific. Other iconic projects include the Beijing National Stadium (also known as Bird's Nest) in China, and the Hilton Hotel Empire in Queensland, Australia.
For the construction of Marina Barrage, Pan Asian supplied high-density polyethylene stoplogs, which are hydraulic engineering control elements. Founded in 1979, the company is a leading provider of high-quality integrated piping solutions for water and wastewater infrastructure projects. Working with strategic partners, it offers customised and cost-effective products and solutions for turnkey projects in the water, wastewater, environmental, marine and oil and gas industries. Its projects span the Asia Pacific, Europe and the Middle East.
Besides their location in Marina Bay, the precinct's Helix Bridge, and Gardens by the Bay's Supertrees and OCBC Skyway share another commonality – they were made possible by the comprehensive fabrication capabilities and structural steel solutions of the T T J Group. Established in 1981, the company designs, supplies, fabricates and erects a wide spectrum of structural steelworks. These are used in many industries, including factories, infrastructure and shiplift platforms for offshore oil and gas. The company also manufactures other construction products, such as two-rail and three-rail aluminium parapets for flyovers and expressways, and blast doors for public bomb shelters.
Prime Structures Engineering
Marina Bay Sands is topped by its signature SkyPark, a structure that involved the manufacture and installation of thousands of unique curved aluminium composite claddings at great height. The company that successfully delivered this structure was Prime Structures Engineering. Established in 1995, this building façade specialist provides design-and-build solutions for unique building structures, customised art structures, security façades and interior fit-outs. With a presence across Asia, its notable projects include Changi Airport Terminal 3, Singapore Sports Hub, Australian Embassy Jakarta and the Okada Manila.
Robin Village Development
One of Singapore's leading precast and prefabrication manufacturers, Robin Village Development (RVD) designed and supplied precast components for the core wall, staircase flight, and external curve wall of the Supertree Grove in Gardens by the Bay. Founded in 1984, RVD is a wholly-owned subsidiary under Tiong Seng Contractors. Headquartered at Tiong Seng Prefab Hub, the company offers a one-stop solution service in a state-of-the-art building that incorporates both precast and prefabrication production capabilities.