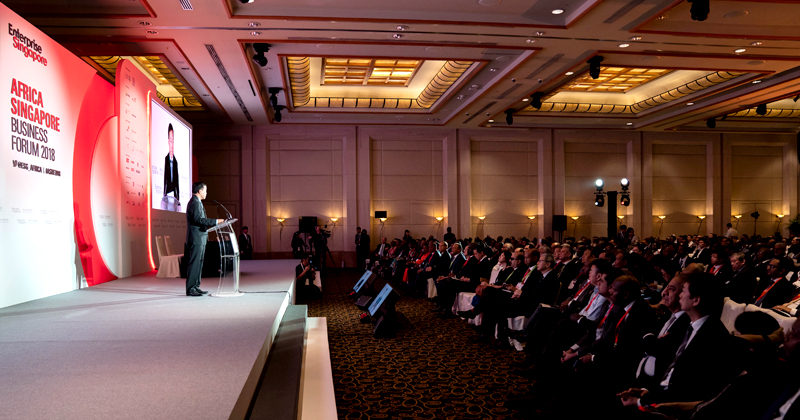 With Africa's population set to hit more than 1.5 billion by 2025, the time is ripe for Singapore to enter the African market as the continent grapples to meet the rising needs of an emerging economy. Singapore's relationship with Africa has been gaining traction year-on-year, with trade between the two regions standing at S$9.78 billion last year. Over 60 Singapore companies are currently present in Africa, and more have set their sights on the continent as it opens its doors to digitalisation, regional integration and global trade.
Speaking at the fifth Africa Singapore Business Forum (ASBF) held on 28 and 29 August 2018, Minister for Trade and Industry Chan Chun Sing noted that Singapore has trade with almost every country in Africa—from fruits to electronics and petroleum products, and in services such as transport, logistics and IT. Still, there is scope for Africa and Asia to work more closely together.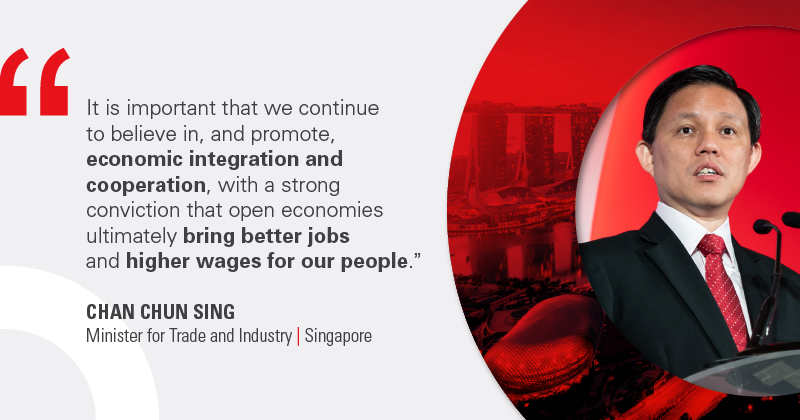 Regional integration efforts such as the Continental Free Trade Area has contributed to creating a unified African market, allowing more movement of businesses and investments between countries, said Mr Chan. At the government level, trade-enabling agreements such as Bilateral Investment Treaties will encourage companies to venture abroad.
To help facilitate Singapore companies to do business in the continent, we opened our third African office in Nairobi, Kenya in June this year.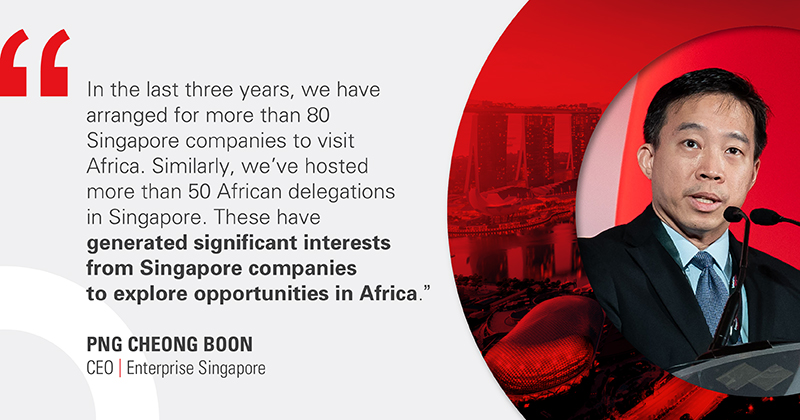 Reflecting Africa's diverse business prospects, the ASBF also saw the signing of several Memoranda of Understanding (MoUs) in different sectors. Well & Able Holdings, a Singapore-based company, has been contracted to design and build a 9,795 square metre multimodal logistics hub in Senegal. In the digital space, Graymatics Singapore will partner Kenyan ICT specialist, Crescentech, to provide security and surveillance solutions in industries such as banking, telecommunications and retail across Kenya, South Africa and Nigeria.
These timely partnerships are particularly relevant in light of Africa's thriving digital and manufacturing industries—two new growth engines in addition to traditional industries such as oil and gas, and urban infrastructure solutions. Consumerism is also on the rise, with Africa's e-commerce market projected to be worth US$75 billion by 2025.
Echoing similar optimism about growth opportunities in the continent, speakers at ASBF urged Singapore businesses to take a long-term view when investing in an emerging economy like Africa. Ultimately, companies have to establish themselves and invest in proper infrastructure to see returns, they said.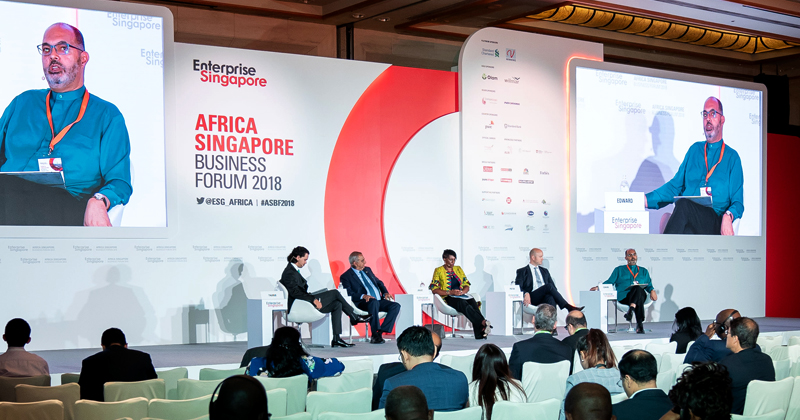 .
Here are five things you need to know:
View challenges as opportunities
As an emerging economy, Africa faces many challenges in areas such as infrastructure, urban planning, manufacturing, logistics, housing, healthcare, digitalisation and finance. Singapore's stable and conducive business environment, coupled with strong support infrastructure and regulatory framework, make her a good base from which African companies can explore and access Asia.


Address Africa's manufacturing needs
Exposure to the commodity cycle has brought forth the need to diversify the economy, and many African countries are embracing manufacturing as a key economic growth strategy to boost exports, upgrade domestic enterprise capabilities, and create higher-skilled employment. Singapore's manufacturing services companies with expertise in plant construction and design, equipment set-up, production workflow planning, quality control and testing, and skills training can help manufacturers expand production across the continent.


Go digital, especially in mobile payments
Mobile operators are experiencing high growth in Africa, with Kenya taking the lead in mobile money. Data consumption is on the rise, especially among the younger generation who are heavy users of smartphones. Many of them are moving away from traditional modes of payments to mobile transactions. It is therefore crucial to have secure identity management between telcos and banks, although much of Africa's identification databases are currently not harmonised. Payment infrastructure, data security and working within regulatory frameworks are some of the challenges Africa need to tackle. Singapore companies can offer solutions to help modernise trade facilitation systems, digitise manual processes and improve data security.


Strong financing and regulatory frameworks ensure bankable projects, especially in real estate
Singapore's access to international debt financing is an advantage for investors, especially in the long term. There has been a paradigm shift in real estate, due to an oversupply of luxury homes and retail malls, and a deficit in affordable housing in many parts of Africa. Nigeria, for instance, has a deficit of 17 million homes. The challenge now is to provide affordable housing, such as studio apartments, for students and young professionals. A strong legal and regulatory framework will help to ensure bankability of such projects.


Work with local partners
Each of Africa's 54 countries carries its own unique consumer, trade and culture. Singapore companies have to tailor their products according to local consumers and their lifestyle preferences. The best way to do that is by engaging a local partner who can assist in the procurement and distribution of goods and services, and offer insights into problems such as land disputes, inconsistent policies and regulatory reversals.
Interested to capture opportunities in Africa? Reach out to us at https://go.gov.sg/askenterprisesg to find out how you can get started!
Next: Africa's Rapid Urbanisation Marks Growth in Multiple Sectors