Africa Singapore Business Forum 2018 | Plenary Discussion 1: Africa 2025 – Positioning for Growth
Africa is urbanising faster than any region in the world, and with it comes the challenge of building proper infrastructure for the growing population. Kicking off day 1 of Africa Singapore Business Forum (ASBF) on 28 August 2018, panellists discussed the opportunities and strategies for Singapore companies in light of Africa's emerging economy.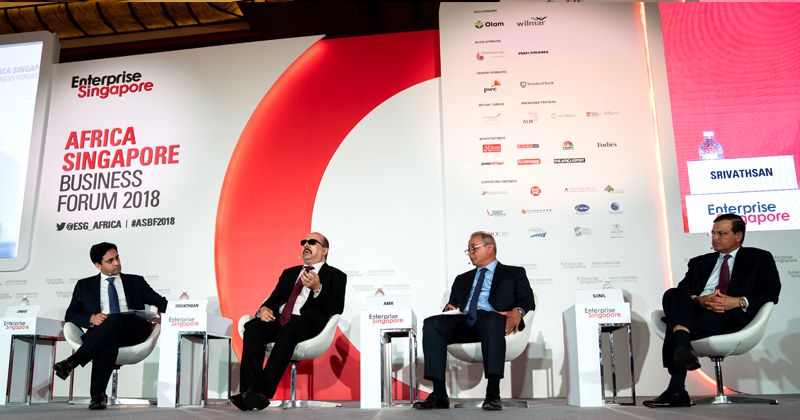 Here are four key takeaways from the plenary discussion:
1. Opportunities in infrastructure and urban planning
Mr Sunil Kaushal, Regional CEO of Standard Chartered Bank for Africa and the Middle East, noted that many African cities are urbanising without a proper framework.
With Africa's digital economy opened up, especially in mobile payments, he added that the Continental Free Trade Area could be a game changer in the next ten years. "With payment systems getting infiltrated, imagine how powerful it will be to have seamless trade across borders with payment systems supporting it."
2. Agriculture will continue to play a vital role in Africa
In addition, Mr Venkataramani Srivathsan, Managing Director and CEO for Africa and the Middle East at Olam International, sees opportunities for Singapore food companies.
"Africa's produce market is going to grow exponentially, so it's across the value chain in the food space that I see a lot of opportunities for Singapore companies, such as providing innovative packaging services," he said.
Executive Vice President in Business Development & Corporate Banking of African Export-Import Bank (Afreximbank) Mr Amr Kamel agreed, noting that agriculture will continue to play a vital role in Africa. "Africa cannot avoid agriculture. It just needs higher processing. Done properly, it can be the bread basket for the whole world," he said.
3. The rise of Asian and ASEAN presence in the continent
Mr Kamel also noted that improvements in Africa's political circumstances and deepening trade ties with China have led to diversity in trade. "The overall Africa market has improved, with many countries commanding high growth trajectory. Rwanda, for example, is looking to become a technological hub for Africa," he said.
Mr Kaushal echoed similar sentiments and noted that Africa is becoming a popular choice among Asian countries. 10,000 Chinese corporations are currently operating in the continent.
"Major economies like India and Japan are already looking at Africa. The opportunity for Asia and Singapore is to get the ASEAN market to focus more on Africa. They are relatively unexposed both ways, and Singapore will be an important gateway into ASEAN, and ASEAN into Africa," he said.
4. Strategies for SMEs to manage financial risks
Mr Kaushal added that companies need to manage their financial risks by having a good hedging instrument. "If you're setting up a business in Africa, your model cannot be one of importing and selling it in local currency because of the steep fluctuations in the foreign exchange. You need a business model that has a natural hedge—a natural source of dollar—in order to be sustainable," he said.
Panellists also noted that Singapore, although relatively smaller than China and India, can still find her own niches to make inroads into the continent.
"SMEs can take on a combination of strategies that don't always require a lot of capital, such as working together with companies like China and India who are already there," Mr Kaushal said, adding that 90% of Chinese corporations in Africa are from the private sector.
And the final bit of advice from the panellists? Work with the right local partners to gain market knowledge and navigate challenges.
"In Africa, you can't manage your business remotely. Understanding of the marketplace and the country is very critical. You have to be present on the ground," Mr Srivathsan said.