With the opening of an East Africa regional office in Nairobi, our Regional Group Director for Sub-Saharan Africa, Mr Rahul Ghosh shares how Singapore can support the growth of East Africa.
The economic and development needs of Africa are similar to that of Asia. Made up of 54 sovereign states, each at a different stage of economic and political maturity, Africa requires a tailored approach much like the 48 nations in Asia.
This presents opportunities for both Africa and Singapore companies to develop new capabilities, create innovative solutions and produce scalable business models which can then be replicated in both markets. As the fastest growing region in the continent, East Africa's future will be an interesting one to watch.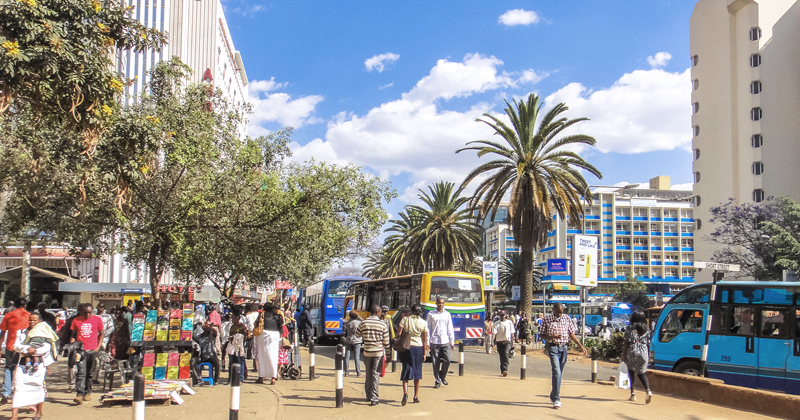 Enterprise Singapore brings Singapore companies' experience and expertise to Africa
Singapore is a city-state that gained its independence in 1965. From a third world country with no natural resources, a weak economy, high level of unemployment, and housing shortages, we managed to transform ourselves to a first world country with a vibrant economy, future-ready infrastructure, unemployment rate at a low 2%, and quality public and private housing. While the operating contexts are different, we hope to be able to share and bring to Africa Singapore's experience in developing our economy, and exchange the expertise and knowledge of our companies.
The Africa-Singapore relationship is on the up. Trade between the two regions stands at US$7.15 billion. In 2016, Singapore was Africa's seventh largest foreign investor, with a stock of direct investments totalling approximately US$17 billion1. Today there are over 60 Singapore companies currently doing business in the African continent.
Enterprise Singapore, a government agency under Singapore's Ministry of Trade and Industry, is responsible for growing Singapore enterprises locally and globally. This includes deepening the trade and investment linkages between Africa and Singapore. Given the healthy interest of Singapore companies in East Africa, Enterprise Singapore has taken steps to strengthen its presence in the region. The recent opening of the Regional Overseas Centre in Nairobi, Kenya, builds on the success of its other offices in the Southern and West Africa regions. Having on-ground presence allows for stronger engagements with East African governments and catalyses collaboration opportunities within the domestic private sector for mutual wins.
Four drivers of East Africa's growth
Infrastructure development with well-structured and bankable projects


Africa is urbanising more rapidly than any other region in the world. A 2017 World Bank Report projected the continent's urban population will increase by another 187 million from today's 472 million by 2025 (about 40% growth). The urban population numbers are expected to double over the next 25 years, hitting 1 billion by 20402. This has created a huge demand for infrastructure funding that the African Development Bank estimates at close to US$130-170 billion a year3.




Existing public funds, multilateral financing and government-to-government support are insufficient. There is still an annual infrastructure financing gap of between US$68-108 billion. This can only be closed by intensifying private sector participation. While there is a growing interest for private capital investments in East African infrastructure, there is also a lack of well-structured and bankable projects.

Singapore is considered to be one of Asia's infrastructure hubs. The country's expertise in structuring successful public-private partnership projects in Asia, having a pool of experienced project developers, eco-system of service providers, and the maturity of financial sector could address some of East Africa's infrastructure challenges.

Economic diversification


The cyclical nature of resource-based economies and the recent plunge in commodity prices have had a negative impact on budgets of many African nations. Governments are stepping up economic diversification via policies that require local value-addition and import substitution.

Many East African countries are embracing manufacturing as a key economic growth strategy to primarily drive exports, level-up domestic enterprise capabilities, and create higher-skilled employment. This is similar to the playbook of many Asian manufacturing nations.

In the last decade, Singapore is ranked an average of 1.4 in World Bank's Ease of Doing Business, among 190 countries4, enabling it to attract strong investment flows. We are in a good position to share our experience with the region's economies. Singapore institutions have been working with African governments on several fronts including investment attractiveness, long term city planning and land management, customs modernisation and establishment of Special Economic Zones, and technical and vocational skills training. At an enterprise-level, Singapore companies are jointly investing in manufacturing with local players. For example, Wilmar, one of the world's largest palm oil suppliers has a joint venture with Kenya's BIDCO Africa in a palm-oil processing facility in Uganda.

With a manufacturing-enabled business environment, we expect to see a trend of local traders moving away from distributor roles to manufacturing their own products. As many may not have prior experience, Singapore's manufacturing services companies with expertise in plant design, equipment procurement and set-up, production workflow planning and employee training will be able to support domestic companies' venture into the manufacturing arena.

Regional integration and trade connectivity


At a time when other parts of the world are reconsidering the benefits of integration, Africa has made important progress and reached many milestones in recent years. It has taken steps to establish the Continental Free Trade Area and launch a single passport. Greater regional integration in Africa will help African countries to trade more easily with each other and with the rest of the world. Trade can spur industrial development by opening African markets to a variety of new products and services. This raises domestic competitiveness and provides pockets for gainful employment.

To capitalise these integration gains, African countries should also focus on – (i) modernising their trade facilitation systems to efficiently connect with the world, and (ii) establish a single system that integrates countries within regional blocks. Singapore companies are implementing solutions to facilitate this.

CrimsonLogic has rolled out the Kenya National Electronics Single Window System to help to streamline the clearance process for international cargo shipments transiting in and out of Mombasa Port. This not only increases East Africa's largest port's efficiency but also reduces transaction costs. Digitising manual processes also improves data transparencies. VCargo Cloud is developing a single electronic window for five of the six countries in the East African Community. The company recently tied up with the Kenya Chamber of Commerce and Industry to provide blockchain-based Electronic Certificates of Origin.

The rise of the urban consumer


The growth of the African middle class is driving domestic consumption. Consumer spending is expected to reach US$2.1 trillion by 20255. Similarly, the rise of the Asian middle class is pushing mass-market consumption. Singapore companies in consumer-related products and services sector are well-positioned to help meet this burgeoning demand in Africa given their Asian experience.

As formal retail gets established across East Africa, in Kenya we are seeing growth in online purchasing. Market experts predict that across the continent, e-commerce purchases will hit US$75 billion by 2025. This growth is comparable to that of the US$88 billion anticipated for Asia by 2025.

Singapore's e-services and e-payments players can partner East African e-commerce companies to increase efficiencies and transparency, enable payment interoperability across both regional and international borders, and ensure system security. For example, TransferTo, a Singapore technology firm, facilitated Safaricom's M-PESA customers in Kenya to link their PayPal accounts to their M-PESA wallets to buy goods and services from merchants across the world.

In conclusion, we are optimistic of Africa's growth potential and East Africa's stellar rise. Every sector presents promising opportunities. I am confident that small can be beautiful in Africa. Singapore companies are in a good position to offer technology transfer, management and governance expertise, and job creation opportunities for locals.