Be prepared for uncertainty with a business continuity plan
Businesses are exposed to risks all the time – whether disasters such as a global pandemic, or tech-related events including a cyberattack. What matters is that your business is well-prepared for such events by having a robust business continuity plan in place.
Today, businesses operate in a fast-changing and volatile global environment. Companies are often interdependent, existing in an intricate web of technologies and supply chains. This interconnectedness exposes firms to a variety of risks across both the physical and digital spheres – risks which can be managed with a robust business continuity plan and a concerted effort to embrace digital transformation.
Unforeseen disasters – such as the COVID-19 pandemic – can throw a company's best-laid plans out the window. While measures such as disaster recovery and insurance are helpful, they are reactive; business continuity plans are a proactive way to mitigate losses when disaster strikes.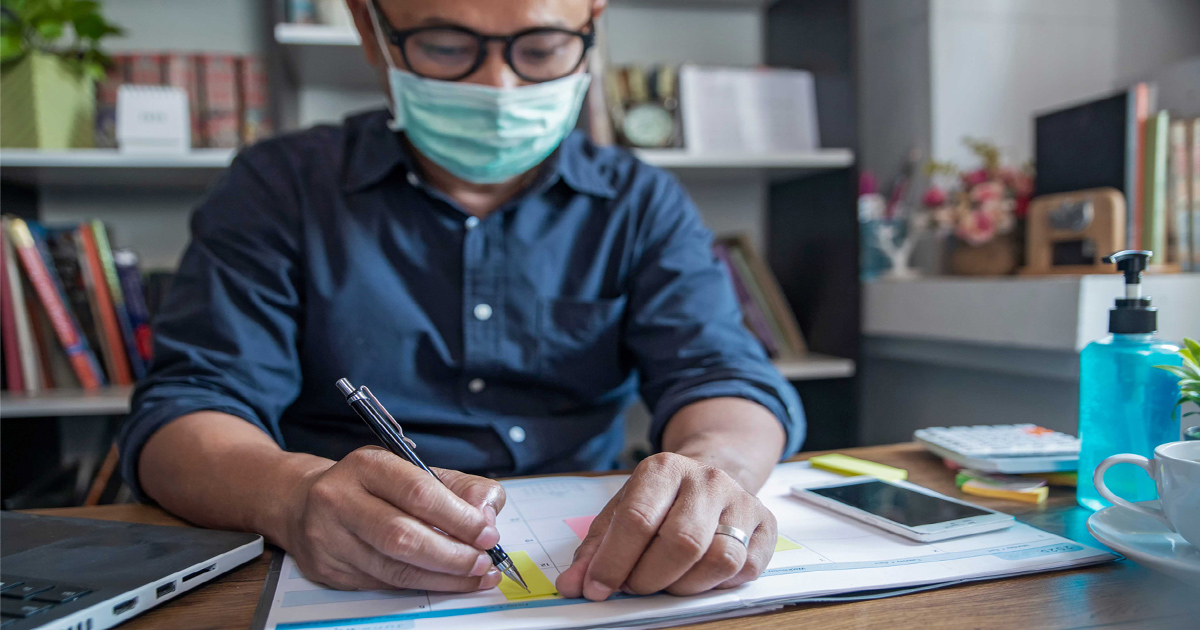 Broadly speaking, business continuity planning is a process through which an organisation develops a system to deal with – and recover from – any sudden disruption. A business continuity plan outlines operational steps to be taken in unprecedented times.
Adopting standards for better business continuity management
Sudden business disruptions can be unnerving – but they don't have to be. The implementation of standards, such as ISO 22301, can ensure that businesses have a good handle on their risk management processes. Businesses adopting the ISO 22301 standard, for example, typically carry out a thorough risk assessment at all business levels and ensure that all managers are actively involved in emergency management.
Businesses which have adopted ISO 22301 will receive accredited certification, meaning they will be recognised internationally by legislators, regulatory bodies and customers alike for adhering to good practices in business continuity management.
This in turn offers greater stability for companies – when an incident occurs, managers can follow a set of concrete steps to address disruptions. Such a structured approach ensures businesses meet both internal and international standards, giving them an added edge in an already competitive landscape.
Companies new to adopting standards such as ISO 22301 should first outline their objectives for implementing the standard, and identify processes and systems within the standard that can help the company achieve these objectives. Once buy-in has been obtained by top management, the next step is to determine the resources required for certification, such as manpower, time, infrastructure and funds.
Keeping the supply train chugging: KPP Packaging
For one such company, having a business continuity plan in place helped expedite its response to the COVID-19 crisis. KPP Packaging, a provider of paper packaging solutions, began adopting SS 540 in 2012 to better manage potential business risks. When SS 540 was elevated to an international standard, KPP converted from SS 540 to ISO 22301 in 2015 to ensure further compliance to international standards.
When COVID-19 struck, the company found itself grappling with several issues, including manpower and logistics. Its business continuity management committee quickly convened to determine the immediate next steps to minimise the impact on the company's operations, and an action plan was put in motion within 24 hours.
For example, to address difficulties in shipping raw materials from Europe to Singapore, the company switched to suppliers based in Malaysia – the several approved vendors indicated in the company's business continuity plan – to cope with the temporary surge in demand and cost.
Had the company not scouted out alternative vendors earlier as part of their business continuity plans, sourcing for a trustworthy vendor that would meet its criteria at the eleventh hour would have been an arduous, time-consuming process.
"In this case, we saved on lead time as well as cost, since shipments from Malaysia were directly trucked in instead," said Ms Josephine Low, Managing Director, KPP Packaging Pte Ltd.
Moving operations online for continuity: Exceltec
Like KPP Packaging, Exceltec, a property and facilities management company, recognised the importance of a comprehensive set of measures to guard against the unexpected. The company attained its ISO 22301 certification in 2018, and was ready when COVID-19 reared its ugly head.
Through the business continuity management certification process, Exceltec identified the need to upgrade its ICT infrastructure, and had shifted its data onto a digital database before the pandemic hit. Doing this ensured the company could keep its key operations running even as Singapore entered its Circuit Breaker in April.
Mr Abdul Jalil, Exceltec's Senior Manager, Corporate & Technical Support Services, added that in addition to a tech upgrade, assembling a dedicated crisis management team helped the company to devise strategies to navigate uncertain conditions and take decisive action when the need arose. For example, when COVID-19 cases emerged in the foreign worker dormitories, the company immediately relocated its workers in affected dormitories to alternative accommodation.
"As a result, we were able to prevent a manpower crunch. This has given us a competitive edge over our competitors, allowing us to clinch key projects during this period," shared Mr Abdul Jalil.
Drawing up your business continuity plan
Business continuity planning will require your business to determine all the risks that could affect its operations; implement measures to mitigate these risks; test these measures to make sure they work and review them regularly. Adopting standards such as ISO 22301 can ensure your business does this in a comprehensive, globally-recognised way.
Here are five key steps to developing a robust business continuity plan:
Gather a trusted team
Appoint and define the roles and responsibilities of the members within the business continuity planning team clearly. Consider appointing a Business Continuity Manager to ensure that employees are familiar with the business continuity plans.

Conduct a business impact analysis and risk assessment
Identify critical business functions (prioritised activities) and essential employees. Assess how potential risks can impact your operations.

Develop a business continuity plan
Determine the resources required and prepare for the necessary contingency arrangements (e.g. staff telecommuting, identifying alternative suppliers) to minimise business disruption. This should include planning for pre-incident strategies, incident responses and post-incident recovery strategies.

Put your plan into practice
Conduct recall, tabletop and ground deployment exercises to stimulate responses in an adverse event.

Review your plan
Be sure to evaluate your business continuity plan regularly and make refinements to ensure it is effective and relevant for your business.
Get started today
Looking to incorporate standards into your workflow? Consider applying for the Enterprise Development Grant (EDG) and Double Tax Deduction for Internationalisation (DTDi) for projects related to adopting a standard. EDG covers up to 80% of qualifying project costs including consultancy, training, certification and equipment. DTDi supports companies planning to expand overseas with a 200% tax deduction on eligible expenses for international market expansion and investment development activities, including expenses on eligible product and service certifications for standards adoption.
For more on how standards can help you facilitate innovation, catalyse growth and access market opportunities, click here.
You can also check out this handy resource for a summary on how adopting ISO 22301 can benefit your business, and how you can go about implementing a business continuity plan.