The Singapore-Sri Lanka Free Trade Agreement (SSLFTA) is the first modern and comprehensive agreement Sri Lanka has participated in in 12 years. This shows Sri Lanka's commitment to reforming its economy, bringing great news for Singaporean businesses.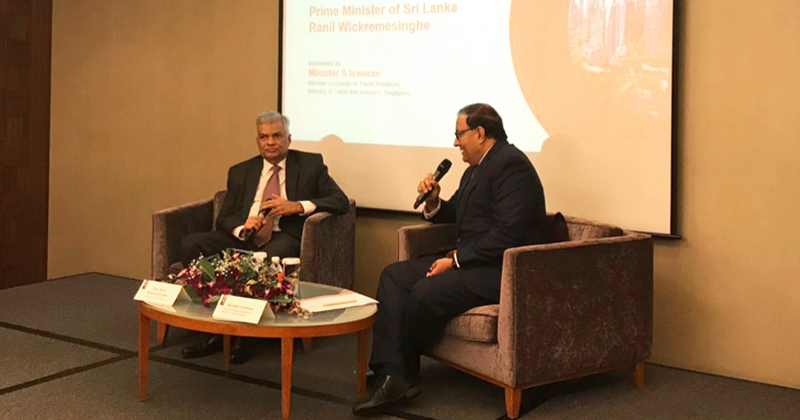 In line with Sri Lanka's Vision 2025 of turning itself into "a rich country with a knowledge-based, highly competitive, social-market economy", the agreement aims to plug Sri Lanka into the Asian supply chains and lay a foundation for Sri Lanka's eventual economic integration into the Regional Comprehensive Economic Partnership (RCEP).
The SSLFTA is complemented by domestic reforms in Sri Lanka aimed to increase its global competitiveness. These reforms will boost the creation of good quality jobs and new trade and business opportunities.
The nuts and bolts of the agreement
1. Tariff Liberalisation Programme
There are three main areas covered in the SSLFTA: the Tariff Liberalisation Programme (TLP), the Investment Chapter, and Government Procurement.
The TLP aims to draw investment from Singapore to create a nexus of goods, services and investment that will foster a conducive environment for the expansion of trade.
| | | |
| --- | --- | --- |
| Immediate duty concessions | 3719 | 50.0% * |
| 1st to the 6th Year 0n 5 Equal Instalment Reductions | 1116 | 15.0% |
| 7th to the 12th Year on 5 Equal Instalment Reductions | 1064 | 14.3% |
| Special list of Sensitive Products 11th to 15th year on 5 Equal Instalment Reductions | 51 | 0.7% |
| Sub-Total | 5950 | 80.0% |
| Negative List | 1488 | 20% |
| Total | 7438 | 100% |
While a total of 7438 tariff lines will be tariff free at the end of 15 years of the signing of the FTA, half of the tariff lines will be immediately exempt. Other goods are given time to eliminate their tariffs. This is to allow domestic economic reforms within Sri Lanka to help them become competitive against imported goods.
Singapore secured a total of 286 tariff lines that make up a large amount of our exports to Sri Lanka These lines will also be progressively liberalised under different reduction schedules.
Cess and Port and Airports Development Levy (PAL) will also be eliminated in 5 equal instalments between the 6th to 10th years, on goods covered in the SSLFTA.
There are two types of Rules of Origin, the General Rule and Product Specific Rule. You should take note to ensure that your products satisfy the ROO in order to enjoy the preferential treatment accorded in the FTA.
2. The Investment Chapter
The full list of protections and treatments include:
Full Protection & Security. It covers physical (police) protection of investors and their property.
Fair and Equitable Treatment, which ensures justice is not denied in criminal, civil, or administrative adjudicatory proceedings.
National Treatment, ensuring that local Sri Lankans are not unfairly treated.
Most Favoured Nation Treatment, ensuring that Singaporeans are not unfairly treated.
Protection against Expropriation.
Compensation for losses due to civil unrest, armed conflict and the like.
Repatriation and free transfer of all legally earned investment after due taxation.
Access to International Investment Dispute Settlement (ISDS), but only after exhausting all local solutions for a minimum period of 24 months.
The National Treatment and Most Favoured Nation Treatment still seek to protect low income groups, animal and plant life, and national heritage. Thus, the policy does not cover:
Agriculture and fisheries
Forestry
Mining and quarrying
Real estate
Arms and explosives
Traditional handicrafts
3. Government Procurement
The government procurement section of the FTA allows Singapore companies to compete on par with local suppliers to the Sri Lanka government. It covers goods, services, and construction. This applies only to international competitive bidding (ICB), and not natural competitive bidding (NCB). The threshold is set at S$130,000 for goods and for services, and S$5 million for construction services.
Procurement is limited to 8 government entities and 5 State Enterprises:
Ministry of Megapolis and Western Development
Ministry of Health, Nutrition and Indigenous Medicine
Ministry of Transport and Civil Aviation
Ministry of Power and Renewable Energy
Sri Lanka Railway Department
Ministry of Education
Ministry of Ports and Shipping
Ministry of Agriculture
Ceylon Electricity Board
Sri Lanka Central Transport Board
Sri Lanka Ports Authority
Ceylon Shipping Corporation
Ceylon Fertiliser Company
Export procedures under the SLSFTA
To enjoy the discounts accorded by the FTA, make sure that your goods made in Singapore satisfy the ROO stated above.
However, an endorsement by the Singapore Customs is still required. Companies should follow the following steps to obtain the Preferential Certificate of Origin:
Register the manufacturing premises at Singapore Customs. Customs authorities will visit the manufacturing premises to ensure compliance to the FTA. The Manufacturer's application is 2 years.
Submit the manufacturing cost statement to Singapore Customs, who will take 5-7 days to process the cost statement. The verification letter will be sent to the manufacturer and is valid for 1 year.
Apply for the PCO for exports to Sri Lanka on the TradeNet System. The PCO can be collected from the printing centre 2 hours after the permit has been approved. The PCO is valid for 1 year.
A good will qualify as originating from Singapore if:
It is wholly obtained/produced in Singapore.
It is manufactured in Singapore and the qualifying value content or local value-add is at least 35% of the Free on Board value of the final product.
It is manufactured in Singapore and has a HS Code change at the 3rd and 4th digit from the raw materials to the final product.
It is manufactured in Singapore and satisfies the Product Specific Rules listed in Protocol 1 of the agreement.
Do remember to retain documents such as the Manufacturing Cost Statement, supporting documents, and triplicates for 3 years from the date of issuance. The Sri Lankan authorities may make verification requests through Singapore Customs to verify your consignments. They are not allowed to contact the manufacturer directly. You should contact Singapore Customs if you receive a verification request from any other party.
Sri Lanka Customs may also request a verification visit to the manufacturing premises. They will first seek the written consent of the exporter, and may sight the following:
Records pertaining to the production of the good.
Observe the facilities used in the production of the good.
Sri Lankan Customs will then provide a written determination of whether the good is eligible for preferential tariff treatment. Exporters have a chance to appeal the determination.
Common errors to avoid
Manufacturers, avoid the following errors, which will invalidate preferential tariff treatment for your products.
Forgetting to renew the Manufacturer's registration and Manufacturing Cost Statement.
Failure to inform Singapore Customs on changes to the manufacturing process.
Inaccurate declaration and application of a PCO. Ensure that details such as item description, HS Code and importer are accurate.
Not retaining all documents for minimum period of 3 years.
Resources available for exporters
Read more about the SLSFTA here.
Use the HS/CA product code search engine to know which product code your product falls under.