We are living in unusual times. Against an already challenging geopolitical and economic backdrop, COVID-19 has added on disruptions to supply chains, international travel, and the way we live and work.
As companies raced to adapt to the changes brought about by the COVID-19 crisis, many turned to open innovation – a collaborative approach that plays to the strengths of all companies involved and produces new and workable solutions quickly.
For Singapore and Germany, open innovation presents opportunities to better leverage the complementary strengths of the two countries. Dr Maren Schweizer, Chief Executive Officer (CEO), Schweizer World, observed, "Germany is strong in the area of hardware, and Singapore for software and data. The combination of these two countries' strengths can certainly create more value."
Dr Schweizer was speaking at Germany Singapore Business Forum (GSBF) Connect, held in conjunction with Singapore Week of Innovation & TeCHnology (SWITCH) 2020. At GSBF, speakers and participants alike discussed how to foster stronger Germany-Singapore collaboration in sectors such as advanced manufacturing, medical technology and healthcare – industries with strong demand for digital technology development.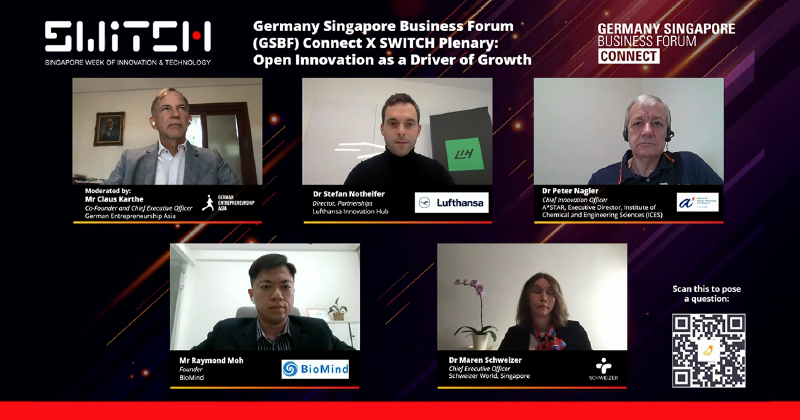 Open innovation benefits startups and SMEs
As a Singapore startup or small and medium-sized enterprise (SME), you may have an idea that addresses a market demand. Open innovation can help you access the resources you need for finetuning and test-bedding your product, in turn bringing the product to market faster.
While concerns over intellectual property, return on investments, and various unforeseen consequences of open innovation are all valid, what we are experiencing now is an opportunity to innovate through and beyond the crisis.
Here are some potential benefits your company can reap from an open innovation partnership.
Going global

Working with larger and more established companies can help you build a good track record and bring your business overseas.

Take Xnergy as an example. The Singapore startup develops charging technologies for autonomous devices, including mobile robots and mobility vehicles. Together with German semiconductor giant Infineon Technologies, Xynergy successfully created the world's smallest charger for robots.

The collaboration paved the way for Xynergy to obtain their Conformité Européenne (CE) certification, a mandatory requirement for companies who wish to sell their products in European markets. Infineon also introduced their business associates in Europe to Xnergy, opening doors for the startup to pursue future potential projects there. Find out more about Xynergy and Infineon's co-innovation journey here.




Growing your market share

Working with key players in the market also means you get to develop new products with a validated market need and expand your customer base.

When Singapore startup Pulsifi joined hands with SAP.iO Foundry Singapore, it successfully co-developed a people analytics platform within a year. Through this partnership, Pulsifi also successfully listed itself on SAP App Centre, a platform that allowed the startup to access the global online marketplace.

Mr Jay Huang, Co-founder and CEO, Pulsifi, shared, "My advice for startups that are interested to work with bigger companies would be to focus on the key players in the ecosystem that really move the needle for the company. The dedication and result-orientedness of the SAP.io Foundry team gave us one of our best co-innovation experiences."
Tips for a win-win partnership
Unsure about how to start your cross-border collaboration journey? Check out these tips from industry leaders at GSBF Connect x SWITCH 2020 on how your startup or SME can build a successful partnership: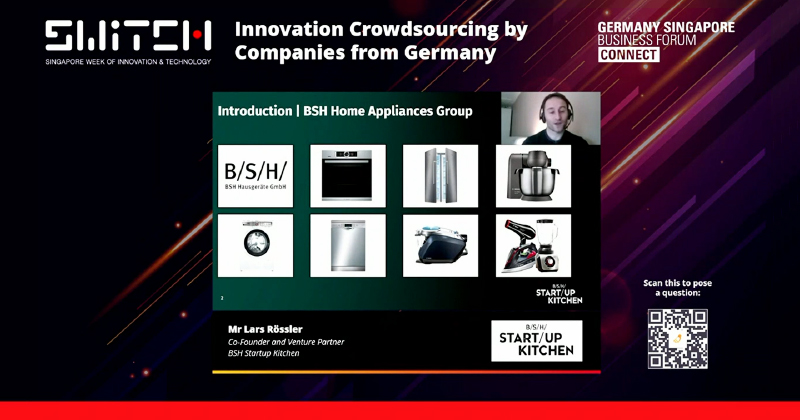 Demonstrate commitment

Startups may find it difficult to gain trust from potential overseas partners in the absence of a track record and customer testimonials. Often, it pays to voluntarily go the extra mile.

Take the case of BioMind – a Singapore startup in the healthcare sector with business interests in Germany. To demonstrate the company's commitment to the market, Mr Raymond Moh, Co-founder of BioMind, shared that he assembled a team on the ground from the get-go to work with their German partners.

By doing so, BioMind overcame time zone barriers, responded quickly to operational needs, and most importantly, secured their partners' trust. When COVID-19 hit Europe, the company – which applies deep learning to diagnose brain disorders – pivoted to COVID-19 diagnosis and worked with their partners to rapidly scale up across hospitals in Germany and neighbouring Luxembourg.




Start small

Small wins can also go a long way towards inspiring mutual confidence.

According to Dr Stefan Nothelfer, Director of Partnerships at Lufthansa Innovation Hub, the digitalisation and innovation unit of the German airline, corporates tend to be more risk averse and slower in the decision-making process compared to startups. To overcome this potential issue, Dr Nothelfer advised companies to consider implementing product trials in the market first.




Keep an open mind

Ultimately, open innovation is about finding good solutions to pressing problems with the help of external partners. Dr Peter Nagler, Chief Innovation Officer of A*STAR and Executive Director of Institute of Chemical and Engineering Sciences, urged companies to keep an open-minded attitude towards new partners. "Consider working with those who are in a different industry, or even your competitor," he said.

To support his point, Dr Nagler cited the example of A*STAR's Pharma Innovation Programme. The initiative brings together universities and leading pharmaceutical companies such as GlaxoSmithKline (GSK), MSD International GmbH (Singapore), and Pfizer Asia Pacific Pte Ltd to co-create solutions that improve the industry.




Leverage the Singapore brand

Singapore's reputation for quality and innovation is a valuable resource that has currency across the world, including Germany. Get your products and solutions certified by Singapore national agencies such as the Health Sciences Authority, Mr Moh advised. This will ease the administrative process of obtaining the CE mark in Europe.
Now is the time for open innovation
In this digital age, Singapore and German companies have more opportunities than ever to work together through collaboration in open innovation – in turn jointly accessing market opportunities across Southeast Asia and Europe.
Keen to be matched with potential partners in Germany to explore open innovation opportunities? Find out how you can embark on your innovation journey today.