When it comes to expanding internationally, Africa may not be top of mind for many Singapore companies.
Home-grown Ascent Solutions was an exception. The company specialising in Internet of Things (IoT) solutions took the bold step of launching its product in Kenya in 2010. Its end-to-end cargo-tracking solutions enabled local custom agencies to slash the time taken for an 800km journey with more than 10 checkpoints, from 20 days to just three. Taking the plunge paid off for Ascent. It became profitable from its first year of operation.
Logistics is just one sector in Africa where Singapore entrepreneurs with innovative solutions can find ready markets and potentially lucrative returns. In fact, the number of Singapore companies with investments in Africa has doubled from 2016 to 2020. Even amid COVID-19, more Singapore companies are venturing to Africa. More than 100 Singapore companies are now present in Africa, with a stock investment of US$20 billion (S$26.4 billion) in Africa in 2020, ranking Singapore among the top ten investors in the continent.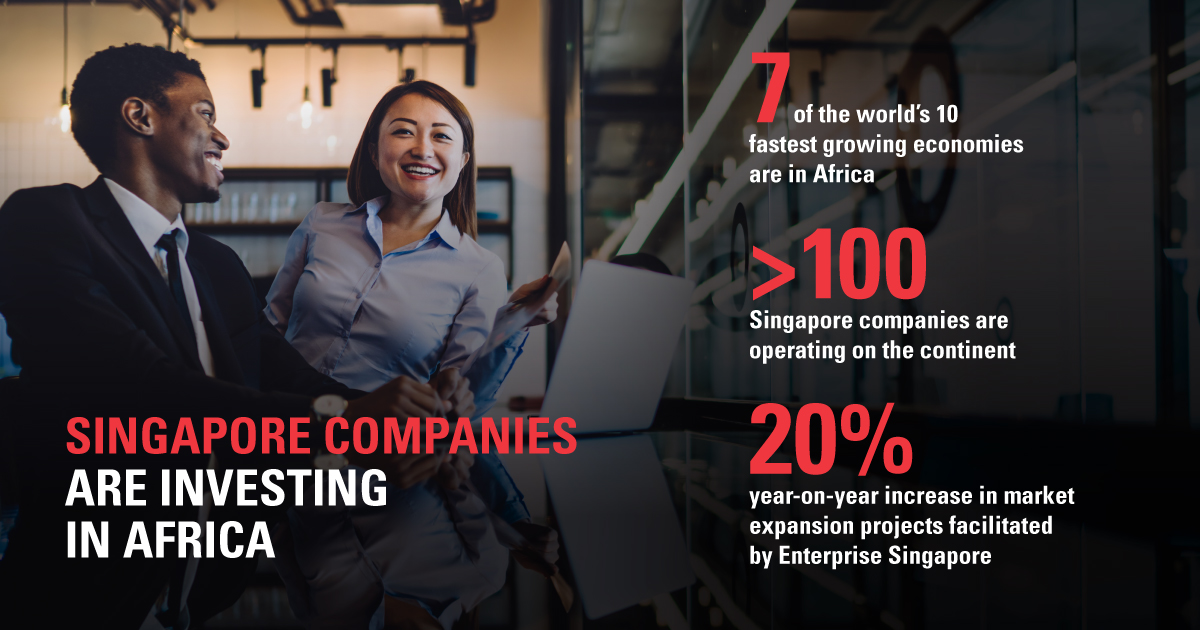 Speaking at the recent Africa Singapore Business Forum (ASBF), Senior Minister Tharman Shanmugaratnam remains upbeat about Africa as an investment destination. He highlighted that "in the medium to long term, Africa is on a different growth trajectory" compared to mature economies. It is an open environment for investment not dominated by large foreign or domestic players, therefore offering immense opportunities for Singapore companies.
Key opportunities and trends
Young and urban population
Africa has a combined population of 1.3 billion, of which 60% are below 25 years old. While developed economies generally grapple with an ageing population and shrinking labour force, Africa's population is projected to double by 2050, making it the world's youngest continent. Demand for education, employment and consumer goods is expected to increase.
Africa is also the fastest urbanising region in the world. Between 1950 and 2015, it has grown from 27% to 40%. The unprecedented pace of urbanisation will be driven by a growing African middle class, fuelling demand for fast moving consumer goods, housing, transport and luxury items. Consumer expenditure in the continent has grown at a compound annual rate of 3.9% since 2010 and is expected to reach US$2.1 trillion (S$2.8 trillion) by 20251.
Along with urbanisation is an increasing need for infrastructure, energy and urban solutions such as affordable housing, water and waste management. It is estimated that Africa has a US$108 billion (S$143 billion) annual infrastructure deficit2. This presents tremendous opportunities for Singapore businesses with expertise in this sector, especially in the area of smart city solutions that promote sustainable development.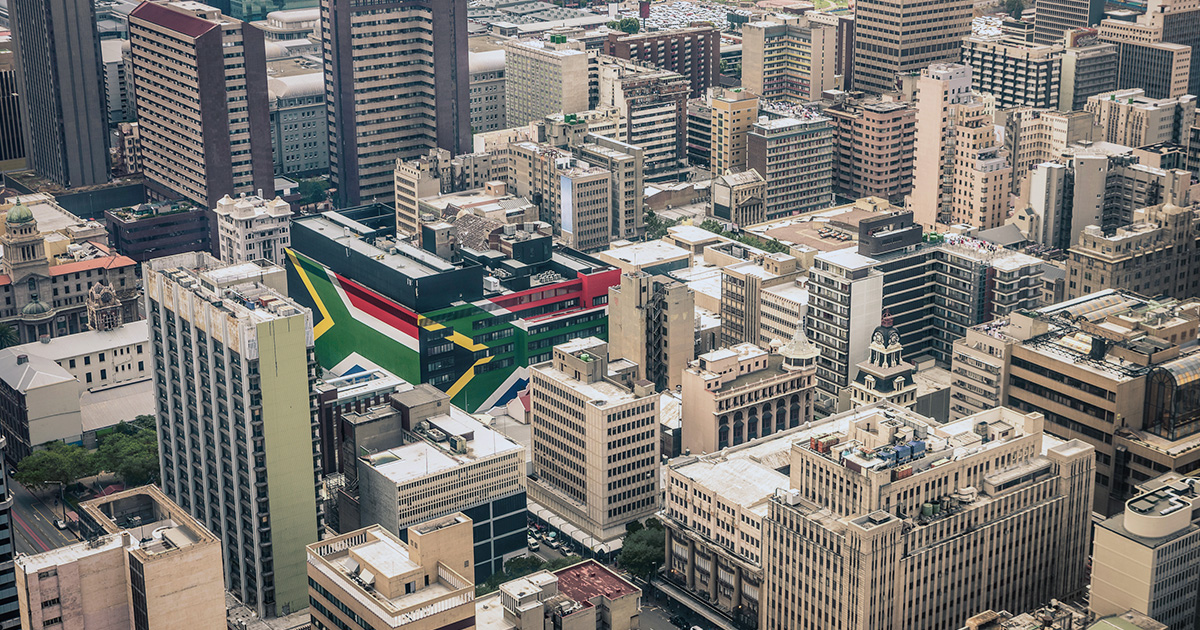 The opportunities arising from a fast-growing urban and youthful population have attracted attention from Singapore firms. Singapore technology company Terra AI will be providing chatbot and artificial intelligence (AI) training to students and professionals (especially non-programmers) in Senegal. LivinWall is set to distribute its Gush line of advanced and sustainable building materials to both commercial and residential real estate sectors in Ghana. In the consumer market, grocery shoppers will shortly be able to cart out Tee Yih Jia's "Spring Home" popiah wrappers, spring rolls and parathas in Ghana and Win Win Food's snacks in Ivory Coast.
Agriculture and manufacturing
Africa has 65% of the world's uncultivated arable land and agriculture is the foundation of its economy.3 Yet, it remains a net importer of food. Agricultural transformation will be crucial to increase output, reduce post-harvest loss and improve market efficiency.
Many resource-rich African economies are now placing greater emphasis on encouraging local value-addition. With the implementation of the African Continental Free Trade Area (AfCFTA), 54 member countries are now connected within the largest free trade area in the world. The pact is expected to attract foreign direct investment into Africa and greatly boost Africa's economic activities. In particular, manufacturing is poised to be an important engine of growth for Africa and select African countries have begun their journey in industralisation-led growth.
Agriculture and manufacturing are key areas where Singapore companies can play a role. Established Singapore-listed companies Olam and Tolaram Group are early movers which have found success in Africa's agribusiness and food manufacturing sectors. The Tolaram Group has further expanded into infrastructure and is now building Nigeria's new deep seaport and Lagos free trade zone. You can provide innovative solutions to strengthen Africa's ecosystem for agribusiness and manufacturing.
Technology and digitalisation
Technology and digitalisation have disrupted and fast-tracked almost every sector in Africa. Prior to the pandemic, digitalisation was already rapidly transforming the African economy. Like in many countries, the pandemic has accelerated the adoption of digital solutions, with many embracing tools such as video conferencing and e-commerce.
Notably, mobile technology is proving to be a game changer in Africa, connecting millions to digital services. Text messaging can now reach communities in the most rural areas, with the potential to transform lives and livelihoods. For instance, simple text messages through unstructured supplementary service data (USSD) of weather reports or market prices can influence how farmers plan their crops.4
Africa's rising internet and mobile penetration has opened doors to new opportunities. With mobile money present in the continent more than a decade ago, various sectors in Africa are also being disrupted by tech. For instance, drones have been deployed in Africa to deliver medication and support precision agriculture. Africa is also one of the fastest-growing markets for adoption of cryptocurrency.
Singapore companies in the technology and digitalisation space can take the lead to invest in Africa's exciting development. One will find many green field investment opportunities across sectors such as agritech, edutech, fintech and healthtech.
Potential challenges and outlook
On the cusp of transformation, Africa is an open field for business. Despite a decline in foreign direct investment due to the pandemic, investments are returning to Africa due to an expected increase in demand for commodities, a reconfiguring of global and regional value chains, and opportunities arising from the AfCFTA5.
Against this positive outlook, companies will still need to watch for potential hurdles when entering the African market. At the ASBF, Dr Akinwumi Ayodeji Adesina, President of the African Development Bank Group, pointed out possible road bumps including gaps in physical infrastructure and connectivity, and energy shortfalls in some countries. Digital access and coverage are not uniform across Africa, and a lack of financial transparency in some areas continues to be a challenge.
Entrepreneurial Singapore companies will see these challenges as opportunities to create innovative solutions unique to Africa. Take a prudent approach by working with the right in-market business partners, cultivating a deep understanding of the landscape, and starting from a small scale. Many Singapore companies have ventured forth, building partnerships with stakeholders in Africa over the years. The windows of opportunity are now wider than ever.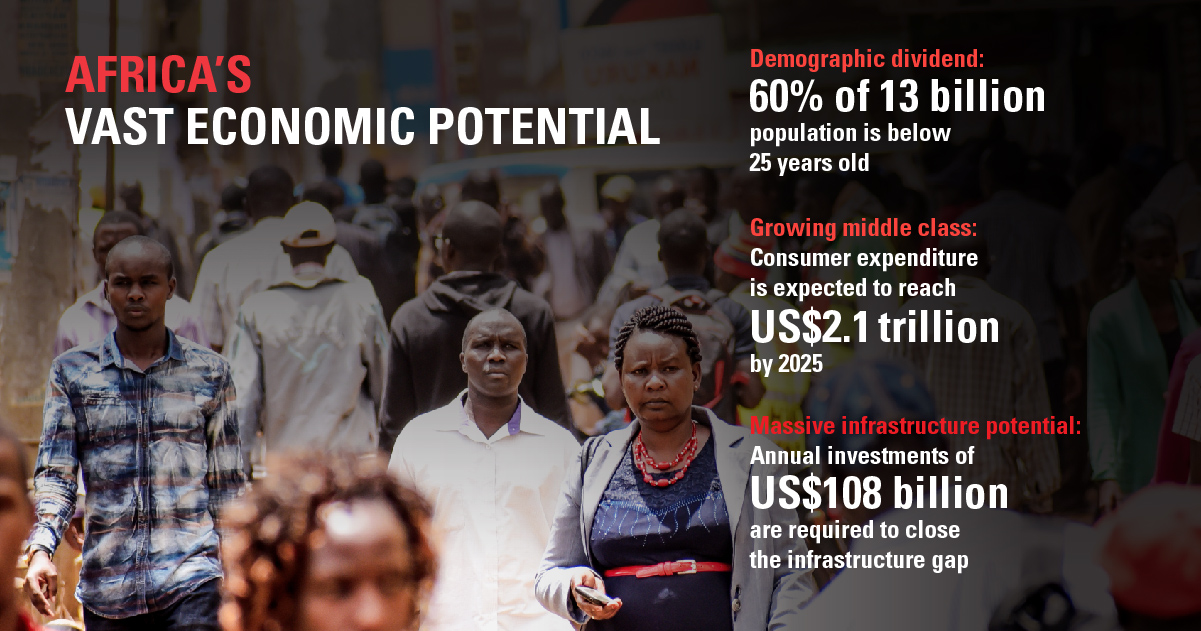 As Dr Adesina sums it up at the ASBF, "If you are not investing in Africa, I wonder where you are investing."
Keen to know more about investment opportunities in Africa? With three overseas centres in Johannesburg, Accra and Nairobi, we can be the bridge to connect you to market opportunities and partners across Africa.
Here's a closer look at manufacturing and digitalisation – the dual engines of growth in Africa. Find out how you can get in on the action.