First published on The Business Times on 13 October 2022.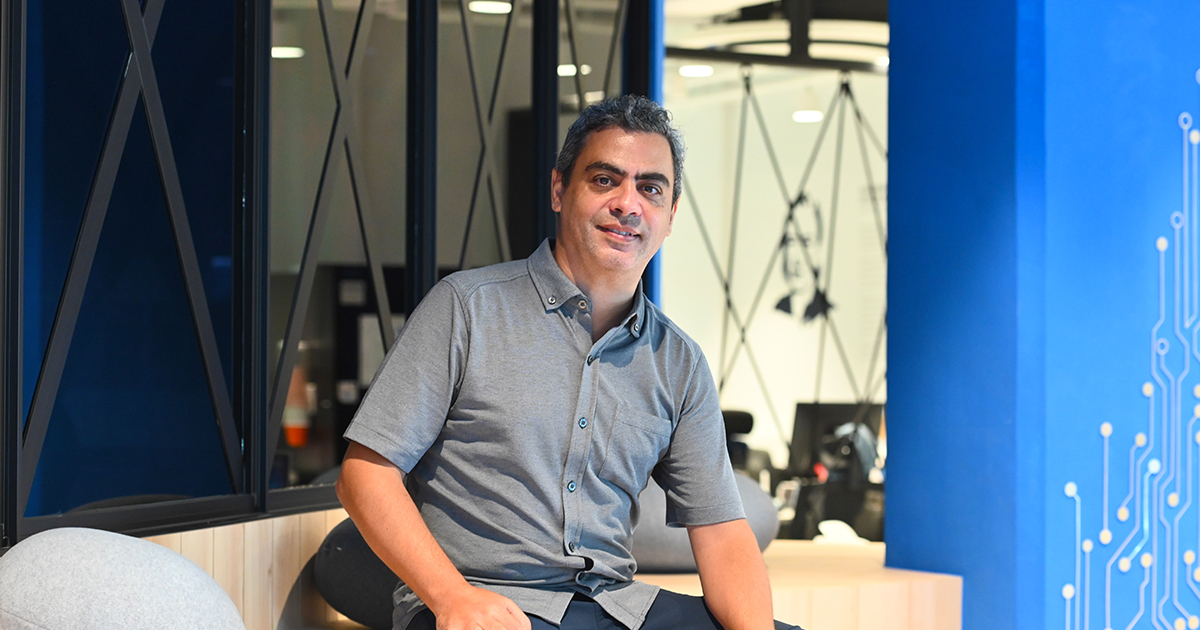 The typical Singapore startup's growth plan often goes like this: Break into the local market, expand regionally, and then gun for international presence.
But few players might know that with one good innovation, firms can catapult onto the radars of clients worldwide, and on the fast track to becoming a global brand.
Singapore-based Tagvance is a good example. The asset-tracking technology firm went from running a pilot project with Keppel Shipyard in 2019 to landing contracts and partnerships with SAP, Amazon Web Services, Cisco, Samsung C&T, and Japan-headquartered construction giant Kajima this year.
Then there is local drone maker Performance Rotors, which started off in 2017 selling inspection drones to just 3 customers. In its second year, it won over international clients including BP, Dutch multinational Vopak, France's Bureau Veritas, and Germany's Bernhard Schulte Shipmanagement.
How did these startups manage to innovate and supercharge growth despite their small size and resource constraints?
The answer: Open innovation challenges.
What is an open innovation challenge?
In an open innovation challenge, business owners seeking solutions – typically leading corporates and government agencies – crowdsource for novel ideas by outlining problems in challenge statements. Startups and small and medium-sized enterprises (SMEs) then respond by pitching innovative solutions.
Selected proposals are co-developed by the partners to the prototype stage. Startups and SMEs receive infrastructure access, support and funding through the process, while corporates access a bigger pool of ideas and spectrum of competencies to improve their operations.
They can find out more about the challenges and apply to participate on the Open Innovation Network portal, launched by Enterprise Singapore (EnterpriseSG) and the Infocomm Media Development Authority, which aggregates challenges in Singapore.
Confidence booster
Open innovation challenges are opportunities to assess a problem on-site, said Tagvance co-founder and CEO, Can Kiral. "You cannot reproduce business problems on a laptop. In order to innovate, you have to be in the field."
Kiral, 50, is a fan of such challenges, with Tagvance having pitched and won projects three times.
One of these challenges was the Built Environment Accelerate To Market Programme (BEAMP), which saw Tagvance co-create a workforce tracking platform with local construction company Straits Construction. The programme was launched by Singapore's Building and Construction Authority, JTC Corporation and EnterpriseSG.
Tagvance did this by expanding its original solution – deploying bluetooth, radio and tags in helmets to track workers in areas without Internet access – to encompass a cloud-based monitoring platform.
"In an open innovation challenge, you have the opportunity to understand what keeps clients up at night," said Kiral, a Turkish national who initially developed his solution for Turkey's mining industry before relocating to Singapore. "It's the perfect catalyst to find business problems."
The current system of worker monitoring and manpower planning is manual, he added, citing methods such as writing workers' names on attendance boards at site entrances. "All contractors wish to have this process automated."
Tagvance's new platform allowed Straits Construction to see the flow of workers and machinery on its construction sites. The solution also attracted global attention from players across the construction, mining and maritime industries, with clients such as Samsung C&T using the platform to meet stringent zoning rules and identify close contacts of workers down with Covid-19 amid the pandemic.
Today, Tagvance's annual revenue is in the 6-figures – no mean feat, for a startup run entirely by 2 founders.
It's a similar story over at another startup, Performance Rotors. Founded in 2016, it started off creating drones to conduct inspections in dangerous spaces, making it safer for workers.
"We were already developing a solution for confined spaces like underground storage or water storage tanks," said co-founder and CEO Keith Ng, 48, a drone hobbyist-turned-entrepreneur.
Under an innovation challenge run by EnterpriseSG and National Parks Board (NParks), Performance Rotors worked with NParks to develop a solution for the agency to better conduct tree inspections in forested areas without a global positioning system (GPS) signal.
Programme funding enabled the startup to add 5 staff to its core team of 3 founders, and sped up the development of its autonomous drones. Unlike other drone makers, Performance Rotors' small, light models can triangulate without relying on GPS or bulky lidar (light detection and ranging) technology, instead employing a combination of sensors.
Tan Boon Kim, EnterpriseSG's executive director for the startup and innovation ecosystem, added that startups and SMEs can address actual industry demand via open innovation challenges, instead of basing their solutions on theoretical problems or hypothetical applications in silo.
"This helps them to ensure market fit, accelerate commercialisation of new solutions, and eventually build a track record for growth," he said.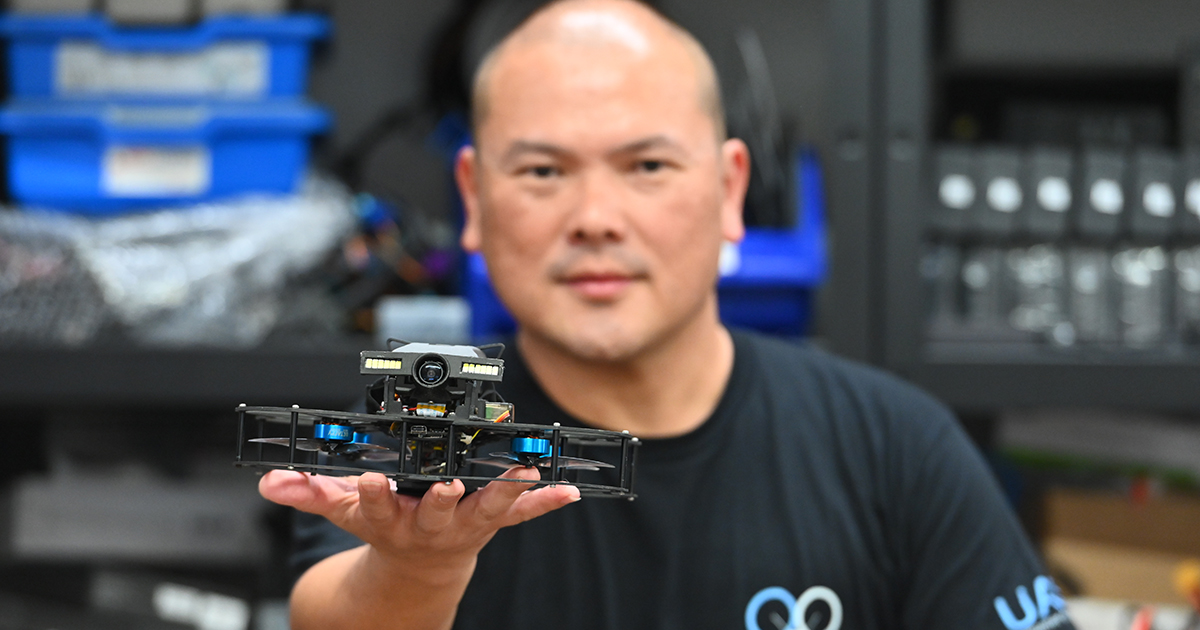 Growth 'like a hockey stick'
As Kiral and Ng have discovered, startups benefit not just from solutions developed during open innovation challenges, but continue to reap dividends even after with the newly acquired expertise.
Performance Rotors went on to develop various iterations of the drone it built for NParks. Its Raven drone deftly navigates confined spaces, while the waterproof Kingfisher can conduct under-deck inspections. A new tiny model, meant to traverse narrow pipes, is in the works, and all drones now come with defect identification software powered by artificial intelligence (AI).
These enhancements expanded its customer base, which spans the oil and gas, infrastructure, pharmaceutical, maritime and defence industries. Its bottom line, too, has swelled. Revenue tripled in the past year, and is expected to grow further, claimed Ng.
"Our growth chart looks like a hockey stick," said Ng, whose team has grown to over 30 staff. With support from EnterpriseSG, the startup is opening offices in Malaysia and the Netherlands to better serve customers across South-east Asia and Europe. The Middle East is next.
As for Tagvance, co-founder Kiral is taking its solution into the Industry 4.0 era by developing tags that are capable of machine learning – an application of AI where machines "learn" how to perform a certain task based on data and experience.
Tagvance is teaching the AI in these tags to detect slips, trips and falls, so its platform can alert companies before workers are injured. Industry demand for such solutions is rising, as companies shore up safety to meet stricter workplace safety codes and penalties, Kiral noted.
Beyond helping them come up with expanded product offerings, both founders say open innovation challenges provide a critical ingredient for success: Focus.
"Most of the industry's problems have already been solved," said Kiral. "So you need to focus on use cases to wrap up solutions, instead of adding feature after feature."
Ng added: "As a bootstrapping startup, anything that clients throw your way, you tend to try and deliver. But when a client asks for a solution, you must think about the costs involved and the market demand. If you try to do too many things, you end up spreading yourself too thin, and not doing anything well."
"As a startup with no track record, how are you going to prove you can solve customer pain points, when you're not even privy to them?" said Ng. "If you're doing it on your own, you may not get the correct pain point the customer is facing."
"In open innovation challenges, the pain points given are real," he added. "So we are always looking at challenge statements, and keeping an eye out for innovation opportunities."
As Singapore accelerates its transition toward an innovation-led economy, more companies are embracing and reaping the benefits of open innovation, observed EnterpriseSG's Tan.
This was not the case 5 years ago, when larger companies mainly engaged in innovation in-house, he shared. But today, companies are leveraging open innovation to develop novel solutions quicker and more effectively, engage in cross-border partnerships, and tackle complex challenges with global impact.
"The mindset around innovation development and capability building has shifted," Tan said. "This has enabled more collaboration in innovation among the local business community, and catalysed new disruptive products and services to fuel Singapore's growth."
This is the first of a four-part series that explores how a focus on innovation can help homegrown companies unlock opportunities and open doors to global partnerships. Find out more here.
Tips for successful open innovation
At the core of open innovation is a willingness to explore and exchange ideas, said Tan Boon Kim, Enterprise Singapore's executive director for the startup and innovation ecosystem. These are his tips for companies that want to get started on open innovation:
Startups and SMEs can…
Understand and articulate what they can contribute to the partnership, such as key strengths and unique propositions to meet specific industry needs
Form a partnership or consortium to address challenges that require technological solutions spanning multiple areas of expertise
Corporates can…
Share operational pain points honestly, so as to better crowdsource for relevant solutions targeted to their needs
Be clear and reach an alignment within the organisation as to the infrastructure, support or funding they can provide to testbed, pilot and commercialise solutions