Change may be the only constant, but the rate of change has been anything but constant.
China has been seeing rapid economic development since opening up in 1978, and is the world's second largest economy today. The speed of its growth is matched only by the rate of its ageing population. With declining birth rates and longer life expectancy, the number of people over 60 years old is projected to reach 28% by 20401.
Being the world's most populous country, improving its healthcare ecosystem is a major challenge, and a key priority in China's national development strategy. Its healthcare market is expected to grow to S$3.29 trillion2 by 2030.
The pandemic has also accelerated a shift towards self-care, healthier living, and better quality of life, creating growing demand for personal care products, health foods, vitamins, and supplements. Cosmetic retail sales in China hit a US$60 million3 high in 2021; while the health and wellness industry is expected to grow from US$122 billion in 2020 to US$145 billion in 20254.
To keep our Singapore businesses abreast of the changing developments, we invited industry partners to share on the opportunities from China's thriving medtech and beauty & wellness sectors.
Opportunities in China's medtech industry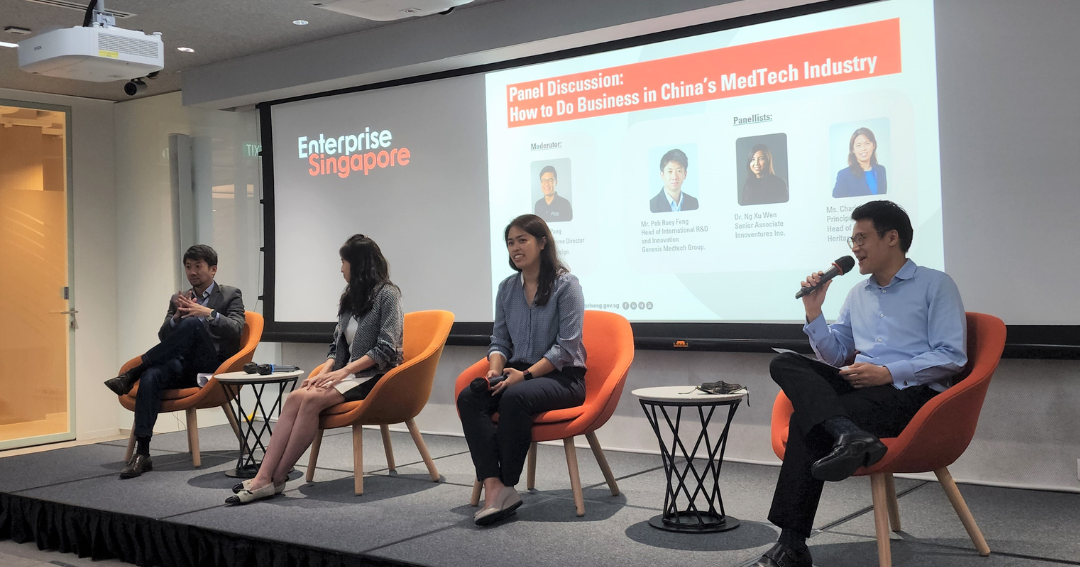 Today, China accounts for around 20% of the global medical device market and its medtech industry is estimated to be more than S$130 billion by 20255. Areas with strong growth potential include:
Cardiovascular health
Orthopaedics
Ophthalmology
Cerebrovascular health
Robotics and digital health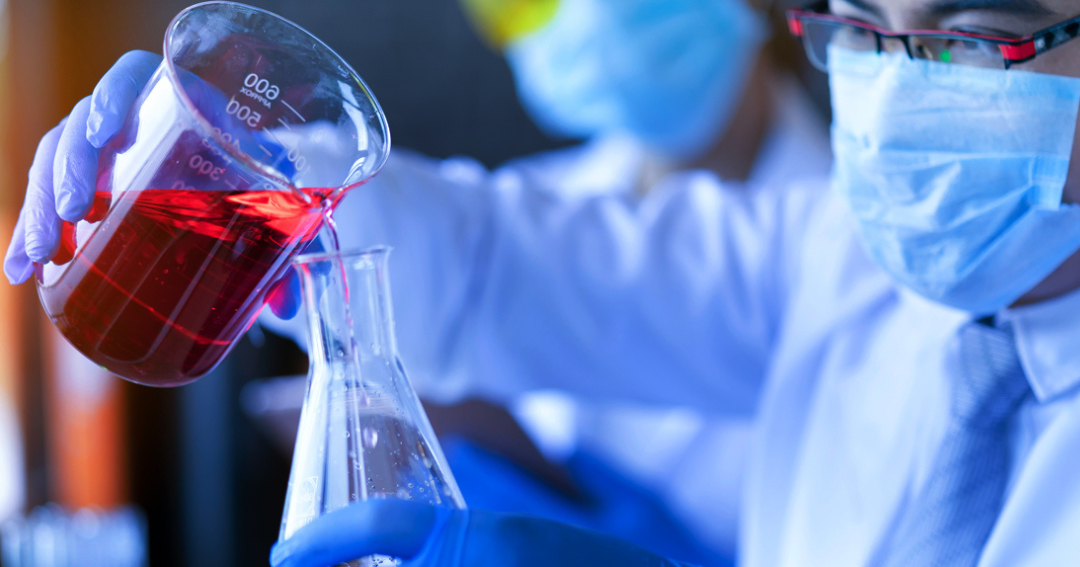 To accelerate the growth of this emerging industry, China has made regulatory reforms. An example would be the introduction of an accelerated pathway for innovative medical devices, known as Green Channel, that can reduce the time taken for approval processing by up to six months. Such moves have spurred faster development for medical products.
With a new focus on innovation, Chinese medtech leaders are expected to increasingly leverage mergers and acquisitions, licensing or investment of companies, early-stage ventures or incubation, and talent acquisition, to develop new capabilities. This will in turn present opportunities for Singapore enterprises to collaborate with Chinese companies and gain access to the market.
While China's medtech industry offers a myriad of opportunities, enterprises need to be aware of the challenges and conduct your due diligence:
Increasing price pressures due to cost-cutting measures implemented by the government, such as bulk purchases. This could also reduce market access opportunities for Singapore enterprises that may not be able to provide the huge volumes of devices required.
Intensified competition with the rapid growth of digital healthcare offerings, including internet hospitals, that was fuelled by the pandemic. Singapore enterprises must develop stronger and more unique capabilities to remain competitive alongside the Chinese technology giants.
Complex regulations that vary across different classification of medical devices. This may create additional barriers of entry and require investment of more resources before Singapore enterprises can enter the market.
Connecting with the right partners to navigate the complex regulatory and business medtech industry in China. Singapore enterprises may wish to work with in-market partners (i.e. market setup advisors, contract research organisations, contract development & manufacturing organisations, key opinion leaders, etc) when expanding into China. Information on some of these potential partners can be found here.
Tips for Singapore enterprises looking to enter China's medtech industry
Understand the dynamics of each region:
Being one of the largest countries in the world, the development of China's domestic medtech industry can differ according to the respective regions' strategic priorities. Other than the market opportunities that each region can offer, you can also consider the preferential policies, monetary incentives, and support that each region provides to attract foreign companies when deciding the choice of city to venture into.


Select your mode of entry into China:
There is a wide range of business models that you can consider when venturing into China. These include establishing an office in the market, entering a joint venture with a local partner, appointing a local distributor, or licensing out to a Chinese partner. You may wish to note that each entry mode has its own pros and cons, and it is important for you to protect your intellectual property before entering China or any forms of collaborations.


Know the processes:
The Chinese medtech industry is heavily regulated by the National Medical Product Administration (NMPA). Regulatory pathways will vary across medical devices, and provisions and guidelines may change from time to time. Therefore, it is essential for your company to make regular checks on the most accurate information published by NPMA.
Want to find out more? Download a summary of market outlook and trends on China's medtech industry here or contact us at biomed@enterprisesg.gov.sg
Source: The above content is adapted from the sharing by our industry partners Genesis Medtech, Heritas Capital, Innoventures and Singapore Biodesign at the iAdvisory seminar held on 12 August 2022.
Opportunities in China for Beauty and Wellness Product Owners
There is a growing demand for beauty and wellness, aka 大健康, in China. Chinese consumers today, especially Gen Z and the millennials, are more willing to spend on high quality beauty and wellness products that are innovative and effective. They favour premium beauty and wellness products, and have a positive impression of Singapore products as they are known for quality, safety, and reliability. Our local beauty and wellness companies can tap this branding to capture the mindshare of more Chinese consumers.
Market entry options
Cross-border e-commerce (CBEC) is a popular avenue for foreign brands looking to sell to China as it provides the following advantages:
Local product certifications or inspections are not required
Delivery of goods can be via Chinese bonded warehouses, or directly from overseas
Marketing authorisation is not required
Less stringent rules, i.e., companies only need to comply with the standards in country of origin
Viable for companies to test products' acceptance in China
Simpler onboarding process
The latest 2022 version of the CBEC positive list covers 1,476 categories of commodities.
In 2020, CBEC was used by 140 million consumers, with imports reaching US$88 billion. The fastest growing categories include vitamins, fish oil, probiotics, CoQ10, lutein and sports nutrition products. Other emerging categories such as baby vitamins & minerals, weight loss, collagen, gut health and enzyme products are gaining popularity.
Selling offline via direct selling (B2C) or though drugstores (B2B) is also a viable option for foreign brands. Chinese drug stores are very keen to promote health products, as these are fast-moving goods which provide high profit margins.
People aged over 60 years are key consumers for health products as they account for 49% of consumers buying products in drug stores. While direct selling in China has surged in the past, its development has slowed down in recent years due to the suspension of new direct selling licence issuance.
Tips for Singapore companies looking to enter and scale
In the massive Chinese market, the competition between domestic and foreign brands is fierce. Here are some ways companies could navigate challenges and stand out from the competition:
Do your homework:
There are different export and regulatory requirements for cosmetics, health foods and drugs. Product classification may also differ based on your country of origin. For instance, cosmetics in China are classified into general or special cosmetics categories, and the former requires notification while the latter requires technical review, animal testing and product registration.

For health food, products with 27 functional claims are subjected to registration, while only certain types of vitamins and minerals can apply for filing. Similarly, the registration pathway for generic drugs would differ from that for new or innovative drugs. Companies must comply with relevant safety assessments, efficacy evaluation, product claim, labelling requirements, and advertising law. For example, health foods need to have an "integrated label" with Chinese instructions, as stick-on labels are not acceptable.


Invest in social media marketing to build brand awareness:
With local and international brands vying for visibility, Singapore brand owners would need to find ways to promote your brand, create user following, and drive traffic and sales to your online and offline stores.

For example, GreenLife's strategy was to set up its e-commerce and social media channels in a short span of time, as channel visibility is important for brands with zero presence in China. It also collaborated with influencers to generate content and videos to reach out to its target audience. The use of social media marketing platforms, such as Xiaohongshu (RED), Douyin and WeChat, could help to reduce customer acquisition costs in the long run.


Be adaptable to seize opportunities quickly:
It is important to be nimble and adjust strategies according to the situation at hand.

Due to the impact from the pandemic, UGEL Cosmetics experienced a 90% drop in traffic for one of its top producing channels. Hence, its advice would be to pursue channel diversification instead of placing all the eggs in one basket, even if trial costs may be high. Natura Biotechnologies also had to adapt quickly when faced with roadblocks for product registration. The company reformulated a health food product and registered it successfully as a cosmetic. This allowed the company to gain faster in-market access.


'Hunt-in-a-Pack' with other Singapore brands:
There are ongoing initiatives where Singapore brands are banding together to support each other in expansion in China. Interested companies can reach out to the brands to find out more:

GreenLife is offering an end-to-end solution to help Singapore companies entering China via CBEC, with services such as e-commerce operations and social media marketing.
Natura Biotechnologies is leading a group of Singapore companies to get on board Chinese retail channels, starting with Sinopec/Easy Joy CBEC platform and offline petrol stations. Aggregated transport and logistics solutions and joint marketing opportunities are available.
Want to learn more about the ins and outs of entering China and sustaining your growth there? Download our guide on bringing your brand to China for Singapore lifestyle & consumer companies here.
Source: The above content is adapted from the sharing by our industry partners ChemLinked, Chongqing Pharmaceutical Group Yi He Health Industry, GreenLife, JD Worldwide, Natura Biotechnologies and UGEL Cosmetics at the iAdvisory seminar held on 29 July 2022.
1
Source: https://www.who.int/china/health-topics/ageing
2
Source: https://www.mckinsey.com/cn/our-insights/perspectives-on-china-blog/8-reasons-why-china-is-the-most-exciting-healthcare-story-in-the-world-right-now
3
National Bureau Statistics, 2021
4
South China Morning Post, 2021
5
Source: https://www.simon-kucher.com/sites/default/files/2020-10/Simon-Kucher_ChinaMedTechAccessTrendsReadoutSep2020.pdf