China may be a competitive market, but its huge market and vibrant tech ecosystem still abound with opportunities for Singapore tech startups.
Companies can look at China in 2 ways:
As an end market (due to its sheer size); or
As a partner for tech sourcing or internationalisation.
Given the intense competition there, companies who are even thinking of going in need to be clear of their unique value proposition, what they are using the market for, understand local needs, and find a strong partner to scale up quickly there.
Where do I go?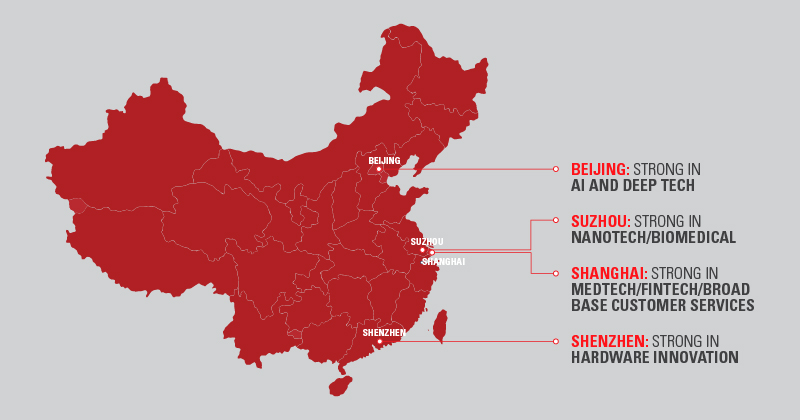 As a start, consider the 4 more mature and advanced cities in the tech ecosystem: Beijing, Shanghai, Suzhou, and Shenzhen.
City

Strong In

Strength of ecosystem

What you need to know

VCs

Beijing

AI and Deep tech

Largest startup ecosystem in Asia and 3rd in the world, with over 7,000 startups

Perfect for a new startup due to large population (> 21 million) and high consumer-adoption rate

Access a wide pool of talent and innovative research from top universities

Leverage Beijing's large startup network"





Numerous co-working spaces, including UrWork and DayDayUp

Large tech and potential collaborations with top companies such as Lenovo, Weibo & Microsoft, who have regional HQ there

Beijing contributes 7 of top 10 venture funding deals in Asia, totalling over S$7.1 billion

Shanghai

Medtech/Fintech/Broad Base Consumer Services

Ranked 8th worldwide in the 2017 Startup Ecosystem report

Opportunities to collaborate with international MNCs and cosmopolitan environment that encourages easier navigation



Foreign startups can first target the huge pool of expatriates before expanding to the local community


Access a wide pool of talent and innovative research from top universities.

Opportunities to join government and private sector initiatives such as:



The technology innovation masterplan: facilitates R&D and technology transfer through streamlining government policies and attracting MNCs

Hackerspace communities such as XinCheJian


Large number of VCs supporting medtech and fintech startups

Suzhou

Nanotech/Biomedical

Conducive startup environment for in the Suzhou Industrial Park, due to presence of NUSRI and BLOCK71 Suzhou

Access "Nanopolis Suzhou" and Biobay in Suzhou Industrial Park to work with other companies for research and testbedding

Benefit from recent developments in the Nanotech ecosystem – China's Ministry of Science and Technology has just committed S$2.05bn to strengthen it over the next 5 years.


SIP partners a large number of venture capital companies and risk investors to provide support for startups

Shenzhen

Hardware innovation

Home to reputed hardware startup accelerators, ARM,HAXand Seeed Studio

Transport ideas to products in shorter time and at lower cost with the availability of small batch prototyping and accessibility to hardware solution providers and open source hardware

Access to some of the world's most well-known tech firms such as Tencent, Huawei and dronemaker, DJI

More VC funding in Shenzhen than the US, especially for hardware
Back: What Singapore Tech Startups need to know when going to China.