The region's private sector is actively seeking tech solutions to improve and optimise business operations, but in-market solutions are in short supply. This is where Singapore companies can fill the gap – especially in solutions for e-commerce, fintech, and healthcare, and stand to gain from this current early mover advantage.
Where to begin?
Start with Brazil and Mexico. These are two of the largest markets in Latin America, and among the most tech-savvy markets in the region. Brazil ranks right after China, India, and the US in terms of internet users, and ranks 3rd globally by number of Facebook users (just behind India and the US).
Singapore companies should also target the private sector to offer solutions – given that digitalisation in Latin America is driven largely by the private sector.
As the market becomes more receptive to innovative solutions, private companies in the same industry will compete and seek quick demonstrative deals, resulting in a shorter project cycle for tech solutions providers.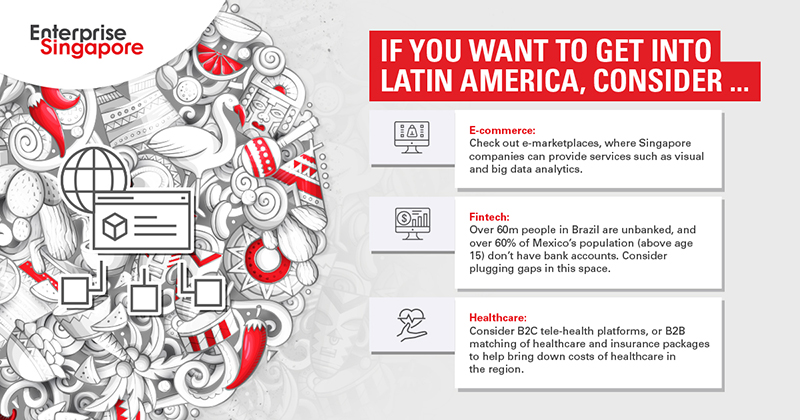 Industries to focus on
E-commerce

The e-commerce market in Latin America is currently bigger than Southeast Asia. Brazil and Mexico accounts for 60% of the e-commerce market in the entire region, and local e-marketplaces are dominating the market.


Singapore companies can enhance Latin American e-marketplaces through partnerships to provide e-services (e.g. visual analytics, big data analytics). Companies can also band together to provide comprehensive solutions to retailers moving online. Singapore companies can also partner system integrators to implement and search for new projects.

Fintech

Almost half of Latin America's population is unbanked. This is where Singapore companies can come in – by offering 'banking' related services for the unbanked population.

In Brazil, 60 million people are unbanked; in Mexico, over 60% of the population above age 15 do not have a bank account. Fintech will allow people to access credit and gain credit history through peer-to-peer loans.

Similar to other regions, mobile payments and mobile money remittance are in demand as well as most people own a mobile phone even without a bank account. The demand for fintech can also be seen through the funding of startups, with the deal count for fintech increasing by 81% in 2016.


Another area in fintech is partnerships with banks as they innovate and adopt tech to optimise and improve efficiency in their operations. Singapore companies can provide solutions, especially in AI, to reduce banking processes such as auto extraction of information, and auto 'Know Your Customer' processes.

Healthcare

With rapidly rising healthcare and health insurance costs, there is a demand for solutions that can improve the healthcare efficiency to bring costs down. Many private companies are seeking such solutions to combat healthcare costs for employees. Solutions can come in the form of B2C tele-health platforms to allow ease of access to affordable healthcare for patients, or B2B platforms that allow customised healthcare and insurance programmes for more efficient matching of needs to insurance packages.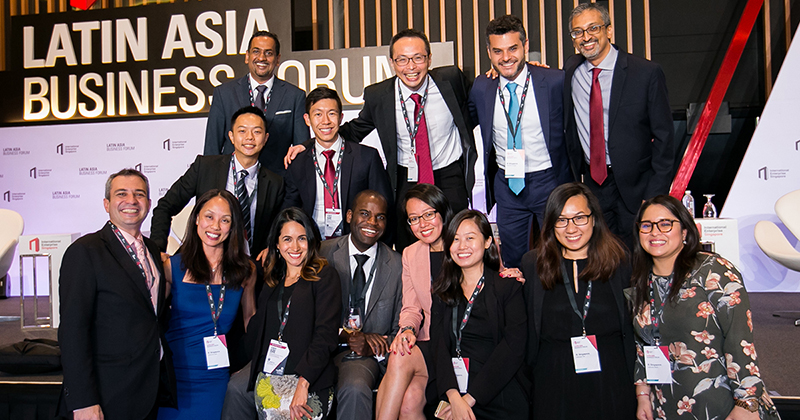 Top 3 tips to Singapore companies looking to enter Latin America's tech scene
Find a strong local partner

Sale support is critical for tech projects. While physical presence is not always required, having a local partner enables companies to provide immediate after sales support and maintenance more easily.

Your local partner can help you build sustainable business development as they can help market and look for leads for you. Also look out for local system integrators that are well-versed in project implementation.

Enterprise Singapore can help you connect to potential local partners with our in-market networks.


Face to face interaction is key at the start

Latin America companies prefer to establish a personal relationship with their partners before closing a deal. Singapore companies interested in Latin America should still make personal trips there at the beginning to establish an initial relationship. This will make closing the deal easier. Subsequently, solutions can be provided over the cloud.


Build track record quickly

While Singapore already has a good reputation, Latin America companies still respond to relevant track records before they adopt a solution. Singapore companies can get this quickly by securing small projects or proof of concept. Companies that already have track record in the US stand to gain too – Mexican companies are familiar with US track record.
In conclusion, as with all emerging markets – all markets in fact – challenges exist.
But with its huge market potential and tech opportunities, Singapore companies should not dismiss Latin America. There is a good but fast closing window of opportunity for Singapore companies to take advantage of.
Interested? Please reach out to us at go.gov.sg/askenterprisesg to find out more about our upcoming e-commerce business mission to Brazil and Mexico!