This is the first post of a three-part series on Business Excellence. For the second post, click here.
Companies can achieve business excellence by valuing diversity and unorthodox thinkers in their ranks, looking outside of their own industries for new ideas and implementing them smartly, says Mr Ho Kwon Ping, Executive Chairman of Banyan Tree Holdings, which manages hotels, resorts and spas worldwide.
"Companies often try to improve themselves by looking at the best practices and quality matrices within their own industries, but you can also learn by looking at other industries," he said at the Business Excellence Conference 2019 jointly organised by Enterprise Singapore and the Singapore Quality Award Governing Council on March 13 and 14.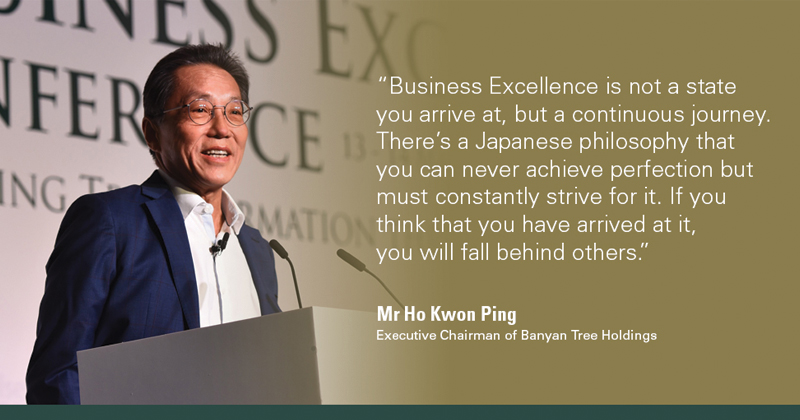 The annual event brings together global thought leaders and chief executive officers to discuss the latest management strategies and trends. This year's edition is especially significant as 2019 marks the 25th anniversary of Singapore's Business Excellence initiative.
Applying insights from other industries
Mr Ho shared how his firm's senior executives had analysed budget airlines' use of dynamic revenue management, zero-based budgeting in the manufacturing industry, and marketing and sales firms' expertise in getting products from the factory or warehouse to distributors and customers, to see how their practices could be applied to improve Banyan Tree.
"I had the insight that rooms in the hospitality industry are very much like passenger seats in the airline industry, yet we are not managing our rooms as dynamically as budget airlines manage their seats. Our dynamic revenue management software is very primitive," he said.
"This led us to talk to people in the low-cost carrier industry, to hire people from the industry, borrow their expertise and hire consultants to develop dynamic revenue management models that are far ahead of those used by our competitors. Now, we scour the universe for best practices from around the world and from other industries, to see how we can adjust them for our own uses," he continued.
Developing a strong workforce
To build a culture of innovation, companies should also value diversity in their ranks. "Diversity is important because it gives you a different set of opinions. You want people from diverse backgrounds who have diverse opinions. At the same time, they must have the same attitude towards life and the same goals: they must want to work and achieve things, and enjoy collaboration," Mr Ho said.
Those at the top must also empower rank-and-file employees to suggest and make changes. The biggest disincentive to quality work is boredom, Mr Ho said, explaining: "Whether you are a technician or a waiter, it is boredom and rote behaviour that leads to lower quality."
He added: "The more empowerment you give your employees to make them feel that they can create quality and change things at their level, the more you have an ownership culture, and the better quality work you will get. Of course, you have to strike the right balance. Too much direction from the top will lead to boredom, but too much direction from the bottom will lead to chaos. There has to be synergy between the two, and that's not easy to achieve."
Chief executive officers can set an example by being open to ideas. "It behoves all of us who are CEOs to be curious about the world, to talk to people a lot, to have insight into what other industries are doing. Transformation through business excellence begins with the CEO," he said.
Implementing ideas smartly
To give promising ideas the best chance for success, stress-test them through smaller-scale trials. "Find a unit in your firm that is receptive to change and get it to try out the initiative. You should test and refine the idea until it works, before you roll it out," Mr Ho advised.
"This, incidentally, is when consultants are vital. Normally, I'm not a big fan of consultants because if you don't know what you want, a consultant won't be able to help you. But when you do know what you want to do, when you have an idea that's ready to be rolled out, a consultant can work with the line managers to implement it, and then come back later to conduct a review to see if it has been executed properly," he said.
He emphasised that all companies, whether they are multinational corporations or small and medium enterprises, should constantly strive to improve themselves. He explained: "There's a tendency to think that business excellence through innovation and transformation is a luxury that only the very profitable and big companies can afford. That's not true."
He concluded: "Whether you are a global MNC or an SME, disruption affects us all, so we must always take it as an imperative to differentiate ourselves from our competitors. The primary way to do that is through innovation."
This is the first post of a three-part series on Business Excellence. For the second post, click here.