This article by Enterprise Singapore chairman Peter Ong first appeared in the Q1 2023 issue of the SID Directors Bulletin published by the Singapore Institute of Directors.
Around the world, there are signs that the global economy is projected to face strong headwinds: rising inflation, growing energy costs, geopolitical tensions and potential supply shocks.
The funding environment is also becoming more muted. Some venture investors are tightening the tap, be it by practising more care when deploying capital, or seizing the opportunity to negotiate better terms.
These challenges will put companies' mettle to the test. What should they do? Here are three strategies that could help companies weather the storm.
To go further, go together
Two key factors that helped companies ride out the pandemic were collaboration and co-innovation. Across various sectors such as retail, manufacturing and trade, companies joined hands to innovate in different ways, from developing solutions to problems arising from the pandemic, to coming up with new business concepts.
This willingness to work with others, both within and beyond Singapore, will continue to be important in times of uncertainty. Such collaboration allows companies to leverage each other's unique expertise, resources and perspectives. Partnering with larger and more established players in the industry can also help companies open the door to new opportunities they might not have obtained alone and equip them with the skills and knowledge to successfully enter new markets.
A case in point: the collaboration between Singapore-based startup Tetsuyu Healthcare and Chinese healthtech company CareLinker. Tetsuyu's solution is an artificial intelligence-enabled app that can assess the condition of a wound through a photo, making it easier for diabetic patients to manage their wounds or seek early intervention. Through a co-innovation programme under the Global Innovation Alliance (GIA), Tetsuyu worked with CareLinker to adapt and scale the solution for the Chinese market, which is home to about a fifth of the world's diabetic patients.
Companies can likewise tap the GIA network to link up with partners to innovate and access market opportunities overseas. And it may be timely to do so – the network was expanded in October to include Abu Dhabi and Seoul, bringing its reach to 17 nodes worldwide.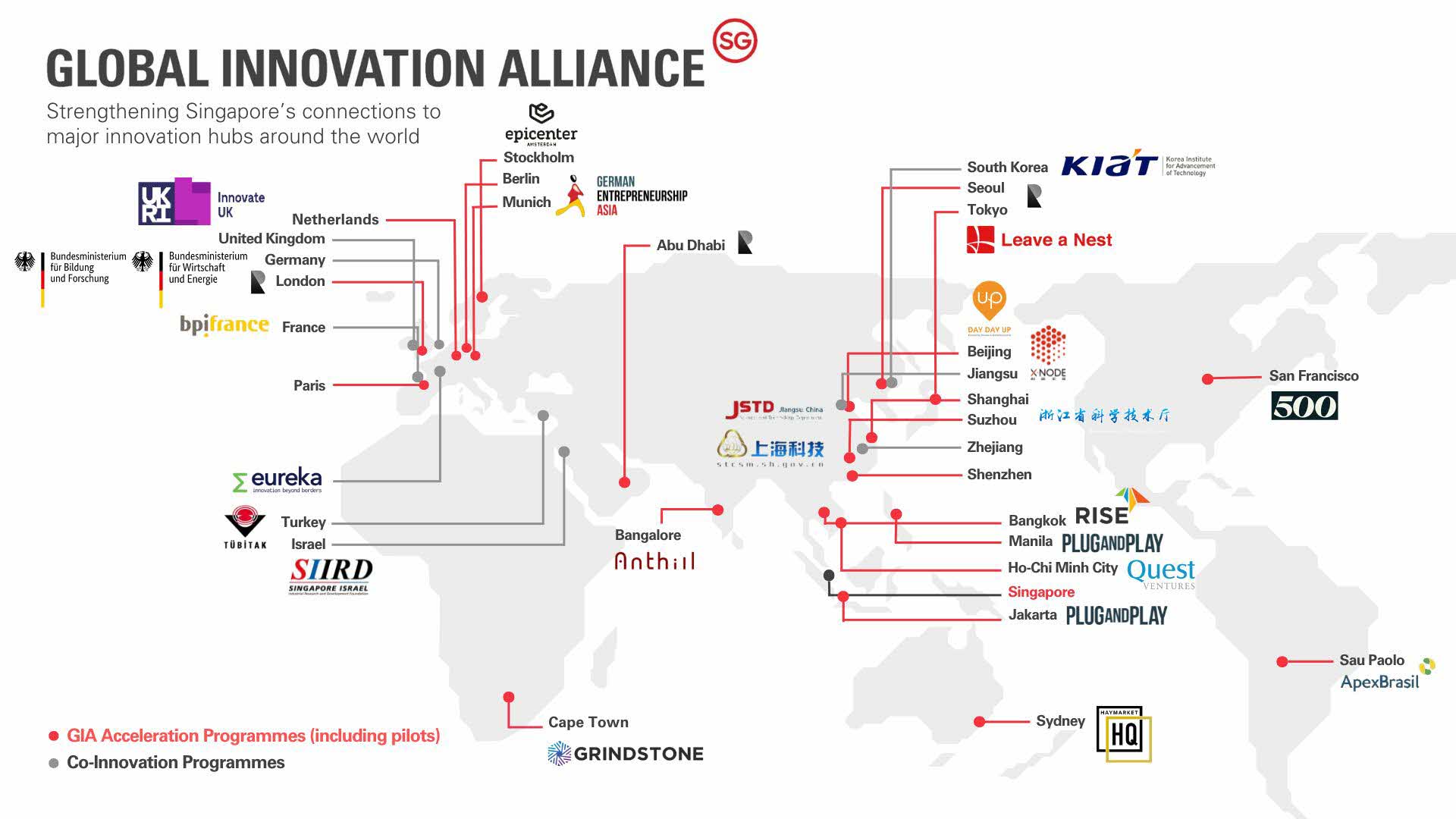 Keep an eye on burgeoning opportunities
The COVID-19 pandemic accelerated the hyper-digitalisation of many industries: from healthcare to finance, communications and consumer services. It also shone a greater spotlight on sustainability. These trends are not only still in play today but also on the rise.
In Southeast Asia, digitalisation has allowed companies to appeal to a rapidly growing population that has one of the highest internet penetration rates in the world. More than half of Southeast Asia's 650 million population is under 30 years old, and nine in 10 of them are digitally savvy. Customer and merchant behavioural trends suggest that the region's internet economy could hit US$1 trillion (S$1.35 trillion) in gross merchandise value by 2030, according to a report by Google, Temasek Holdings, and Bain & Company.
Apart from providing new ways of connecting with consumers, digitalisation can also enable greater connectivity and interoperability of systems. This can improve logistics, help accelerate trade flows and strengthen global supply chains.
These will drive greater regional demand for digital solutions. Be it in healthcare, robotics, banking, urbanisation, manufacturing, education or other sectors, companies will have myriad opportunities to step in and fill the gaps.
Similarly, as environmental issues shift to the forefront of many consumers' concerns, rising efforts to combat climate change also present new business opportunities in green growth sectors such as renewable energy, the circular economy, carbon services and trading, and green transportation.
Open innovation is one way in which some companies are seizing these opportunities. For example, large corporates such as L'Oréal and Volkswagen Group Singapore have tapped the Sustainability Open Innovation Challenge by Enterprise Singapore to crowdsource and develop novel solutions for sustainability.
Understand today's funding landscape
With inflation likely to dominate headlines and impact investors' appetites, companies need to exercise prudence. On the upside, Asia Pacific is still expected to be one of the world's top investment regions. Investors are especially looking to invest in high-growth enterprises that can meet future demand for green, urban and digital technologies.
For instance, investments in clean technology more than tripled in 2021, after doubling in 2020. Meanwhile, a survey by Bain found that over 95% of private equity investors plan to increase their focus on environmental, social, and corporate governance (ESG)-related issues in the next few years.
At the same time, the funding landscape is experiencing a rise in the number of family offices amid increasing affluence in the region. Today, there are nearly 700 family offices in Singapore, up from fewer than 100 five years ago. As the family office ecosystem here grows, these new sources of wealth and financing could play a larger role in companies' growth.
Remain resilient
Even with these strategies and upsides, companies would still do well to expect the unexpected. The past few years have made it clear that agility and adaptability are crucial to a company's survival.
Companies must be quick to respond to market signals, ensure that they are well-equipped to withstand headwinds and capture new opportunities when the time is ripe. Even if the rewards are not readily apparent, shoring up those capabilities will stand them in good stead to tackle the challenges the future brings.
In the end, resourcefulness and resilience are the hallmarks of a successful enterprise.
Learn more about how we can support your business to innovate and keep growing.