To facilitate this, we organised an iAdvisory seminar, where government and business representatives showcased the areas of opportunity, spoke about in-market experiences and provided insight into doing business in the country.
Why Singapore business should consider entering Myanmar
"There are opportunities for Singapore companies in consumerism, infrastructure, urban development, manufacturing, and aquaculture", Ms Audris Tan, our Regional Director (Yangon), said.
Myanmar offers a large domestic market of 53 million citizens – the largest in mainland Southeast Asia – and direct access to ASEAN countries, India, China and beyond. Economic growth, which has ranged from 5.9% to 7.2% in the past five years, along with a low inflation rate, has led to the emergence of a large middle class, which has been the largest driver of retail sales in Myanmar.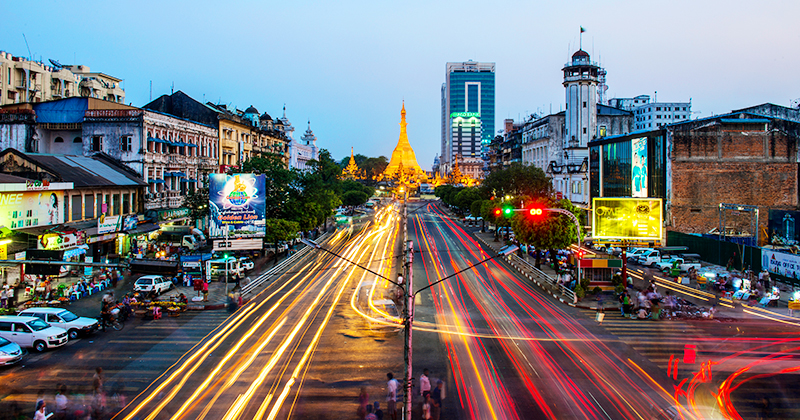 In particular, Ms Tan pointed out the establishment of the China-Myanmar Economic Corridor (CMEC), part of Beijing's Belt and Road Initiative that will connect Kunming, the capital of Yunnan Province, China, to key economic centres in Myanmar – Mandalay, Yangon, and the Kyaukphyu Special Economic Zone (SEZ). It is expected to stimulate the economy and the development of telecom and logistics infrastructure, which has long been an operational challenge for businesses.
The country is also ready to embrace digital transformation, which presents a huge area of opportunity. "Singapore companies that can provide technology solutions and digital infrastructure to modernise Myanmar's bureaucracy, business processes and urban infrastructure are in high demand", Ms Tan added.
Public-private partnerships
According to U Than Aung Kyaw, Deputy Director General, Myanmar Directorate of Investment and Company Administration, the country needs green, clean and smart technologies to support mega projects underway in Yangon, such as the upgrading of 29 industrial zones and the New Yangon City project.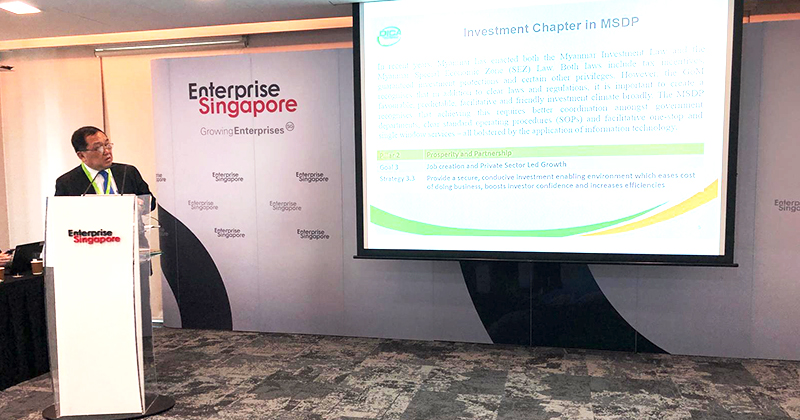 There are projects worth US$1.5 billion in the pipeline and US$8.5 billion in future work streams, he highlighted.
Outside Yangon, the opening of Myotha Industrial Park City and New Mandalay Resort City is attracting logistics, manufacturing and technology companies to Mandalay, where labour costs are lower. There, transport infrastructure projects are also underway to capitalise on the region's potential to become an important transit node in the trans-Asia rail and highway network.
Consumerism and retail
With the retail sector newly liberalised for foreign players, there are many opportunities in consumerism and service industries, Ms Naw May Sandi Maung, our Business Development Manager (Yangon), said. She noted that domestic consumers are looking for higher quality goods and services as disposable incomes grow, and the positive association the Singapore brand has in the country.
Ms Maung said that while Myanmar's consumer sector is largely cash-based and dominated by local players, foreign retail and F&B brands are making inroads - particularly in the two main regions of Yangon and Mandalay, where 15 million people (28% of the population) live. There, new retail channels are emerging as large shopping centres are being built to cater to professionals, and online retail and the mobile financial services industry are growing as smartphone use and mobile coverage increases.
Legal reforms to promote foreign investment
To promote foreign investment and an equal playing field, the government has reformed its Investment Law to ensure foreigner investors receive the same treatment as locals, and is offering corporate tax exemptions of between three to seven years, U Minn Naing Oo, Managing Director & Partner, Allen & Gledhill (Myanmar) Co., Ltd, pointed out.
There are also new provisions for investor protection and safeguards in place. At the same time, most projects no longer need Myanmar Investment Corporation (MIC) approval,1 but investors that apply for MIC endorsement enjoy long-term land use rights and other exemptions and reliefs, and a fast-track approval process for investments in non-restricted businesses.
The introduction of an online registry for companies, the publicly searchable database My-Co, has made it quicker and simpler to register companies, file documents, and look up company information online.
Advice for Singapore companies and investors
Mr Peng Jingkai, Chief Financial Officer of Golden Sunland, which has rice farming operations in Myanmar, advised investors and businesses to first look at Yangon, as it is the most developed city and the easiest for foreign companies to enter the consumer market. Operations in more rural parts of the country may face challenges such as limited power infrastructure, lack of a cold chain network, and intermittent internet and telephone connectivity, he said.
Ms Muang noted that F&B in particular, has low barriers to entry, but advised potential F&B market entrants to localise as much as possible and do due diligence on local partners, which might be crucial as foreigners are still not able to own land and cannot import alcohol.
Investors were also advised to consult the Myanmar Investment Commission, a one-stop service and resource centre set up by the Myanmar government to facilitate foreign investment that provides support and advice on visas, companies, taxes, and more.
If you're interested in finding out more about doing business in Myanmar, click here.