Co-working spaces may have started off as just "cheaper offices", but have since become the biggest disruptors in the marketplace by offering a host of advantages that traditional office spaces lack. This is particularly true for businesses looking to integrate into new environments, like an small and medium-sized enterprise (SME) or startup moving abroad. The reasons are two-fold: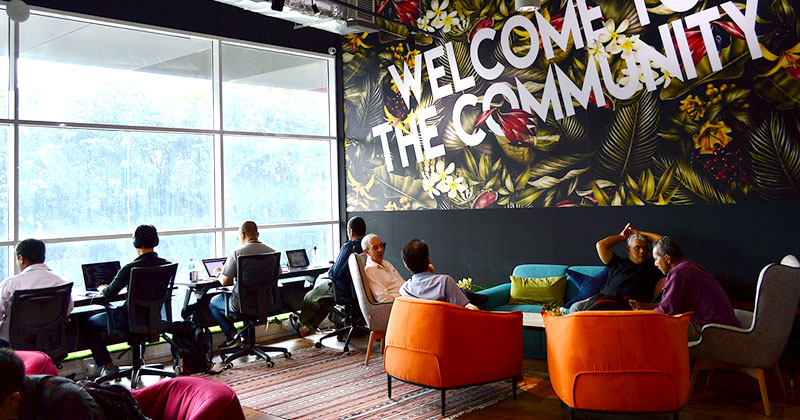 Photo: WORQ
First, co-working spaces offer greater flexibility to help businesses save resources
When businesses move into a new market, one of the key concerns is headcount. In traditional office spaces, landlords typically demand rigid lease terms (for example, a minimum three-year lease). This leaves new businesses playing an expensive guessing game: if they underestimate growth, they may be stuck with an office too small to house their employees. If they overestimate growth, they will be trapped in a lease with an oversized, wasteful office.
Co-working spaces, however, offer configurations that can be switched from one-person desks (hot-desking), to spaces for five or more employees – some co-working spaces can accommodate much more. This alternative allows businesses to upsize or downsize to fit their growth pattern and incur savings on unnecessary rental costs.
Shared office resources, such as photocopiers, printers, meeting rooms, or even nap rooms are also shared among tenants – this lowers overheads for businesses.
Second, co-working spaces form a one-stop node to facilitate smoother in-market integration for businesses
Reliable partners like legal and accounting firms are essential for businesses who are entering a new market to set up smoothly. Co-working spaces usually host a network of partners that provide preferential rates for common business needs. Specifically, some partnering firms offer basic services e.g. obtaining the relevant business licenses to operate in-market, which minimises potential roadblocks that may slow down the speed to market entry.
Hanna Rafflee, Community Manager of Malaysia-based co-working space WORQ, points out that:
"The ultimate benefit would be the community and support system…that a co-working space provides. With all these new connections, also comes the diversity of the various individuals and their expertise. This is where the space provides an avenue for its members to leverage and collaborate with each other based on shared insights, creativity and even wild ideas."
AstroLabs in Dubai has an academy arm that teaches skills like digital marketing, analytics, coding, and even pitching. It also runs an accelerator program across industries that offers members with added opportunities. These diverse offerings help to further equip young entrepreneurs and startups to develop strong capabilities for growth.
Singapore companies are using co-working spaces to break into foreign markets
Local companies are now using co-working spaces to accelerate their entry into foreign markets.
Mr. Josef Werker, Managing Director of Penbrothers, revealed how co-working spaces helped Shopback find the right network and a competitive edge. Shopback, a Singapore-based company, is currently the top cash-back app in the Philippines.
Penbrothers facilitated introductions between Shopback and other key clients after seeing the potential synergy between them. This was how Shopback was introduced to LalaFood, a food delivery app. The two are now considering a possible partnership, in which consumers can obtain cashback when using LalaFood through Shopback.
Being in the same co-working space also allowed Shopback to engage PGAG (a brother company of Singapore's SGAG social media platform). The two have explored the possibility of PGAG followers getting cashback when signing up through Shopback's link, opening a potential pool of over 200,000 customers in the Philippines.
Ms. Amreeta Eng, Director of Enterprise Services, at Enterprise Singapore, comments on the benefits of co-working spaces:
"Expanding overseas enables businesses to explore vast opportunities, but there are challenges to overcome and it is important for SMEs to be well prepared. Setting up in a co-working space is one cost-effective way for companies to easily integrate into the local community, and access a network of resources and talent."
How to find a co-working space in your market of interest
To find out how to go global, click here.