Emerging technologies have introduced both challenges and opportunities for businesses today. Areas such as artificial intelligence, blockchain and augmented reality are starting to play a greater role in the economy.
To protect themselves against risks as well as thrive in this challenging business climate, companies need to be organisationally resilient. They have to ensure that the right systems and processes are in place, and their products and services meet international standards. Accreditation – the independent evaluation of conformity assessment bodies (CABs) against recognised standards to carry out tests, calibration, inspections and certifications – can help companies establish trust and quality in their products and services.
Competing in a disruptive landscape
In order to be able to overcome challenges and compete in this "disruption landscape", businesses must be well-equipped to address changing consumer demands and preferences and to seize new market opportunities, particularly in fast-growing Southeast Asia.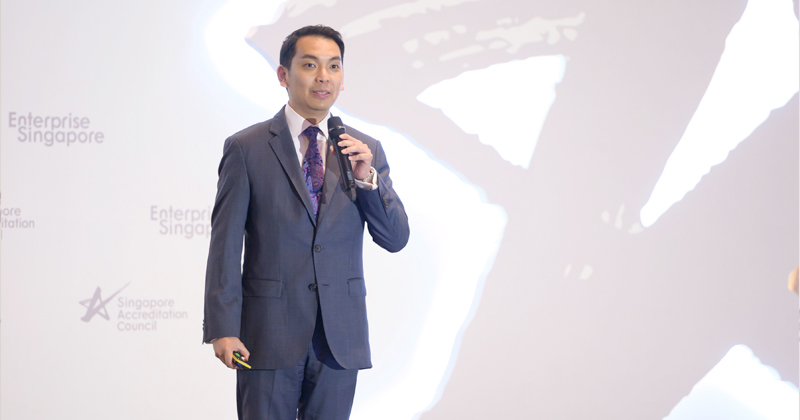 Having a clear value proposition sets businesses apart from the competition, and one way is to adopt international standards, Dr Yap Kwong Weng, Principal Advisor of KPMG Singapore and Executive Director of the KPMG-A*STAR Joint Lab, said. This is an important way for smaller companies to punch above their weight, as they work to establish themselves within their industry and expand their operations abroad.
Businesses can engage accredited firms that provide testing, inspection, and certification (TIC) services to increase the quality of their products and services, and ensure that they are meeting the requirements of international standards.
For instance, businesses in the information and communications technology sector can consider engaging the services of accredited security evaluation laboratories to certify that their products and services conform to standards. One example of an accredited laboratory would be AN Security, a local independent firm that was the first to be accredited by the Singapore Accreditation Council (SAC) under the Singapore Common Criteria Scheme and National Information Technology Security Evaluation Scheme (NITES) for formal security production certification.
"Accreditation does matter in the digital economy today because it beefs up your credibility [and] protects companies amidst transformation and change", Dr Yap said.
Building customer trust
Accreditation is also key to instilling trust in a business' products among clients and partners, said Mr Joseph Gan, Co-Founder and Chief Executive Officer of V-Key Pte Ltd. Established in Singapore in 2011, the firm has transformed into a leading security solutions company that caters to the digital economy, specialising in mobile security and cryptography.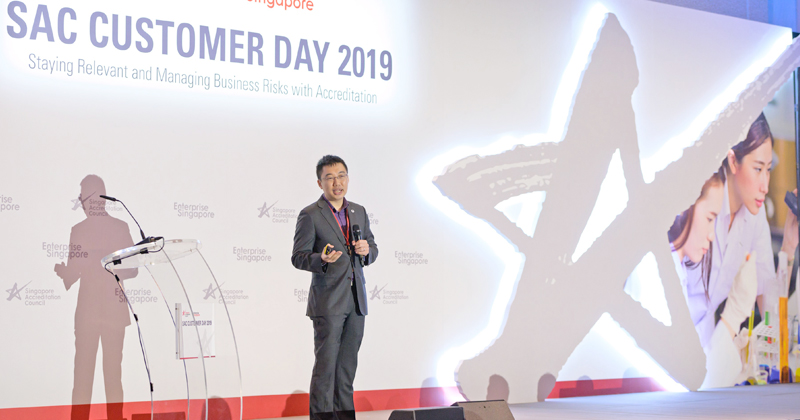 For companies like V-Key, operating in a well-established industry means customers expect high levels of security and assurance, and products must work with both existing systems and new technologies.
"From day one, we already had our eye on accreditation and standards," Mr Gan explained, noting that its core technology, the V-OS Virtual Secure Element, is built to global standards and certifications, which helps it to compete globally, manage business risks, and keep up in the digital transformation era.
Managing businesses sustainably
Accreditation and accredited testing, inspection and certification (TIC) services benefit businesses by providing companies with a competitive advantage. Such services also act as catalysts to raise product and service standards, as well as propagate best practices.
In particular, this can contribute to efforts by businesses in strengthening their climate and resource resilience, as global challenges such as waste reduction and climate risks will have knock-on effects on local businesses if they are not addressed, Mr Kwok Wai Choong, Deputy Director of Industry Development & Promotion Department at the National Environment Agency (NEA), shared.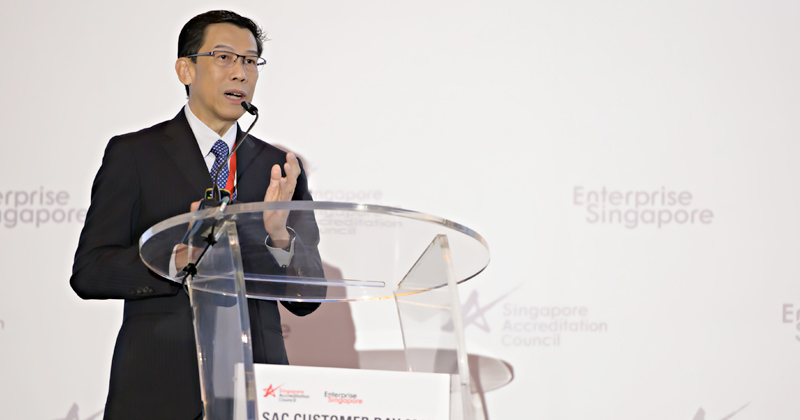 "For companies to thrive sustainably and continue to operate in a safe and productive manner, they need to conform to standards and international guidelines", Mr Kwok said, adding that this is an opportunity for businesses to review and improve operational performance.
An example of an accreditation programme that companies can adopt to improve sustainable practices is the new Programme for Endorsement of Forest Certification's (PEFC) Chain of Custody Certification. The programme supports the local industry in meeting the Building and Construction Authority (BCA) Green Mark requirement for Mass Engineered Timber (MET) to be sourced from sustainably managed forests.
Facilitating growth and internationalisation
For any global project, quality certification is regarded as a necessary signal to international contractors and government agencies. At the regional and global level, trade facilitation is made simpler and easier with accreditation.
The Singapore Accreditation Council's (SAC) participation in Mutual Recognition Arrangements (MRAs) is a global passport for Singapore firms to export to other markets without the need for re-testing, re-inspection and re-calibration of goods.
SAC is a signatory to MRAs with the Asia Pacific Accreditation Cooperation, International Accreditation Forum and International Laboratory Accreditation Cooperation. These agreements allow Singapore businesses to leverage the services of accredited TIC players to help them address potential barriers to trade, and ensure Singapore companies continue to be competitive internationally.
Visit www.sac-accreditation.gov.sg to learn more about how accreditation can support you in growing your business.