This article was first published by How we made it in Africa on 28 September 2018.
Internet connectivity has the power to catapult social and economic growth in many developing nations. A Deloitte study estimates that extending internet access can result in a 72% increase in gross domestic product (GDP) growth rate and create more than 140 million jobs. As the traditional development trajectory from agriculture to manufacturing to services is disrupted, experts say Africa has a unique opportunity to leapfrog its development agenda.
Valued at US$300 billion, Africa's digital economy is growing rapidly. Its huge potential has lured international digital players to the continent. Last July, Google announced that the company would open Africa's first artificial intelligence lab in Ghana's capital, Accra. Facebook is also making investments in Africa's technology space. The social media giant has pledged to train and improve the digital capabilities of 50,000 Africans.
The e-commerce cart
By 2025, Africa's e-commerce market is estimated to be worth US$75 billion. This is dominated by three markets – Kenya, Nigeria and South Africa. Africa's rising middle class population is also driving consumer spending; expected to hit US$2.1 trillion by the same year. Multinationals like Mango, Samsung and Sony are already taking a slice of the pie.
Nigeria-based Jumia Group has e-marketplaces in 14 African countries with over five million products and services listed. Naspers, one of the largest technology investors in the world, has invested in South Africa's e-marketplace Take-A-Lot. Mobile money operator, Safaricom (developers of M-Pesa), has also launched an e-marketplace, Masoko, offering products ranging from electronics to food.
Singapore companies can add to Africa's e-commerce market
Beyond selling products and services on Africa's e-marketplaces directly to African consumers, the continent's thriving digital economy offers rich opportunities for Singapore companies seeking higher growth and market diversification.
Enterprise Singapore, a government agency under Singapore's Ministry of Trade and Industry, is responsible for helping Singapore companies grow and globalise. This includes strengthening networks overseas so companies are able to gain market access. Africa, for one, is a huge and diverse market. Through our overseas centres in Accra, Nairobi and Johannesburg, we are able to build networks with local governments and deepen relationships with private sector partners. On ground presence helps us to see the market with a sharper focus. In addition, Enterprise Singapore organises cluster-based business missions for our companies to uncover new digital opportunities for themselves.
In the last year alone, Enterprise Singapore has helped more than 10 local companies to break into Africa's digital technology space including e-commerce platforms and cross border payments.
Arcadier, an e-marketplace vendor, is working with Stripe-backed Nigerian payment gateway company, Paystack, to enable its users in Nigeria to send and receive payments for purchases made on its platform. The Singapore company has also inked a partnership with the Cross River State government to sell cocoa beans and related processed products like cocoa butter, power and liquors to the global market through their platform.
Singapore companies can capture early mover advantage, especially in artificial intelligence and data analytics. Visenze, a digital company, powers visual commerce through intelligent image recognition solutions. Global retailers like Rakuten and ASOS form part of its clientele. Here in Africa, Visenze is providing visual search solutions for South African fashion e-commerce website, Spree. The partnership has led to Spree clinching the CXA Digital Innovator Award for being the first African online retailer to introduce an image-based search feature.
The e-commerce boom is fuelling demand for complementary services which are currently lacking across the value chain
E-commerce cannot flourish without the right infrastructure. An unbanked population coupled with inefficiencies in logistics, for example, are a few of e-commerce's biggest impediments. McKinsey estimates that approximately 2.2 billion of the world's unbanked live in Africa, Asia, Latin America and the Middle East.
Singapore-based Red Dot Payment, has partnered Finserve Africa, a subsidiary of Equity Bank, to facilitate international payments for East African e-commerce shoppers. Another home-grown company, TransferTo, is facilitating cross-border mobile payments for Africa's largest telcos – Safaricom, MTN and Airtel. TransferTo is also powering Africans to buy and sell from global e-marketplaces by facilitating M-Pesa top up into their PayPal accounts and vice versa. Singapore companies can offer tried and tested solutions to support Africa's fintech industry.
Major infrastructure developments are already underway in Africa, such as the railway connecting Kenya's port city Mombasa to its capital city Nairobi. This is set to improve the continent's supply chain efficiencies and reduce logistics costs. Our local players have end-to-end supply chain capabilities in areas such as shipping, warehousing and logistics to bolster the growth of Africa's e-commerce market. Singapore's logistics solutions have the added advantage of being known to be competitive and secure, with high fulfilment rates. Ascent Solutions, an IoT company that specialises in cargo security and track and trace for smart logistics, is delivering innovative solutions to logistics partners in Africa. These solutions are helping their clients secure valuable assets and goods on the move.
The race to get a slice of Africa's digital pie is intensifying. Pulling together these capabilities, Singapore companies can replicate the success for Africa and support in linking the continent to the rest of the world. Together with African partners, we can improve and solidify the continent's digital infrastructure, and ride the wave of urbanisation and rising middle class.
---
About the author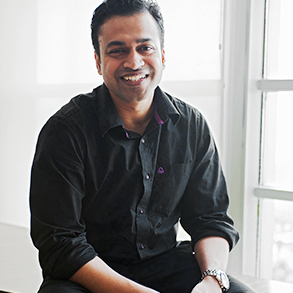 As the Regional Group Director, Rahul directs Enterprise Singapore's strategy to develop and strengthen Singapore's trade and investment linkages with the Sub-Saharan Africa region. Based in Kenya, he leads the organisation's three regional operations in Nairobi (East Africa region), Accra (West Africa region) and Johannesburg (Southern Africa region).
In his career with Enterprise Singapore, Rahul has contributed across multiple functions including industry cluster management, development of small and medium enterprises, and international operations. Between 2007 and 2010, he was the Centre Director of then-IE Singapore's Frankfurt office overseeing Singapore's trade and investment activities in Germany, Italy, Switzerland, Austria, Hungary, Poland, Czech Republic, Slovakia, Romania, Bulgaria, Norway, Sweden and Finland. He then moved to focus on Africa and Middle East affairs from 2012.