As the world finds its course through the currents of COVID-19, new growth opportunities and challenges have surfaced. In this new series on "Emerging sectors: Hope or hype", we dive deeper into areas with the most buzz to decide if they are just fads, or the next wave to catch.
The COVID-19 pandemic disrupted global food supply chains last year, accelerating demand for and interest in alternative protein products. And as the alternative meat market grows both in Singapore and abroad, it could yield new prospects for traditional food manufacturers.
If you have only heard of alternative proteins in passing before, now may be the time to sit up and take notice of this fast-growing market.
Globally, the alternative meat market could be worth US$140 billion (S$189.2 billion) in 2029, ten times its size today, according to Barclays.
One market player, DuPont Nutrition & Biosciences, has also forecasted that just the market for plant-based meat (a subset of alternative proteins) in the Asia Pacific will grow by 25% to US$1.7 billion (S$2.3 billion) over the next five years.
What are alternative proteins and what's fuelling the appetite for them?
Alternative proteins are generally proteins derived from sources other than animals. These include proteins from plants, such as soy, wheat, pea and rice, and algae, such as spirulina; they also include fungi and lab-grown meat, according to Singapore Food Agency.
For example, imagine having a juicy ngoh hiang at Candlenut, except the pork roll is actually made with meat-like jackfruit from food tech startup Karana. Karana sources jackfruit from farmers in Sri Lanka and applies its proprietary technology to the fruit to make it taste like meat.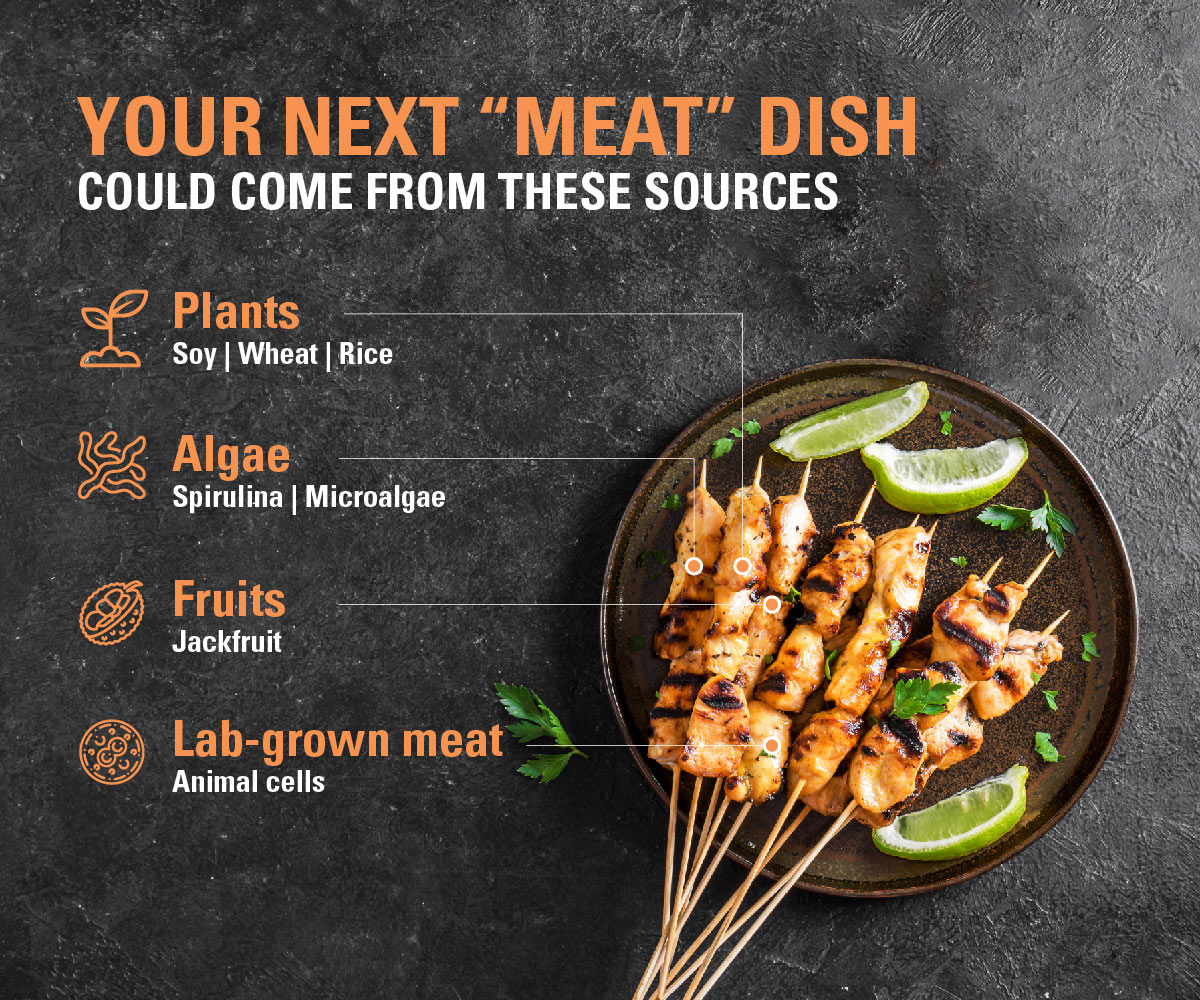 Such meat substitutes had already been drawing interest before the COVID-19 pandemic, from consumers wanting more environmentally-friendly and animal cruelty-free food options. But their popularity was boosted greatly when the pandemic disrupted global supply chains, fuelling interest in alternative sources of protein.
Singapore consumers' interest in plant-based pork and chicken products grew sevenfold last year compared with 2019, according to vegan food app abillion, studying data from 10,000 users. Consumer reviews of alternative meat products have also surged by 306%, according to abillion.
But are consumers buying such products? Yes, going by Euromonitor data. Retail sales of "free-from-meat" frozen meat substitutes in Singapore grew by 26.7% between 2019 and 2020, while those of traditional meat grew by just 7.4%.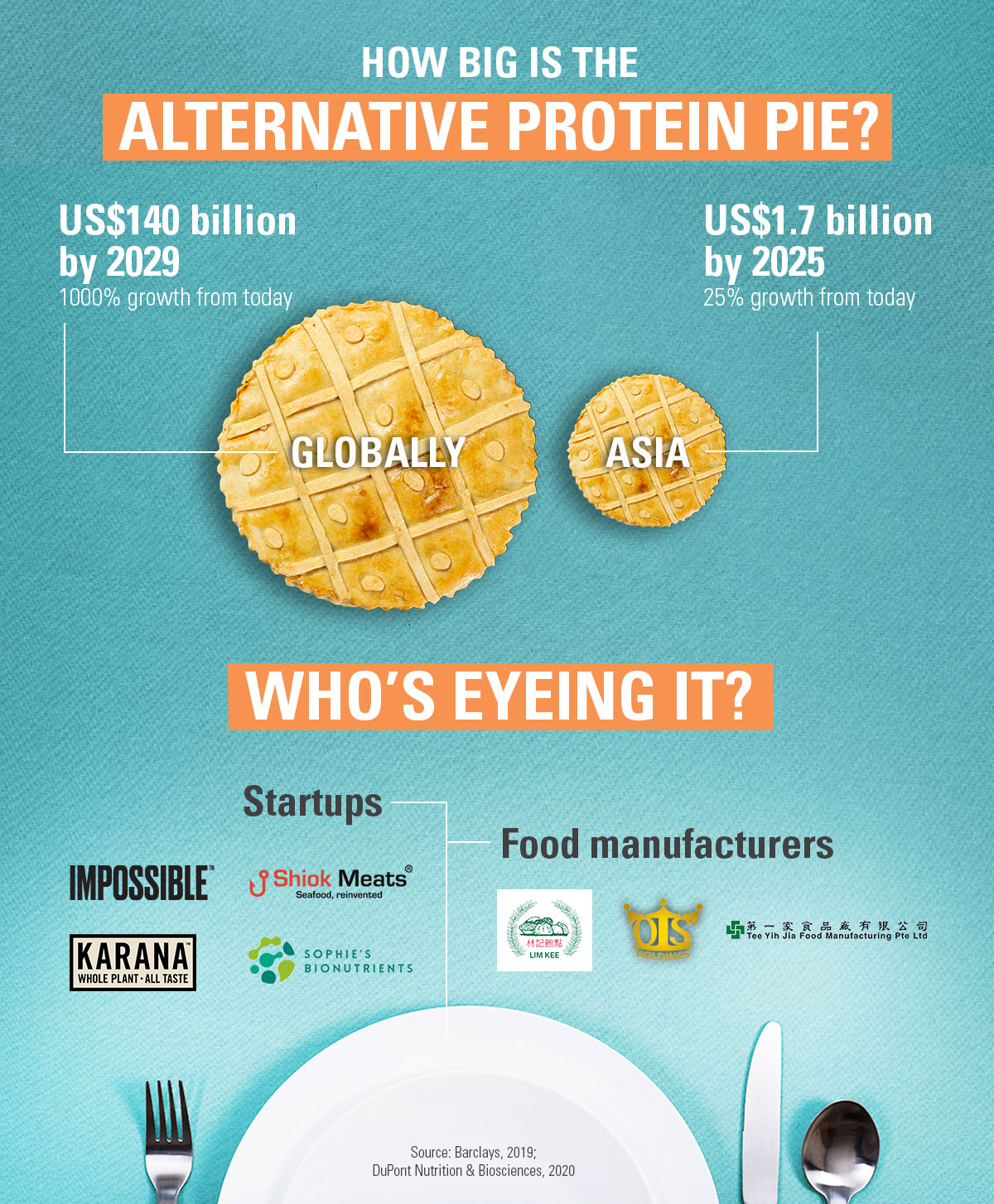 Snag a slice of the pie
Naturally, some traditional food manufacturers have spied an opportunity amid the boom to capture consumer demand. Here are some ways in which you can also gun for a slice of the pie.
Innovating in-house
This involves tapping in-house research and development capabilities to come up with a range of alternative meat products, like Tee Yih Jia did. Last December, the producer of frozen food and spring roll skin, launched ALTN, its own range of frozen, ready meals and snacks made with plant-based proteins such as fungus, peas and soy.
The company had already been working on a meat-free range, but upped its pace when it noticed international players such as Impossible and Beyond growing their presence in Singapore.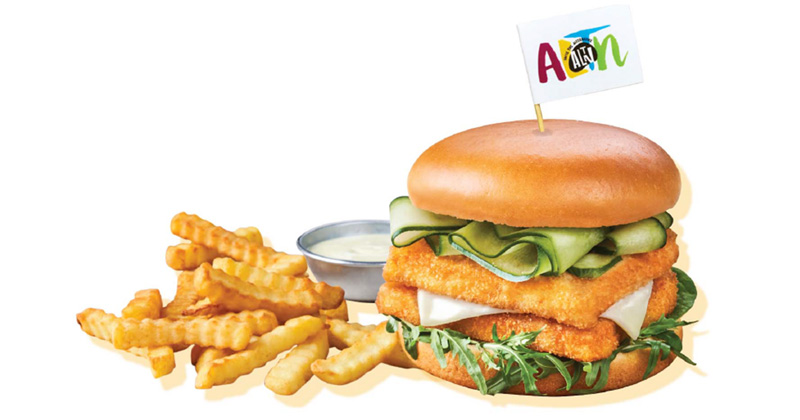 Similarly, OTS Holdings, which is behind the Golden Bridge brand of canned luncheon meat, is developing plant-based luncheon meat products in-house, with plans to launch them next year.
Collaborating with startups
Joint innovation can be a win-win situation, bringing together the startup's tech know-how and your experience in commercialising products. Some startups in the alternative protein arena, like Karana, are also on the lookout for partners.
For example, Lim Kee Food Manufacturing, a pau (steamed bun) manufacturer, came up with meatless alternatives of its traditional Asian delicacies while working with alternative protein startup Quorn (now under Monde Nissin Corporation).
The meatless offerings, launched in January 2019, now make up about 5% of Lim Kee's revenue.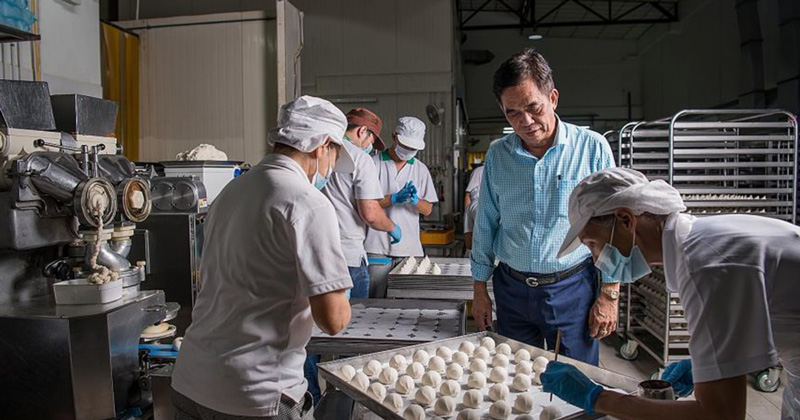 Making strategic investments
Investing into startups is one way to broaden your capabilities and pursue innovation in the space. Take Zhong Yong, a traditional producer of vegetarian food products, which invested in Israeli food tech startup ChickP, to develop a line of chickpea protein-based seafood alternatives using ChickP's technology.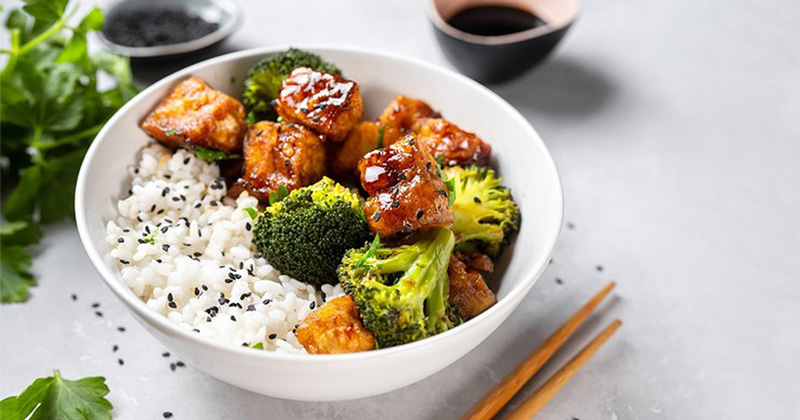 Zhong Yong has even repositioned itself as a startup, and is now known as Growthwell Group. The group raised US$8 million (S$10.8 million) in April last year, in a funding round led by Temasek, with an eye on setting up a research and development and manufacturing centre.
Not for weak stomachs
To be sure, the technology for developing alternative proteins is still nascent and financing the research and development – and eventually, commercialisation – of products could therefore be a key hurdle.
Yet, new avenues for food innovation have also emerged as the scene evolves. From innovation platforms to case competitions, tap them to get a leg up.
Innovation platforms
Enterprise Singapore launched FoodInnovate, a multi-agency platform to build capabilities, provide resources and enable partnerships to drive food innovation, in 2018.
Since then, the platform has onboarded 16 resource partners, with the latest being the new Protein Innovation Centre set up by fragrance company Givaudan and Swiss processing and manufacturing company Bühler in April this year to develop plant-based protein products.
FoodInnovate also facilitates partnerships between food tech companies and food manufacturers, like the one between Growthwell and ChickP.
Open innovation calls
Case competitions or open innovation calls may not only help put your idea to the test, but also improve the odds of turning it into reality.
In Asia's Great Snack Challenge, for instance, winners of the competition will receive S$10,000 and opportunities to work with corporate partners to commercialise the product, from branding to distribution.
Alternatively, take a leaf from food companies, like Tong Garden and Polar, that are participating in competitions as corporate partners or mentors, as a way to crowdsource ideas and work with enterprising startups.
Hope or hype?
If the industry developments and forecasts are anything to go by, the alternative meat trend looks set to be more than a fad – and the nascency of the industry means early movers will also have an advantage.
If this has whet your appetite, check out how FoodInnovate can open up opportunities and offer resources for you to innovate and bring your ideas to fruition.
Giving food innovation a boost
2018 was the year FoodInnovate was launched to grow Singapore's food manufacturing industry through innovation
6 government agencies, including Enterprise Singapore, are involved; the rest are Agency for Science, Technology and Research, Economic Development Board, Innovation Partner for Impact, JTC Corporation and Singapore Food Agency
16 resource partners, about half of which include local institutes of higher learning and research institutes
Over 320 new food innovations launched by small and mid-sized enterprises with FoodInnovate's support