Welcome to the age of social retailing. People talk about brands and shop online like never before. Brands now engage customers and personalise shoppers' experience through social media in a stiff competition for the consumer dollar.
Nowhere else in the world is experiencing a social retailing boom quite like China. With the explosive growth of WeChat and mobile-first e-commerce platforms, China now accounts for 40% of global e-commerce transactions as of end 2016 (according to China's Ministry of Commerce).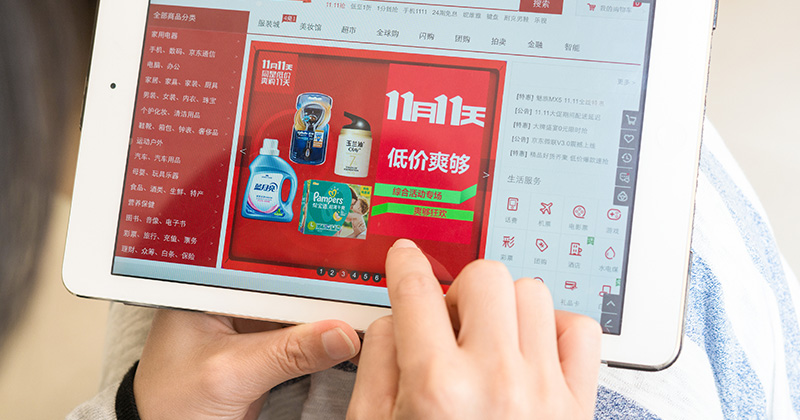 In 2016, total cross-border e-commerce sales in China reached RMB 6.3 trillion (S$1.3 trillion). This year, it is expected to hit RMB 8.8 trillion (S$1.8 trillion). Currently, up to 220 countries conduct cross-border e-commerce in China, selling to 41 million Chinese consumers in 2016. The figure is expected to climb to 74 million people in 2018.
If you are a small- or medium-sized enterprise keen on taking your business into China through cross-border e-commerce, here are five things to know for a start.
Know the trends and your customers


What is cross-border e-commerce? Simply put, it is the selling and buying of products through online shops across national borders, where the seller and the buyer are in different countries. Cross-border e-commerce is classified into business-to-business (B2B) and business-to-consumer (B2C).

China's consumers are more sophisticated than ever. They want higher quality products and are willing to fork out more for them. They are well-educated and use mobile devices to shop on-the-go. The age range between 18 and 34 makes up the bulk of e-commerce shoppers. The average digital shopper in China spent RMB12,198 (S$2,558) online in 2017 (iResearch Consulting Group).

So, what exactly are they buying? Top on the list are baby care, beauty products and apparel. As more Chinese lead an increasingly urbanised lifestyle, they are also spending more on pet-related items, men's care products, appliances and ready-to-eat food and exercise equipment.

On the other hand, they are buying less home décor and fresh food & beverages via cross-border e-commerce simply because such products are fragile or have a short shelf life.

Know the geography

Up to 77% of China's e-commerce buyers come from the first and second tier cities. The top five cities/ provinces of cross-border e-commerce consumption are Shanghai, Guangdong, Beijing, Zhejiang and Jiangsu.

Meanwhile, China has set up 15 pilot zones for cross-border e-commerce in cities with development potential. They are Hangzhou, Tianjin, Shanghai, Chongqing, Hefei, Zhengzhou, Guangzhou, Chengdu, Dalian, Ningbo, Fuzhou, Pingtan, Qingdao, Shenzhen and Suzhou.

The advantages that these pilot zones provide include bonded warehouses, one-stop logistics hubs, product authenticity checks and systems that efficiently share data among different players across the supply chain.

Keep these pilot zones in mind as you consider where to focus your business.

Know the regulations

China's complex regulatory requirements are the main challenge for enterprises entering cross-border e-commerce in China.

In 2016, China issued the Positive List on Cross-Border E-Commerce of Imported Commodities at Retail (in short, the Positive List). Goods included in the Positive List are exempted from submitting an import licence to customs and can be sold into China via cross-border e-commerce.

Goods excluded from the list include UHT milk products, fresh fruits and vegetables. Other goods like infant formula require a licence from the China Food and Drug Administration before they can be imported by cross-border e-commerce.

As the policy is subject to revisions, enterprises are advised to continue paying attention to its developments.

Know the platforms

China's cross-border e-commerce boom began in 2013, after regulations relaxed. At the start of the boom, many Chinese platforms sprang up to ride the wave of online trade. To name a few that are familiar to the Chinese consumers: Tmall Global, Kaola.com, Suning Global, Onion OMALL, JD Worldwide and VIP International.

Figuring out a suitable platform to sell your products into China need not be a daunting task. Ask yourself these questions about each of them:

What is the platform's market share?
How does it operate (is it B2B, B2C, independent or a sub-platform)?
Does it specialise in your product category?
What pre-requisites do you need before sending an application to it?
What logistics services does it offer (bonded warehouse or direct shipping)?

Once you have spent time assessing the platforms carefully and are able to meet their requirements, they can hold tremendous opportunities for your business.

Know what different partners can do for you

Apart from the Chinese e-commerce platforms, other parties do play major roles in the ecosystem of cross-border e-commerce trade.

For example, a business enabler like Singapore's Kinofy eases entry for foreign brands into China's consumer market by establishing e-shops on WeChat.

Another example is M-DAQ. With its multi-currency pricing solution, M-DAQ provides a cross-border e-commerce forex service that helps enterprises reduce their risk of forex volatility—meaning you can protect your bottom line even when currencies fluctuate.

Depending on your needs, you may require different strategic partners at different times.
Key takeaway
To enter the lucrative cross-border e-commerce market in China effectively, enterprises should prepare themselves by having a clear understanding of trends, customers, geography, regulations, platforms and the ecosystem. There is plenty of homework to be done, but there are also many resources available.
How Enterprise Singapore can help
Find out how we can help your retail business digitalise and expand overseas.