With increased competition, growing your business locally may be challenging. Many companies are exploring opportunities beyond Singapore's borders, to markets which have greater demand and potential. But this is a decision that requires commitment.

"It is important to make a commitment to grow the business overseas as the path to internationalisation isn't often smooth sailing", shared Ms Bonnie Wong, Chief Operating Officer of Creative Eateries, a home-grown enterprise which manages successful restaurant concepts serving Western and Asian cuisine in Malaysia and Taiwan.

Taking the first step to go global may seem daunting at the start, but here are some ways you can increase the likelihood of success:
1) Lay the foundation with market research
Preparation can go a long way to easing entry into a new environment, and give you a good understanding of the market fundamentals. Mr Sarath Menon, Managing Director of market entry consulting firm Orissa International, advises companies to get a sense of the market by researching the marketing strategies of potential competitors, and understanding their offerings and pricing.

This allows you to localise, and at the same time, differentiate your product or service offerings. Understanding the talent pool available in the market is important as well, as it determines whether your local setup can be effectively run and managed on its own subsequently.

Prior research on local regulations, customs and taxes, as well as the business culture, can facilitate smoother interactions with the local authorities and business partners.
Mr Menon also shared at the recent SME Centre Conference that businesses who venture overseas without a reasonable grasp of the market and its operating environment may often spend more time fixing problems that could have been avoided with sufficient research.
2) Spend time on the ground to experience the market
Immersing yourself in the new market allows you to see the reality on-ground, identify potential issues and address them from the onset. It also helps to validate any misconceptions that could arise from your research beforehand.

BearyFun Gym, a leading children's gym in Singapore specialising in gymnastics classes for the young, embarked on their first business mission to China, led by Singapore Chinese Chamber of Commerce and Industry(SCCCI).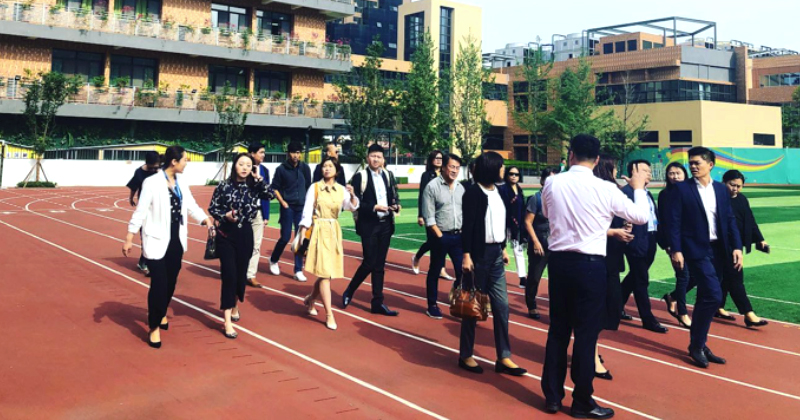 Through the trip, BearyFun Gym was able to gather new business leads and insights into new operational and business management models in China, which allowed them to overcome resource constraints and scale up its business in the country more easily.
3) Find partners to complement your business
Partnerships are an effective way for businesses to enter a new market. An in-market partner can help to manage the different business cultures, overcome language barriers, and navigate the day-to-day operations. Well-connected partners can also open up new opportunities and help you get one foot through the door.

Whether it is a local joint venture partner, distributor or supplier you are looking for, establishing a trusted local network overcomes market-entry barriers and brings you up to speed with the market's preferences.

Businesses that want to enter new markets but do not have the capacity to be fully involved can also consider joint ventures, Ms Wong said, recalling Creative Eateries' experience working with a local partner in Malaysia, which helped the company enter the market more easily.

Apart from navigating the local regulations, their partner introduced useful contacts for Creative Eateries to work with. They are also managing the daily operations in-market, which allowed Creative Eateries to focus on creating new dining concepts to scale in other markets.

"Identifying a right partner takes time, but it is worth every effort. Having the right partner will complement your products and capabilities. At the same time, they are able to help you grow your business consistently in the long run. This will go a long way to ensure sustainable and robust growth, thus placing you in a favourable position to scale up even further", Mr Chew Hwee Yong, Global Markets Director, Southeast Asia Division, Enterprise Singapore, said.

Companies who are ready to find out more about the market and potential partners can participate in the overseas business mission trips and tradeshows organised by the various Trade Association and Chambers (TACs). These programmes can help you build up the confidence to enter into new markets.

There has been an increasing number of micro and small businesses that have internationalised in the past two years, with 40% of the first-timer mission participants being micro businesses.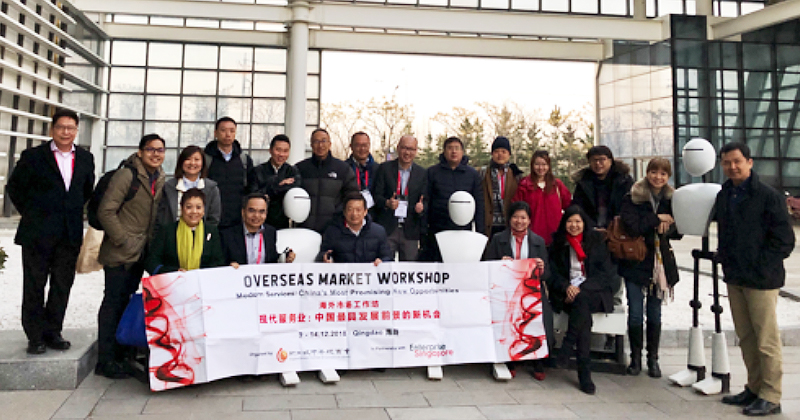 BearyFun Gym participated in a second business mission trip to China which expanded their network of complementary partners and enabled them to tap each other's expertise to develop holistic programmes better targeted at the Chinese market.

"Through this trip, it allowed us to form stronger bonds with partners to move into a foreign market as a team of Singaporean entrepreneurs. This is definitely the next best takeaway." Ms Sim Kerling, Director of BearyFun Gym shared.

CRC Pte Ltd, a company in the F&B industry and a first-timer to internationalisation also took part in a business mission to Chongqing organised by Singapore Malay Chamber of Commerce and Industry (SMCCI).

They met with potential partners and attended site-visits to local factories and offices to better understand the market and business operations. CRC Pte Ltd learnt from the trip that the municipality welcomes 100% foreign-owned businesses to set up locally in Chongqing, which reduces barriers to entry for Singapore firms.

Together with a consultant, SMCCI is now helping CRC Pte Ltd to facilitate business matching sessions and participation in trade shows to identify suitable partners to work with abroad.
Taking the first step
Entering an overseas market for the first time can be resource-intensive. It requires commitment, time and a lot of patience as you navigate unknown territories, understand your new customers, as well as the local business processes and environment.

Before diving into the new market, it is important to strengthen your business fundamentals and develop capabilities to further support your overseas strategies and investments.

For instance, BearyFun underwent a Group-Based Upgrading project facilitated by the SME Centre@SCCCI to digitalise their work processes. They rolled out app-based training lessons and adopted a work scheduling software. These new processes reduced the manual work required, increased productivity and freed up resources which enabled them to look for new opportunities abroad.

Here are some questions you can keep in mind as you explore new markets overseas:
Do I have dedicated resources to commit (e.g. time, financial and manpower), over a projected timeframe, to expand my business overseas?


Which market(s) would be the most viable option for my business to start with? What is the market gap and demand I hope to address?


How is my product or service different from what is currently available in the targeted market(s)? What are my unique selling propositions?


What are the possible market entry modes (e.g. joint partnership, e-commerce, franchise) for my business?


What are the customs and tax implications related to setting up in-market?
If you are new to internationalisation, get in touch with our business advisors at the SME Centres for advice on relevant internationalisation tools and programmes available for your business.

To find out more on the potential market opportunities overseas, gain market insights and first-hand accounts from industry experts and fellow business owners, join us at our next iAdvisory Seminars. You can also receive the latest updates on industries, markets and upcoming iAdvisory seminars by signing up with Enterprise Singapore's mailing list.