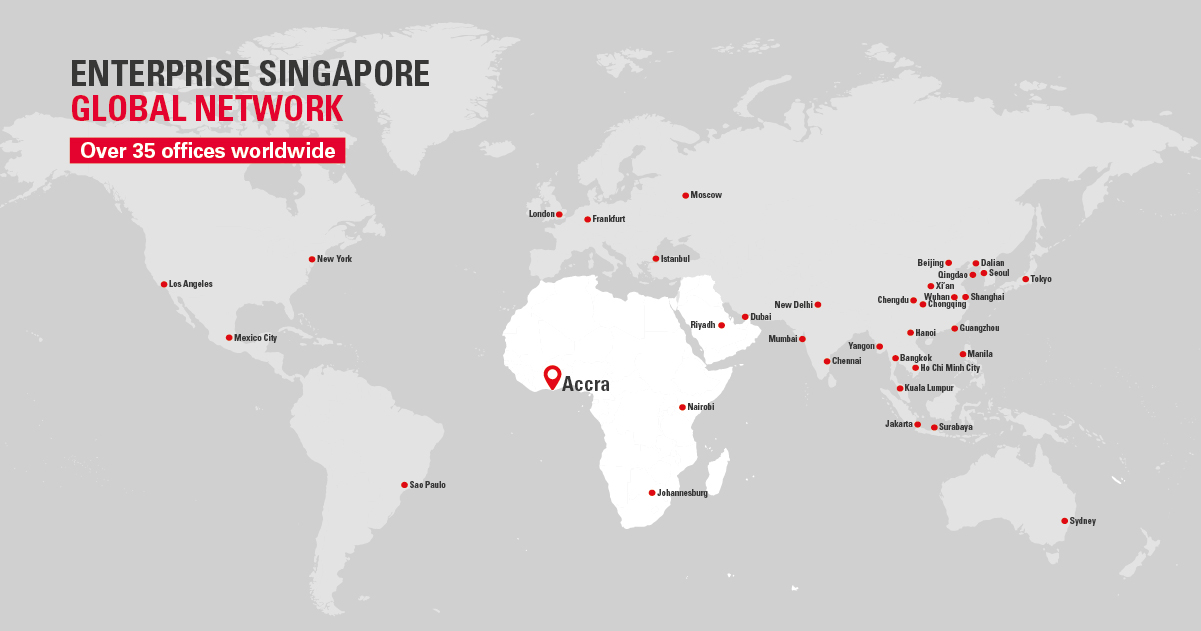 At Enterprise Singapore, we know that expanding your business internationally can be a daunting task. You don't just simply pack up your bags and go. Business practices we are familiar with in Singapore may vary from country to country, and even between provinces.
That is why we have set up over 35 overseas centres worldwide to help make your journey to go global a smoother one. Officers from Singapore, working together with staff in the market, will offer you the best advice on the norms, practices and regulations. We will also help to connect you to relevant business partners and opportunities.
Global business, local knowledge - just another way we are supporting our businesses to internationalise and keep growing.
Market spotlight: Ghana, Africa
Did you know that Ghana ranks first in terms of foreign direct investment in West Africa and 4th in Sub-Saharan Africa?
The region's second largest economy, it has a stable political environment, a diversified economy along with pro-business policies and has been attracting investments from Singapore companies looking to expand into the continent. Its location on the west coast of Africa also allows for easy access to export markets in Europe and the United States.
With abundant resources, a young and dynamic population, Ghana presents a host of opportunities from oil and gas to the digital economy.
Having the right support and knowing the right people is a big part of doing business overseas. Meet Jean Ng, Regional Director at our Enterprise Singapore Overseas Centre in Accra, Ghana.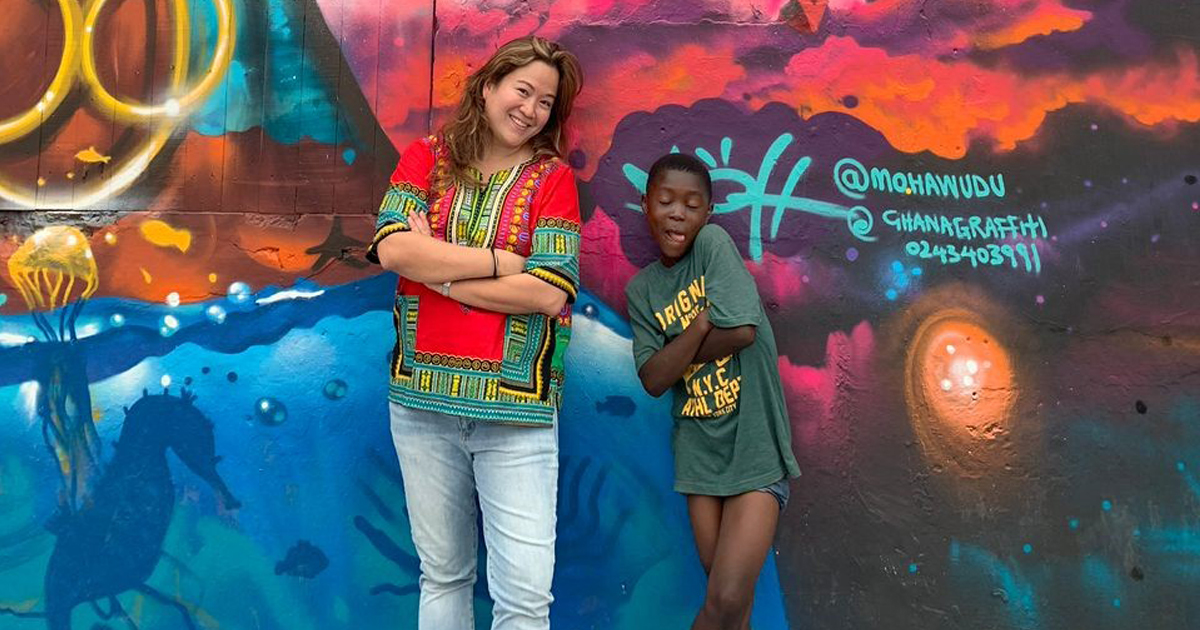 1. Hi Jean, please share a bit about yourself and your work at our Ghana Overseas Centre.
Hi everyone, welcome to Ghana! Many have asked me why a Singaporean is working so far away from home in a country that not many would usually visit even for their own leisure.
Well, it all started when I joined Enterprise Singapore after 10 years in the private sector. It was my first company mission trip in 2017 there that cemented the idea in me. Besides the warm local hospitality that I experienced, the vibrancy of its local economy and even its 'messy' local transport system just drew me in. So, in August 2019, I took up the challenge and accepted the posting to Ghana. Today, I'm one of the few "obroni" (fair-skinned foreigner) here. My job is to raise awareness of the many opportunities for Singapore companies to tap into Ghana and the continent. I also provide them with the knowledge and support to help them set up their offices here.
2. What is something that is not commonly known about Ghana?
Perhaps the first thing to surprise people is the high cost of living. Contrary to what the media portrays of Africa, a head of broccoli can cost as much as S$9. This is due to the fact that around 70% of the food in Ghana is imported, despite Africa growing many of the raw ingredients for the world. Dining out in restaurants can cost as much, if not more than in Singapore.
Cost aside, there is a palpable business heartbeat that one can feel here. What excites me is that there is always some level of 'hustling' happening at every turn of the corner. There is an entrepreneurial energy and the nation is buzzing to do business.
3. Why would Singapore businesses find Ghana and Africa attractive?
While it may sound like a cliché, Africa is the last frontier in the global economy. It consists of 54 countries with a youthful population, with a median age of only 23 years old.
As a comparison for Singapore companies, the continent is much like the emerging economies within ASEAN some 15 years ago. And as a rapidly developing nation, businesses here are looking for a wide range of solutions from agriculture, manufacturing to information technology. With fast-growing demand in these sectors, my team and I here have successfully assisted many Singapore businesses to enter not just Ghana, but also West Africa.
On top of that, there are also Free Trade Agreements (FTAs) such as the Africa Growth and Opportunities Act (AGOA) that our Singapore companies can leverage on. This is especially useful if they are looking to establish an outpost here to serve developed markets like the USA and Europe. Foreign companies are also covered when it comes to intra-Africa trade. They can currently tap into regional trade bloc agreements like the ECOWAS Trade Liberalisation that looks at a Free Trade Area for ECOWAS Member States. In the longer term, companies can also leverage the Africa Continental Free Trade Area once it is fully implemented and operationalised across the continent.
4. What is something everyone should know about doing business in Ghana and Africa?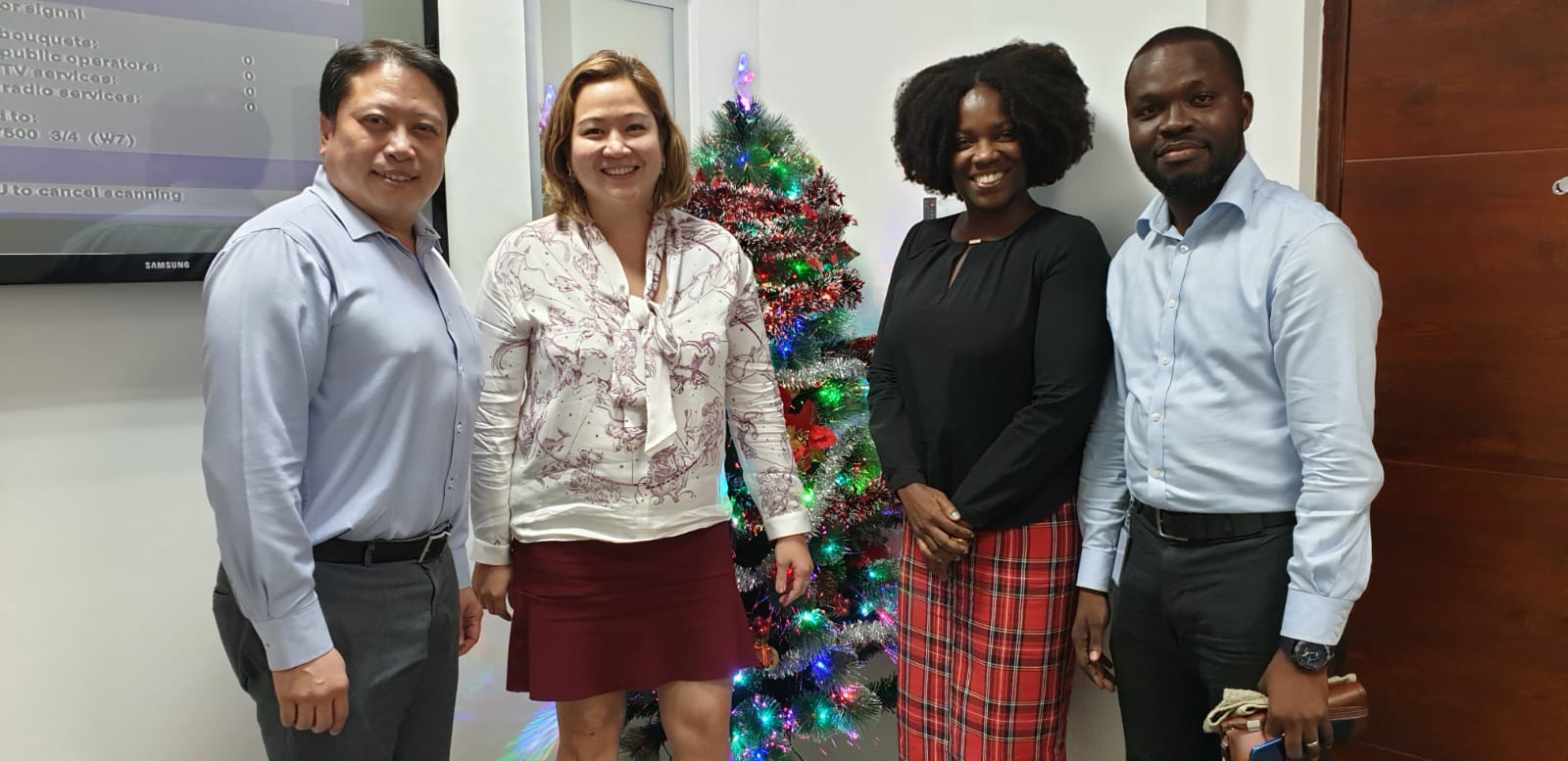 Invest in relationships and be patient.
Even though Africans may come across as being very 'chill' in their engagements, this does not mean that they are not serious about doing business.
Africans do prefer face-to-face discussions and a personal touch in their dealings. I recall having done a built environment mission together with Singapore companies into Ghana and the Ivory Coast in 2016. However, it was only a few years later that they could solidify their local distributor partnerships. This is not because Africans are slow to engage, but it takes time for them to warm up to you, and for you to earn their trust.
Thus, it is always good to look to invest some time and effort to visit the market, to have a feel and do some groundwork first. Leveraging business missions organised by Enterprise Singapore would be one effective way to establish relationships and generate leads locally. African companies appreciate the sincerity that a visit brings and they usually reciprocate in kind. This trust will lead to the building of loyal partnerships where you can rely on your local partner to assist you in navigating the dos and don'ts.
Companies coming into West Africa should also note that there can be language differences, especially as there are both English and French speaking countries in the region. As a rule of thumb, don't take English language nuances and meanings to be the same as in the Singapore, or even international context. In my first month here, someone had asked me "Can I be your friend?". It was only after my colleagues pointed it out to me that I realised it was a pick-up line!
Speak slowly and check to ensure that both sides have understood each other clearly.
5. Finally, what is the one piece of advice you would give to Singapore businesses looking to enter Ghana and the continent?
Do your own homework.
Not everything will work for the African market as it could be a case where the timing is not yet right, especially for consumer products. Or it could be a matter of understanding local consumption behaviours and having to adapt your product accordingly.
A quick way to gain local knowledge is to attend market events and webinars by Enterprise Singapore or our partners like the Singapore Business Federation. It is a good way to start gauging the market potential, as well as to network with fellow Singapore businesses who are also looking to expand into the continent.
And of course, our team at the Enterprise Singapore Overseas Centre in Africa is always ready to help.
To get started, download our Internationalisation Toolkit to assess your company's readiness to expand overseas.
Please feel free to get in touch: jean_ng@enterprisesg.gov.sg
Follow our Africa LinkedIn page for more updates.
Find out more about how we can support you to keep growing.