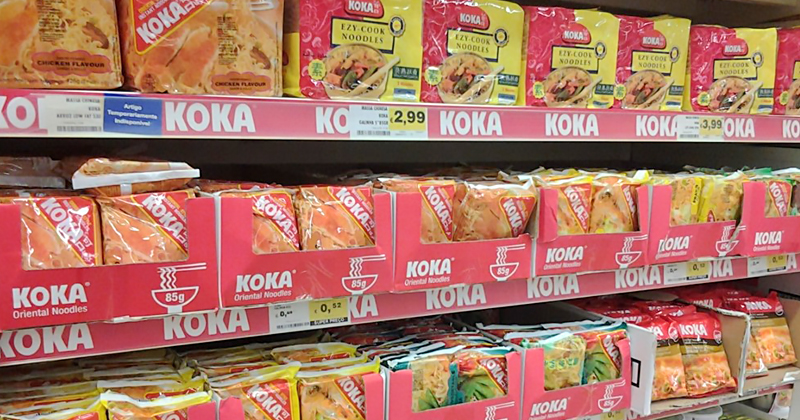 The business started in 1986 with fewer than 20 employees. Fast forward to 33 years later, Tat Hui Foods is now turning over millions of cartons of instant noodles every year, with more than 300 employees. Its instant noodles are enjoyed in almost every corner of the world with overseas sales accounting for the lion share of its annual turnover.
Tat Hui's success can be traced to several factors, including ambition, foresight, and good old-fashioned hard work. But perhaps equally as critical is its commitment to ensuring the highest possible quality and standards in food safety.
"In the beginning, our focus was based on adopting the industrial best practices to guide us in our operations to enable us to learn, develop and progress," said Mr Anthony Fong, Tat Hui's Chief Financial Officer. "With changing time and demand to meet our diverse customer needs, the BRC was carefully chosen to replace ISO 9001 as it was more relevant to the food industry, covering food safety, traceability, quality management and food defence."
The BRC certification is not the only standards the company has adopted. Besides the ISO 9001 standard, which was adopted in 1999, Tat Hui also has HACCP and Halal certifications, which it achieved in 2002 and 2006 respectively. In 2017, it appointed its first BRC chairperson to ensure that the company stays up to date with the latest food safety standards and compliance with the other certifications.
Breaking into new markets
Several key elements have played a role in Tat Hui's success in overseas markets, including its adoption of new technology, automation, and strategic direction to invest in R&D and develop healthier noodles. With so many other brands competing on the global stage, the company's commitment to standards has certainly helped it to pull ahead of its competitors.
Mr Fong said buyers are impressed with the taste and quality of the company's products, and that the certifications give them added assurances.
He added: "During trade fairs, for example, buyers show interest in our products and confidence in our company given the certifications. I would say being certified has given us a competitive advantage in the international markets."
Moving forward, the company hopes to further expand its reach across China and India.
Evolving cutting-edge productivity
Standards do not only give companies an edge in overseas markets, they can also improve its in-house operations and processes, making them more efficient and productive.
In Tat Hui's case, adopting the various quality management standards has allowed the company to improve its production process, productivity and product safety.
In 2017, the company installed a new transfer system that reduced its reliance on manpower and streamline its operations, said Mr Fong. Two years before that , it had also invested in a new automated noodles production line with a 100 per cent increase in output.
Healthier products, happier workers
Tat Hui has been continuously investing in R&D, creating healthier products such as its first to the market no-added-MSG ranges, purple wheat and non-fried instant noodles for the more discerning consumers.
Its employees are also happier and more focused at work, because the company has created a work culture that is benchmarked against international standards where workers are receiving regular training and are producing high quality products that are safe and enjoyed around the world.
Inspired and want to learn more about how adopting standards can help improve your business? Find out more here.
Read all stories here.