Back in 2007, husband-and-wife duo David Yim and Wong Peck Lin noticed that when it came to the frozen dessert, many Singaporeans would instinctively turn to the usual Häagen-Dazs, Ben & Jerry's or Magnum to satisfy their cravings.
That is, until Udders burst onto the scene.
"Singaporeans eat a wide variety of food all the time. But for ice-cream, we typically only consume the Western brands and flavours – which are also usually heavier and richer in dairy content (to suit the Western diet)", recalled Ms Wong.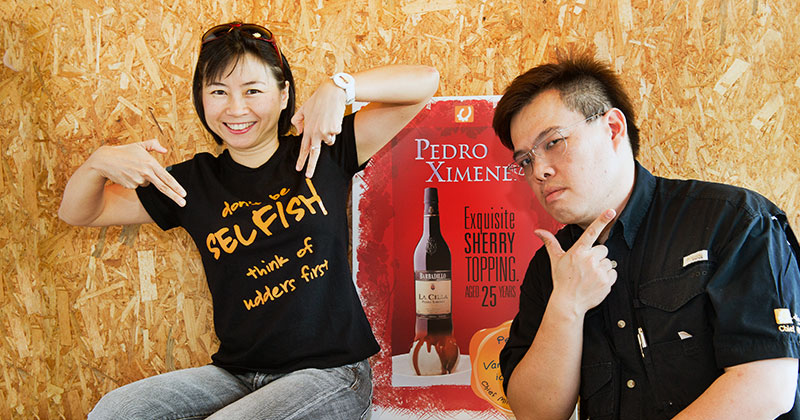 Recognising the gap in the local ice-cream industry, the couple set out to create a niche Asian ice-cream brand – one that would cater to the unique taste buds of Singapore consumers.
Enter fruity, tropical and boozy flavours such as Mao Shan Wang, Baileys & Bourbon and Rum Rum Raisin.
Hanging with the big boys
Fast forward more than a decade later, Udders has become a household name in Singapore – known for its fun, innovative and alcoholic ice-cream.
Besides operating four outlets in Bukit Timah, Kovan, Novena, and Upper Thomson – with a fifth one coming soon – the company stocks its distinctive orange ice-cream cups and pints at about 400 retail points around the island – from petrol stations to supermarkets and convenience stores.
The company continues to hit new milestones. It recently secured rights to serve its uniquely Asian-flavoured creations on-board three airlines (i.e. Singapore Airlines, Scoot and Jetstar) to millions of passengers from around the world.
In a single year, Udders churns out and sells an equivalent of five million ice-cream scoops.
Ten times more delicious ice-cream
So what is their secret to producing such high volumes of its signature sweet treat?
Automation.
According to Ms Wong, adopting technology has "made it possible" for Udders to fulfil large demands. Its once-manual and labour-intensive production line – which includes ingredient-mixing, freezing, labelling and sealing is now a fully automated process.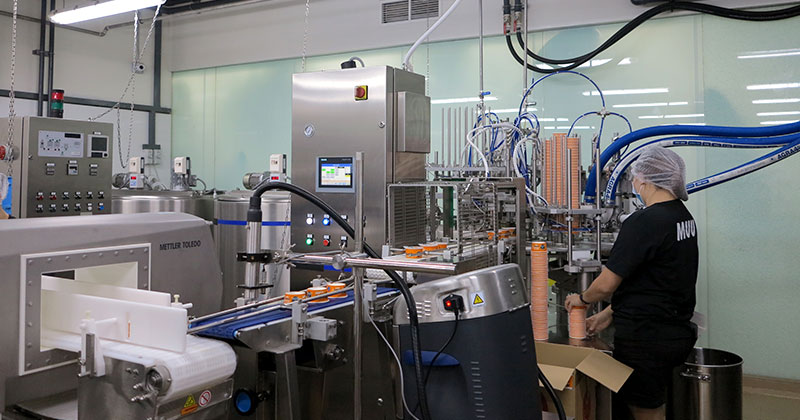 Its continuous freezer – newly installed in 2019 – comprising mixers, pasteurisers, homogenisers and ageing tanks among others – yields 500 litres (equivalent to 5,000 cups) of ice-cream per hour. More than 2,000kg worth of ingredients can also be loaded into the mixer for an eight-hour run at a time.
The result: a tenfold increase in productivity, alongside 60% cost savings.
"Enterprise Singapore's support in implementing this (automation line) has made a big difference for us in terms of time and effort saved," explained Ms Wong.
In addition, the new automated line guarantees greater quality assurance and food safety, due to minimal human contact with the product.
Enterprise Singapore also supported Udders in research and new product development. To refine its recipes, Udders engaged consultants to learn how to better manage texture and overrun (the amount of air pushed into ice-cream) – the two key factors that affect the quality of the dessert.
"It was easier to control the quality previously when batches were small. Now that we are producing ten times that volume, we need to ensure the formula is correct. Otherwise, large amounts of ice-cream would go to waste," said Ms Wong.
Staying fresh and trendy
In Singapore's sea of artisanal ice-cream, one might wonder how the homegrown brand stays relevant in the increasingly saturated market.
Launching unusual and limited edition ice-cream flavours at a brisk pace is all in a day's work for Udders. It takes as little as two months for the company to introduce a new flavour from ideation to commercialisation.
Some of its latest creations are Himalayan Salt and Bubble Tea, and localised flavours such as Milky Rabbit with Haw Flakes and Chicken Bak Kwa.
There was also the Istana Harvest sorbet created in 2017 for Istana, using ingredients found in their spice garden, and the iconic Kimchi ice-cream, served to international media during the historic Trump-Kim Summit in Singapore in 2018.
Most recently, it launched a new sister brand Nuude, which specialises in lower-sugar and lower-calorie ice-cream, for health-conscious consumers looking to enjoy a guilt-free treat.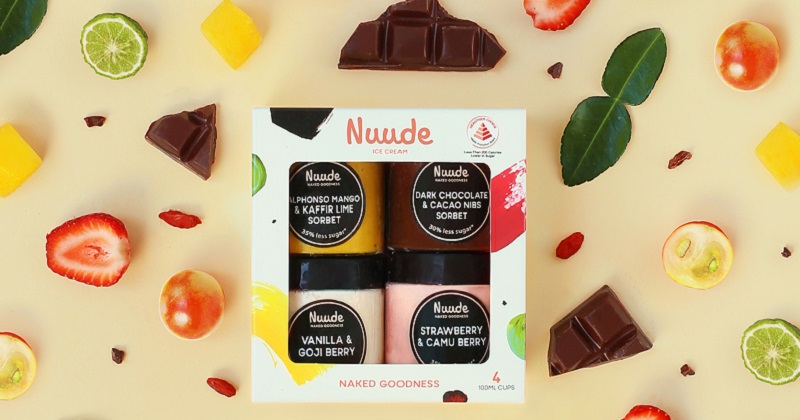 "We keep a close eye on trends. Whatever the flavour of the moment, we catch it early – and catch it fast," said Ms Wong.
Securing strategic partnerships with marquee brands is another way for Udders to constantly refresh its brand and capture the millennial demographic.
For example, it has been rolling out Disney-movie inspired flavours since 2017, to ride on the buzz of blockbusters such as Star Wars and Toy Story 4. In fact, Ms Wong revealed that two of Udders' bestsellers from their Star Wars ice-cream series were Darth Vader (dark vanilla with cranberries) and Chewbacca (chewy fudge with brownies).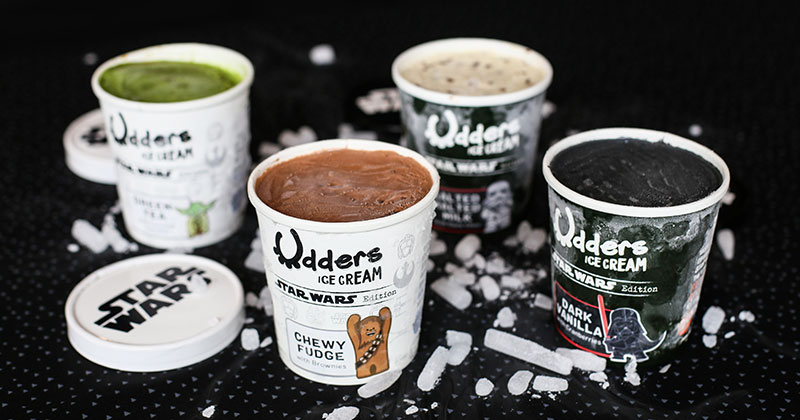 It recently tied up with global coffee chain Starbucks to produce exclusive flavours such as Cold Brew Coffee for its flagship stores in Singapore.
On home ground, Udders is also collaborating with a leading local F&B brand, Mr Bean, to develop vegan soya ice creams to capture the growing vegan market.
Think far to go further
Beyond Singapore's shores, Udders brought the durian, coconut and watermelon lime pineapple flavours to Asian supermarkets in Australia. Famously stringent on dairy imports, the Land Down Under is its first overseas export market.
It is eyeing Southeast Asia next. The company will be opening outlets in Jakarta, Indonesia and exporting to Vietnam in the next few months.
"Singapore is very small. To do well, you have to set your business up in a way that it can scale quickly into overseas markets," said Ms Wong.
Udders' achievements at this point, is merely the tip of the iceberg, as Ms Wong determinedly shares her plans to capture more market share for the company in the region.
"It's about being really fast. It's about being really focused," she asserted.
"Ice-cream is a very accessible dessert that is enjoyed internationally. There's still a lot of potential in the market for people to enjoy flavours inspired by our unique Asian culture. We definitely have the opportunity to get in there and capture a bigger slice of the market."
Read all stories here.