First published in The Straits Times on 3 February 2022.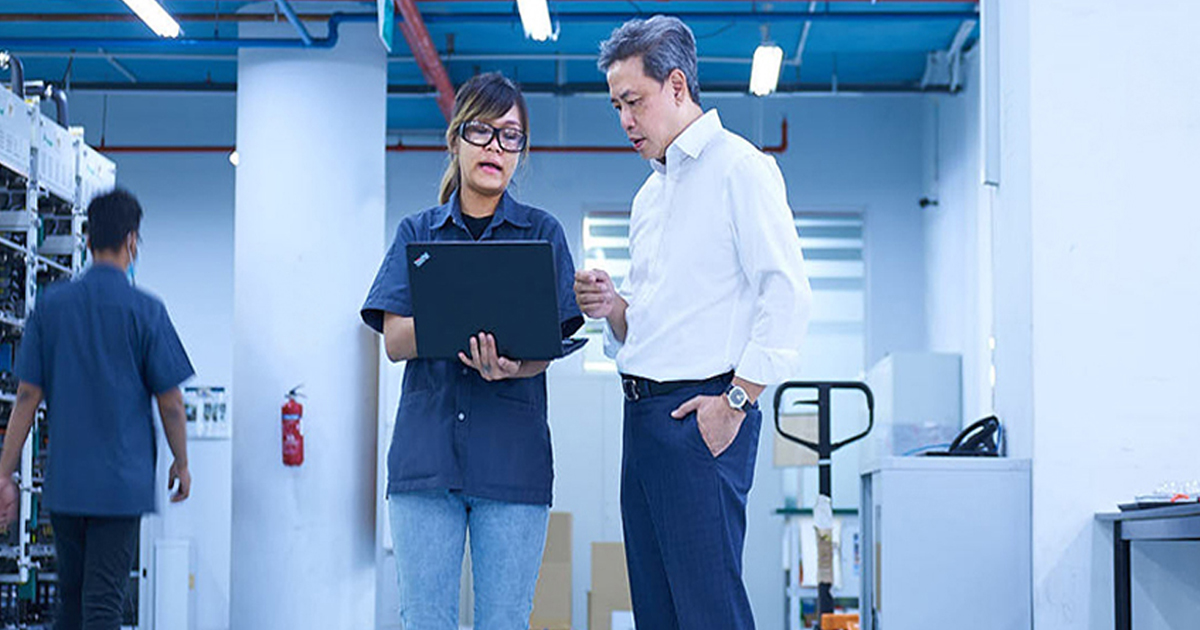 Intel is one of the world's largest semiconductor vendors, and possibly the most well-known. But what the United States and the rest of the world probably do not know is that before the chips hit the market, a large percentage of them are first tested by advanced machines designed by a Singapore company.
AEM Holdings has kept Intel as a key customer for over a decade, and in these years, this close working relationship has enabled the testing solutions firm to grow from strength to strength.
In 2020, AEM posted a record profit of $97.6 million, while its market capitalisation crossed the $1 billion threshold.
But its fortunes have not always been this rosy – the company posted a loss of $17.9 million in 2009 and was briefly placed on the Singapore Exchange's Watch-List the following year. That did not, however, deter private equity firm Novo Tellus from swooping in to acquire AEM in 2011.
"What attracted me to AEM was that they had Intel as a customer... [this] proves a lot because [Intel is] a tough customer," says AEM Chairman Loke Wai San, who is also the Co-founder and Managing Director of Novo Tellus.
"To me, this was not a company in decline but an opportunity to re-grow. We're now competing with the top companies in the world, which we're very comfortable with," says Mr Loke.
The turnaround for the 22-year-old firm, which provides testing solutions for chipmakers, has centred squarely around innovating to meet customer demands, what Mr Loke refers to as "moon landing kind of problems".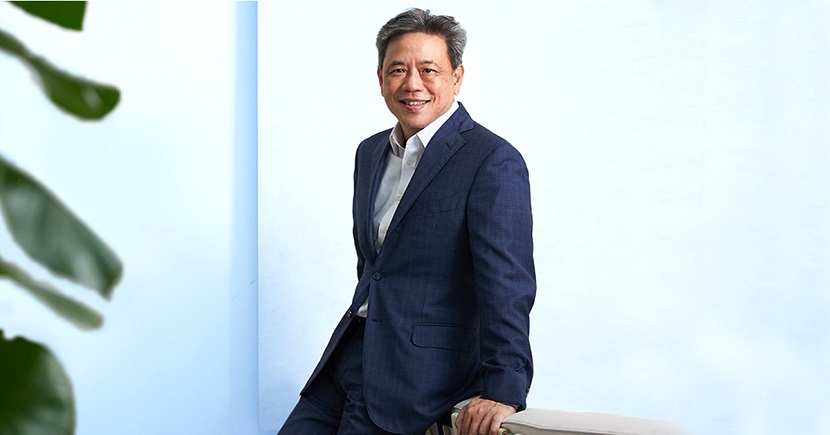 Advancing its journey
The first of AEM's moonshots arrived after four years of investments in engineering since its acquisition by Novo Tellus.
The challenge during those years was to attract and retain talent to drive the research and development (R&D) process to meet customers' demands.
"To attract that talent, you've got to have a customer because no one's going to join you if they think you're a sinking ship," says Mr Loke.
The company bet its future on a virtuous cycle of working intimately with its key customer and channelling feedback into R&D to innovate customised solutions.
"In the earlier stages, we reinvested in operational excellence and quality. Once the customer knows you're reliable, they'll tell you more and once they tell you more, that feeds into your R&D programme and you reinvest more," says Mr Loke.
Even till today, the company continues to invest nearly 10 per cent of its profits into R&D.
Feedback loops are also central to AEM's R&D process that has yielded remarkable results for the company.
In 2015, it shipped laboratory units of its High Density Modular Test (HDMT) handler to Intel and in the following year, started volume production of the platform.
The HDMT simultaneously supports different test stages for various conditions and environments, enabling AEM's customers to enjoy cost savings.
The commercial success of the product boosted AEM's revenue almost fivefold, from $47.6 million in 2015 to $221.6 million two years later. That success set AEM off on a different trajectory.
Going global
After securing sustainable sales of the HDMT to Intel for the next few years, AEM started on its global growth path to diversify its revenue stream.
Between 2017 and 2021, it acquired seven technology companies worldwide with exposure to industries as diverse as telecommunications, automobiles, mobility, and optical electronics. It also partnered with several more.
These strategic purchases and partnerships allowed AEM to expand its capabilities into new areas such as industrial radio frequency test solutions, wafer level testing solutions of micro-electro-mechanical systems, and vision inspection. AEM also gained access to new markets and customers.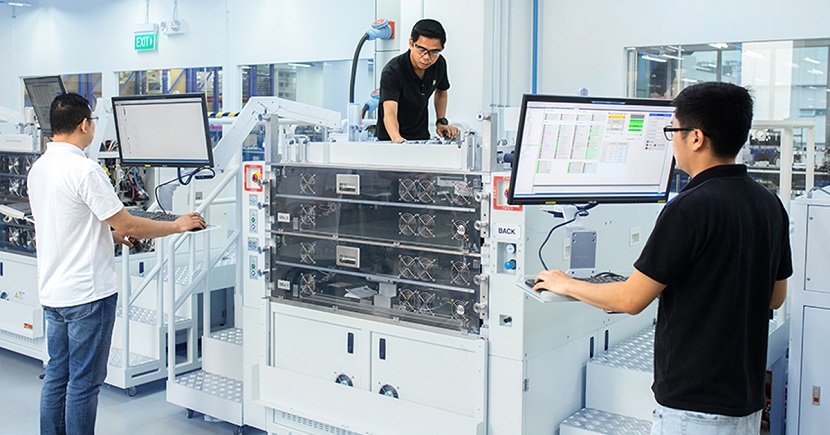 As the company deepened and expanded its capabilities in-house and via acquisitions, it was developing test solutions for complex chips that power evolving applications and technologies.
"The chips our customers produce are very complex and they are getting even more complex," says Mr Loke.
These chips also require highly integrated testing solutions so that companies can scale up and go to market faster.
Addressing this need, AEM in 2018 introduced a prototype for its next signature solution after the HDMT – the Asynchronous, Modular Parallel and Smart (AMPS) platform that integrates different testers into a single system.
The first buyer for the AMPS was secured in late 2018 and AEM successfully installed some initial commercial systems in 2019.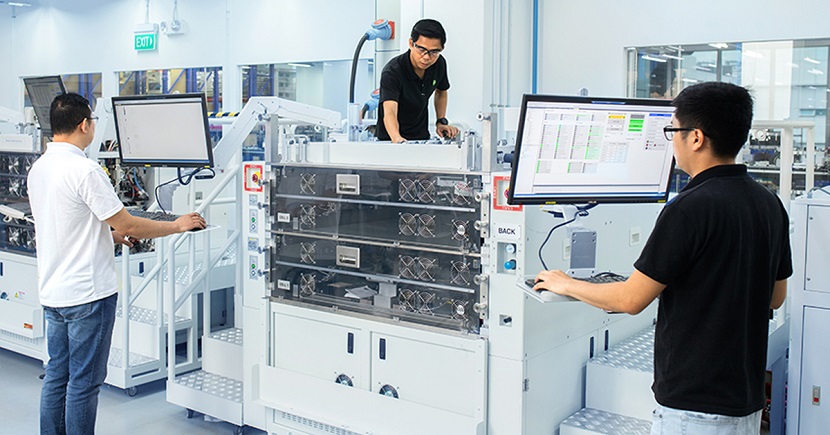 AEM's continuous commitment to R&D has allowed it to diversify its order book away from one major customer.
Mindful of customer concentration risk, it engaged with 10 of the top 20 semiconductor companies across diverse industries in 2020 and is confident of seeing these translate into "meaningful revenues" in 2022.
The synergy of 20 years of industry experience and the deepening engineering capabilities because of cross-border mergers and acquisitions has transformed AEM into a multinational company.
R&D teams in Finland, France, the US and Malaysia – near to where AEM's customers are located at – work with Singapore as a globalised unit.
"We're a knowledge economy and we shouldn't be restricted by borders," says Mr Loke.
AEM also operates over five manufacturing plants globally, including in China, Finland and Malaysia, although the company's main production unit sits in Singapore.
This may be counterintuitive given the country's high costs, but Mr Loke believes that "it's critically important to have R&D and manufacturing work quite closely together because that's where you can actually iterate faster".
"We don't even think about low-cost production; we think about the total best solution that incorporates the best technology, the best quality, the best response time, and of course, cost."
Further growth
In 2019, the company took advantage of an Enterprise Singapore (ESG) programme to look at its strategic plans to expand in the China market.
Scale-up SG was started to help high-growth local companies accelerate their growth and scale globally.
With the semiconductor market in China growing aggressively, it was natural for AEM to try strengthening its presence there.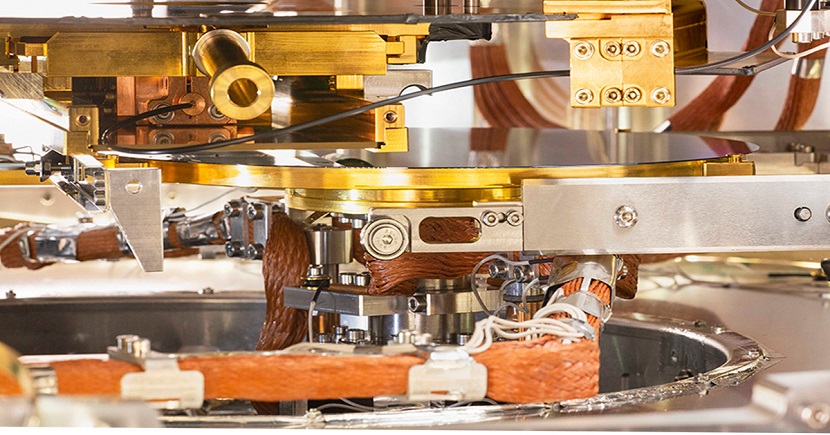 AEM tapped the programme's consulting expertise to focus on its China instrumentation business unit that comprises Automated Test Equipment Solutions and Test & Measurement Solutions.
ESG has also been on hand to introduce AEM to potential customers in China, such as wafer foundries and chip packaging companies, as well as to support the company in setting up new offices or operations in the country.
AEM's revenues from China rose by 38.4 per cent year-on-year to $69 million in 2020. In fact, China was the company's fourth biggest geographical segment that year.
The company is seeing a steady build of its China book, with relatively high-profile contracts, such as the one in 2018 to supply cable-testing solutions for Huawei's 5G rollout.
AEM further penetrated the Chinese market in 2020 by winning new accounts with various products. It is optimistic for more orders of its latest magnetic sensor tester.
Its new market expansion is not limited to China only. In the US, AEM is also continuing to flex its muscles and cement its standing through product enhancement and innovation.
Moving forward
AEM's participation in ESG's Scale-up SG programme also gave it the opportunity to interact with fellow home-grown companies.
What Mr Loke observed is encouraging for the future of Singapore's businesses on the global stage: By and large, companies have shifted from thinking only about productivity and cost management to focusing on growth.
"Singapore is one of the most expensive places in the world. You better have the best innovative products or services and it should be global," he says.
At its headquarters in Serangoon North, AEM's leaders are reminded to align decisions with Resilience, Innovation, Sustainability, and Entrepreneurship (Rise).
The board of directors, notes Mr Loke, must keep questioning the company's market fit along the Rise principles to keep on achieving.
Circling back to the challenges AEM was facing when he came on board in 2011, Mr Loke stresses the importance of taking care of all stakeholders – not just shareholders – including employees, suppliers, and customers.
"That's something, at the board level, that every chairperson should focus on, for if you focus too much on your share price and on risk management in terms of not taking risks, you end up at a different destination."