First published in The Business Times on 9 August 2022.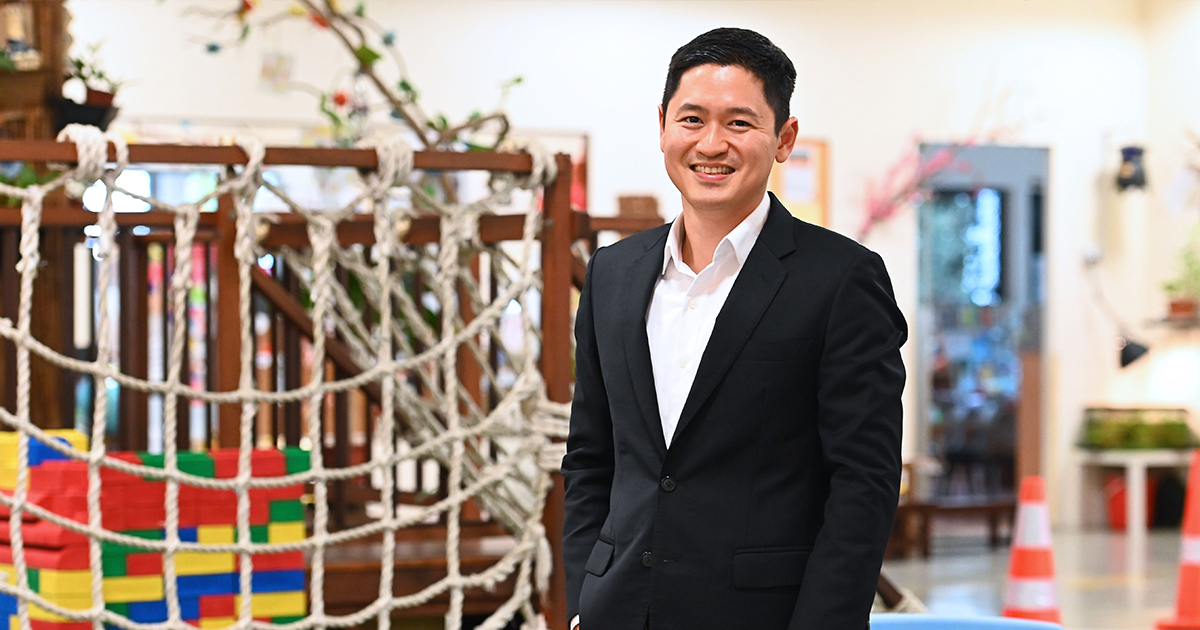 When the EtonHouse International Education Group was still a small local enterprise with three pre-schools in 2003, a parent from China asked its founder Ng Gim Choo why it had not expanded to his country.
"We had been operating for eight years with some success, with a very strong focus on Chinese language and culture, so my mother thought about it seriously," said Ng Yi-Xian, 37, who is Mrs Ng's son and the firm's group chief executive officer and executive director.
"At the same time, many Singapore businesses were moving or expanding to China because of the Suzhou Industrial Park (SIP) set up by the Singapore and Chinese governments. So it felt like the right time for us to do so as well," he said.
The SIP was established in 1994 as a bilateral project to share industrialisation experiences, and drive innovation and entrepreneurship.
By the end of 2003, EtonHouse had found a local partner in Suzhou and established its first overseas school in the city. Today, it has 20,000 students and 120 schools in 11 countries, mostly in Asia. These include 50 schools in China and 40 in Singapore.
Its global expansion has helped to double its annual revenue to S$200 million over the past 5 years. It runs a range of schools for children 2 months to 18 years old, including infant care and pre-schools for locals and expatriates, and international schools for expatriates.
"We've focused on China because of its enormous demand for quality education. In fact, most of our overseas ventures have been driven by partners in the countries wanting to work with us to meet demand," Ng said.
The power of partnerships
He stressed the importance of finding the right partners, and listening to their feedback and ideas, when entering new markets.
"We have the pedagogy, expertise and branding in education, but our local partners have better relationships with their government, landlords, site developers and more. They are on the ground every day and have insights because of their experiences."
For example, after EtonHouse started its sought-after international pre-school in Suzhou, it opened a similar one in Chengdu across the country.
"It didn't work. Our partner (in Chengdu) finally told us that we needed to follow the local pre-school model, with longer hours, lower fees, and Chinese instead of English as the predominant language for instruction," said Ng.
"When we made the changes, things turned around. Even in the same country, things can be different in different places, so working with a local partner can be very useful."
While EtonHouse looks for partners and vets those that come calling, it also relies on experts' recommendations. These advisers include Enterprise Singapore (EnterpriseSG), a government agency that supports the local and global growth of Singapore businesses.
EnterpriseSG has an extensive network of satellite offices globally, and organises mission trips for local firms to learn about overseas markets and meet prospective collaborators. "Most of our schools in China were the result of such trips," Ng shared.
More recently, the agency connected EtonHouse to a partner for its second school in Tokyo, and supported its expansion to the nearby resort town of Karuizawa. Japan is a major market for the firm because of its economy – the third-largest in the world – and its emphasis on pre-school education.
Even though one of its partners in Japan had suggested setting up an international pre-school in Karuizawa because of its growing appeal to migrants from other parts of Japan, Ng was sceptical at first. "You don't think of a holiday resort town as a fit for a premium pre-school," he explained.
"When we asked EnterpriseSG, it told us that the town is an up-and-coming area, with people migrating there, and it made sense for us to invest there. That convinced us to go and see the town for ourselves."
He noted that the agency has deep knowledge about many markets, and no vested interests, making its advice invaluable. "You can trust its opinion."
Another form of partnership when expanding overseas is the ability to learn from one another's experiences and best practices in different parts of the world, said Ng.
On Oct 21, the firm is organising its first virtual EtonHouse Conference for educators from its 120 schools worldwide.
Some of them will share their research and innovations in fields such as inclusive education, student and teacher well-being, assessments, education technology and digital literacy.
"We've done a call for submissions and are selecting the presentations. If a teacher has done a good job in, say, carrying out differentiated teaching in the classroom, others can benefit from the example. We can work together and help one another to improve."
Big pivot to digital
Over the past few years, EtonHouse has broadened its offerings to cater to new markets and accelerate its growth.
Apart from founding and running its own schools, it has created a curriculum licensing and school management platform that enables it to license bilingual and inquiry-based curricula to other pre-schools.
Ng explained: "Teachers can use it to implement our curriculum, and principals tap on it to see what each teacher is doing. It acts as both a curriculum licensing platform and a school management system."
The firm is in the midst of launching it in China, its largest market, before rolling it out in other countries. "This is a big pivot for us. Our entire history has been about setting up brick-and-mortar schools. This is our first venture that is entirely digital."
It developed the concept while participating in EnterpriseSG's Scale-up SG programme in 2019.
The initiative aims to help local firms with high growth potential to scale quickly and effectively, become leaders in their fields and transform into global champions, including by identifying new markets and devising ways to break into them.
During the programme, which lasts between 12 and 18 months, the firms' executives get the opportunity to network with peers, learn from business leaders and work with consultancies on their growth strategies.
Ng and his mother, 69, EtonHouse's chairwoman and group managing director, decided on the move into the digital education space after a week-long executive course at the University of Pennsylvania's Wharton School of business.
He explained: "When the professor taught us about digital business models, we realised that with a digital product, we could have more-or-less fixed costs but reap exponential revenue."
Through the Scale-up SG programme, he got assurance that the digital platform was a viable and profitable idea, and guidance on setting its price point, how to differentiate it from competitors and more.
He added that the platform could be successful in its own right, and grow beyond the company's core business.
"The story of EtonHouse so far has been our transition from a small-and-medium enterprise into a large local enterprise, and going beyond that. Still, in terms of our development, we're like a young adult now. We have many years and plenty of room to grow."
Building capabilities, managing risk
Government agencies such as EnterpriseSG have many programmes to support firms, including initiatives to boost their capabilities, said Ng Yi-Xian, EtonHouse International Education Group's group chief executive officer and executive director.
Last year, EtonHouse joined EnterpriseSG and the Infocomm Media Development Authority's Digital Leaders Programme. It assists companies in building and enhancing digital capabilities and accelerating digital transformation, so that they can develop novel business models and capture new growth opportunities.
Through the programme, EtonHouse doubled its technology team's headcount to 10 people. It is currently adding new features to Kagami, its digital in-house school management platform.
"Our goal is that teachers will be able to use it to plan for every child's learning needs, and we can use it to track the children's progress and update their parents," Ng said.
"Such transparency for the children, teachers, parents and our organisation will make us more attractive to families everywhere."
Singaporean firms should think about how they can make their mark in other countries, he said, including by tapping on technology.
His advice: "Do your due diligence, manage your risks by making sure that you can absorb financial losses if things go wrong, be flexible and ask for help when you need it."
Venturing beyond Singapore can be a game-changer for firms, as it has been for EtonHouse.
"You can be complacent and hope that global players don't come to Singapore and eat your lunch, or you can take the leap, expand overseas and grow."