By the 1990s, the humble but ubiquitous wet towel had become a mainstay in the food and beverage (F&B) industry, around the same time that homegrown company Freshening Industries developed disposable wet wipes.
Since then, Freshening's trusty wet towels have evolved into different forms – from being individually packed to now being biodegradable, in line with recent environmental concerns.
Today, the firm supplies its biodegradable wet wipes, Smartowel Bio-D – which also come with biodegradable packaging – to more than 80% of the F&B chains in Singapore. The Smartowel Bio-D is said to be the first biodegradable wet wipe in the region. Since the launch of this product, Freshening has seen its revenue grow by an estimated 198%, alongside a 57% growth in consumer demand from 2018 to late 2019.
Freshening's founder, Mr Albert Moh, says: "We launched Smartowel Bio-D two years ago, but the industry had yet to accept it. These days, they are more willing to use biodegradable products."
"The packaging is an oxo-biodegradable wrapper (meaning it biodegrades significantly faster in the presence of oxygen) which degrades in a year, as compared to other plastic wrappers," he adds. Normal plastic items can take up to 1,000 years to decompose.
Freshening understands that the demands of their customers naturally change with the times. This has spurred the company to constantly adapt over the years, in order to stay relevant.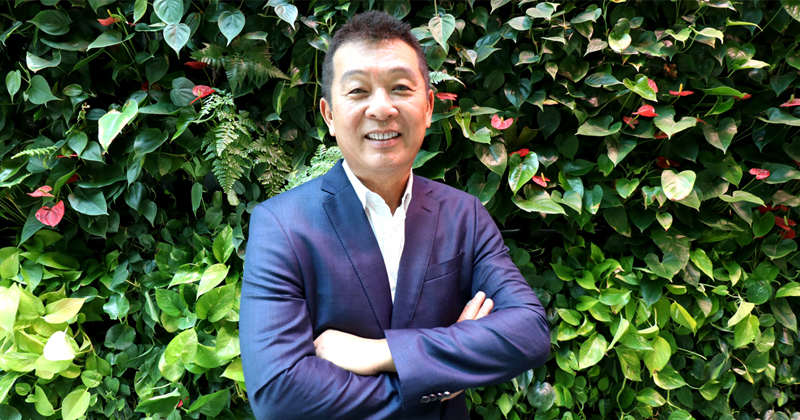 Reinventing the wheel
Smartowel Bio-D is just one example of how Freshening has innovated to stay ahead of the competition. The company has its own research and development (R&D) team, which was set up in 2007 and now functions as a key engine for the business's growth.
The company has come a long way since the early 2000s, back when one of its earliest product innovations was propelled by an unforeseen epidemic. In 2003, Singapore was struck by the outbreak of the severe acute respiratory syndrome (SARS). At that time, Freshening had found consistent success producing disposable wet wipes for the F&B industry, which was hit hard by the virus.
Mr Moh recalls: "I told my wife I'd be in trouble because I only had business from the F&B sector, which was languishing then as people were afraid to go out. I realised we should produce disinfectant wipes and turn this crisis into an opportunity."
That was how their HospiCare range of products was born. Besides turning the disposable wet towel into one with sanitising properties, Freshening also began producing sanitisers and other medical products.
Freshening is now a certified medical device manufacturer, and HospiCare's biggest markets are Singapore and Myanmar. Besides Smartowel Bio-D, which contributes more than 50% of their total revenue and 20% to 30% of overseas revenue, HospiCare is their second largest contributor.
2019 and 2020 were no exceptions for Freshening. To meet increased sanitary and hygiene demands brought on by the COVID-19 pandemic, the company expedited their launch of a new disinfecting product series, which included alcohol sprays and disinfectant liquid.
To cater to more consumers shopping online, they also launched an e-commerce store in June 2020.
Before this, Freshening had already been building on its existing capabilities and looking for new, untapped markets to venture into. Through market research supported by Enterprise Singapore (EnterpriseSG), the company learnt that the baby wet wipes industry was a growing market that would hit US$5.1 billion (S$7 billion) by 2024.
Mr Moh says, "Only new products (which address customers' demands) can open up new markets, and growth will be much faster." Five to six years ago, Freshening experienced its fastest growth period – achieving double-digit sales figures – as a result of high demand for its medical products, and securing big-ticket contracts with hospitals.
Today, the product segment for the F&B industry continues to make up at least 50% of the company's revenue, with medical products coming in second, and personal care third. Freshening now works on developing some six new products a year.
Their R&D team is also collaborating with Singapore Polytechnic to develop wipes to remove bird droppings. They are also developing sunscreen wipes and glove wipes under their HospiCare range for the medical sector.
Raising productivity and standards
Freshening may be full steam ahead now, but it wasn't always so efficient. In the past, most of the company's operational processes were manual, which gave way to a higher likelihood of human error. This often resulted in imbalanced stock count between the production line and warehouse, which eventually affected shipment and delivery of their products.
In 2017, Freshening worked with EnterpriseSG to invest in automation and raise productivity. The result of this was the Highway Productivity Project, which installed a link way-conveyor belt system between the company's production floor and warehouse. Packed goods could pass through a high-speed door with radar detection that captured the batch unit information, which is auto-transmitted to the online system.
The completion of the project saw an increase in per worker production capacity by approximately 30%. It also reduced the manual work needed to maintain clean room facilities by approximately 45 man-hours per month.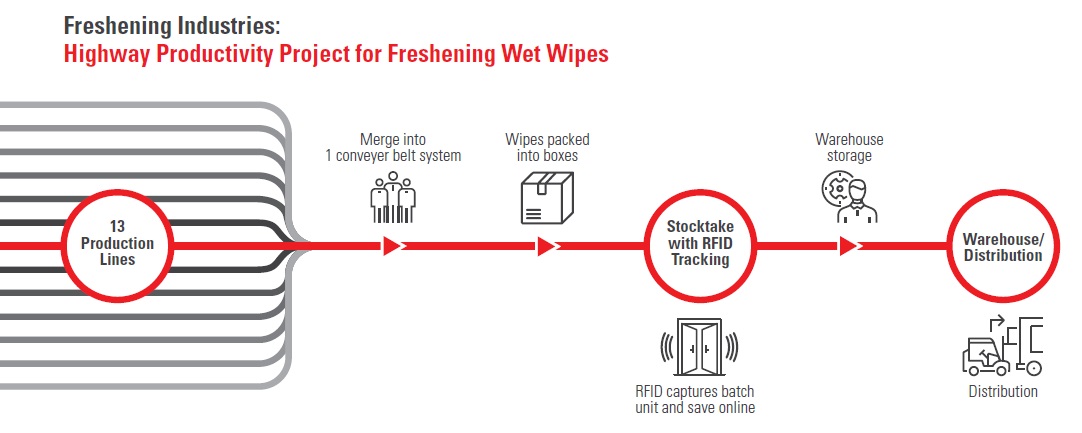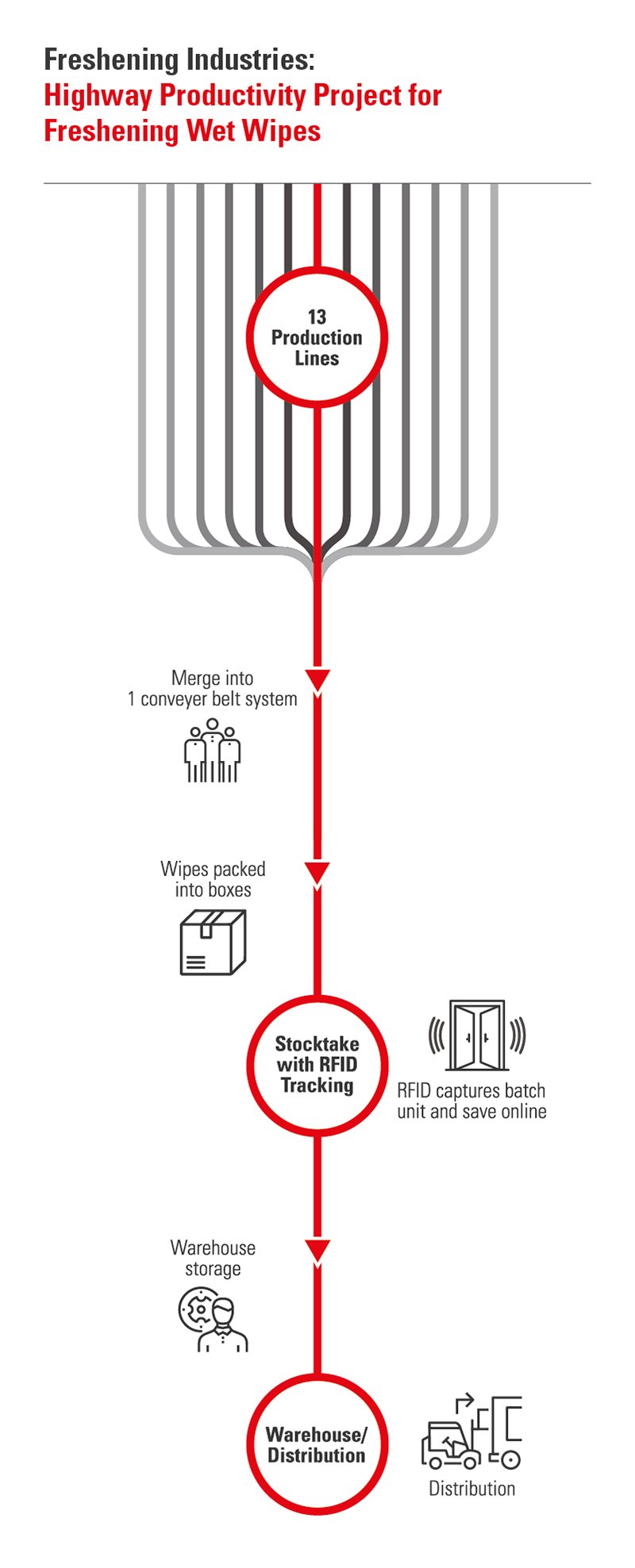 Freshening has invested in quality management practices, such as having a certified 100K clean room, which is a controlled room that maintains a low level of pollutants such as dust, airborne microbes, aerosol particles and chemical vapours. It has also invested in quality and safety assurance practices for laboratory testing.
In 2019, the company achieved international standards such as the Forest Stewardship Council - Chain of Custody (FSC CoC) Certification and ISO 13485:2016 standard for medical devices, which assures foreign markets and customers of Freshening's product quality.
Made in Singapore, exported to the world
Internationalisation has always been a priority for Freshening. The company has been venturing into overseas markets since 1994, starting with Mr Moh first heading to Europe in 1995 to seek out new customers. At one point in time, Freshening was exporting their products to over 30 companies in Europe and had 11 distributors in Britain.
Over the years, EnterpriseSG's overseas centres has introduced the company to several business leads from Australia, Bangkok, China and Vietnam, among others.
Freshening's main focus today, says Mr Moh, is achieving greater growth in the medical industry and expanding presence in markets that it already has a footprint in, such as Myanmar.
"Most private hospitals in Myanmar now sell a bottle of HospiCare sanitiser to patients when they leave after completing treatment. Hygiene does not stop at the hospital; you have to bring it back home too," he says.
HospiCare began retailing on Myanmar's shelves in 2017. The company attributes their successful overseas penetration partly to EnterpriseSG's iAdvisory seminars, which allowed them to glean insights on potential advantageous markets.
Looking ahead, Freshening plans to reach out to markets beyond Southeast Asia by moving into e-commerce and retail sales. The company has received a number of enquiries from Africa, and selling their products on platforms such as Amazon is the first step for them to capture far-flung markets around the world.
Follow Freshening's journey here.