There's nothing accidental about Singapore being an Asian innovation powerhouse. Over the years, Singapore and Singapore companies have had to overcome the odds to grow, transform and remain competitive. This knack for problem-solving has seen our small nation state transform into a factory of ideas over the years – reliably rolling innovative technologies off the assembly line.
Complementing our inventions are Singapore's rigorous standards – these have helped firms adopt the best practices in their industries, with some of these standards being referenced overseas.
These products and standards may be locally made. However, it is their adaptability for the rest of the world that has given Singapore the ability to make a global impact.
Here, we shine the spotlight on made-in-Singapore technologies and standards, and how they serve the world in COVID-times and beyond.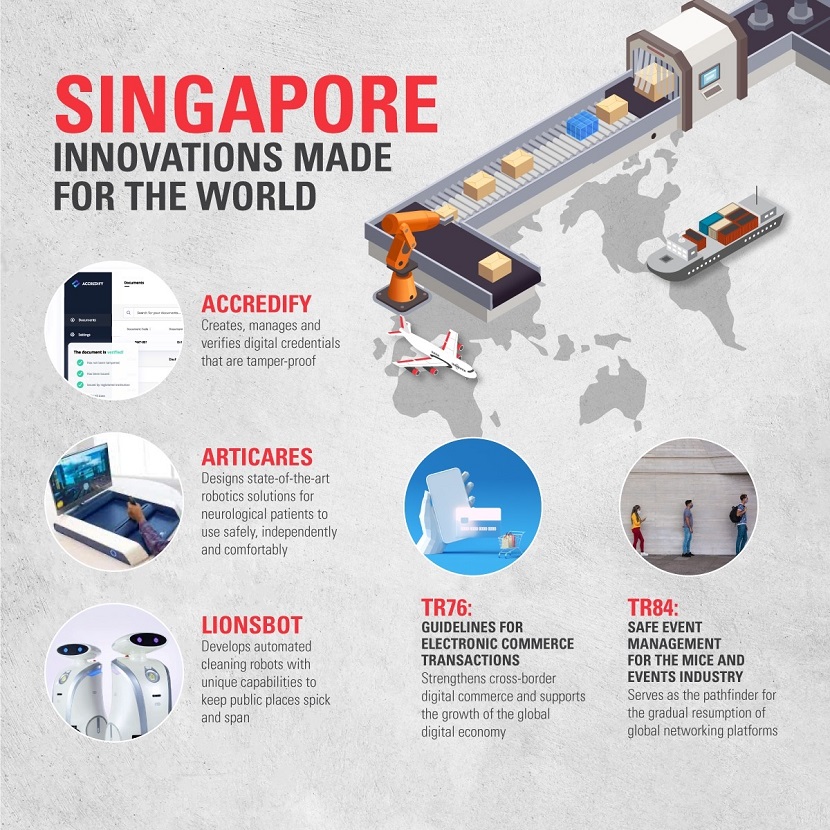 Accredify: Making travel safe and efficient once again
Business travellers, international students and wanderlust-ers everywhere may soon have reason to celebrate, thanks to Accredify, an all-in-one solution to create, issue and verify digital credentials. Accredify's solution is a timely answer to the global need for verifying travellers' health statuses on a secure and tamper-proof platform.
Together with SGInnovate, Accredify developed the Digital Health Passport, a mobile app that prevents fraudulent COVID medical records while being efficient and protecting data privacy. Within the Digital Health Passport, users can store and access documents such as COVID-19 discharge memos and swab results – ensuring the days of losing or damaging physical papers are over.
Accredify's blockchain-powered innovation has not gone unnoticed by global co-innovators. In February 2021, the startup started a pilot to integrate IBM's Digital Health Pass with Accredify's Digital Health Passport. This allows credentials verified on one platform to be recognised by the other, which helps countries facilitate safe travel for citizens and international students, particularly in Asia Pacific.
Meanwhile, in June this year, Accredify inked a deal with global administrative firm VFS Global and tech company Affindi. In this partnership, Singapore-bound travellers from Indonesia who book a COVID-19 swab test via VFS Global will receive Accredify's HealthCerts. Affindi's Unifier solution then enables authorities to verify the authenticity of one's COVID-19 test results with a QR code scan – it also matches health credentials against entry requirements of the destination country.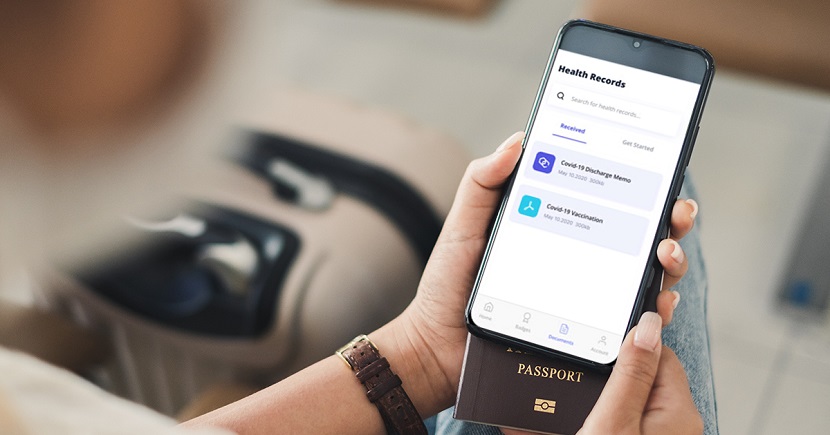 In the greatest nod to Accredify yet, the company's digital health certificates are now recognised by over 30 countries and international airlines such as Cathay Pacific Airways, Lufthansa, Qantas and United Airlines, on top of Singapore's local carriers. The recognition came about from a partnership with The Commons Project Foundation and World Economic Forum to expand the CommonTrust Network, an initiative to provide a global standard for verifiable digital health certificates.
LionsBot: Better cleaning for now and the future
Have you noticed robots trawling the corridors of Singapore's shopping centres, airport terminals and event spaces? These are not your generic all-in-one cleaners. Instead, each model is specifically calibrated to perform unique tasks such as scrubbing, vacuuming and mopping. These robots could very well represent the future of cleaning, and they were designed, developed and built right here in Singapore by local cleantech firm LionsBot.
LionsBot's robots don't just keep spaces spick and span in a short-staffed industry; in today's climate, they uphold high sanitation standards and reduce the exposure of facilities management workers to viruses in public areas.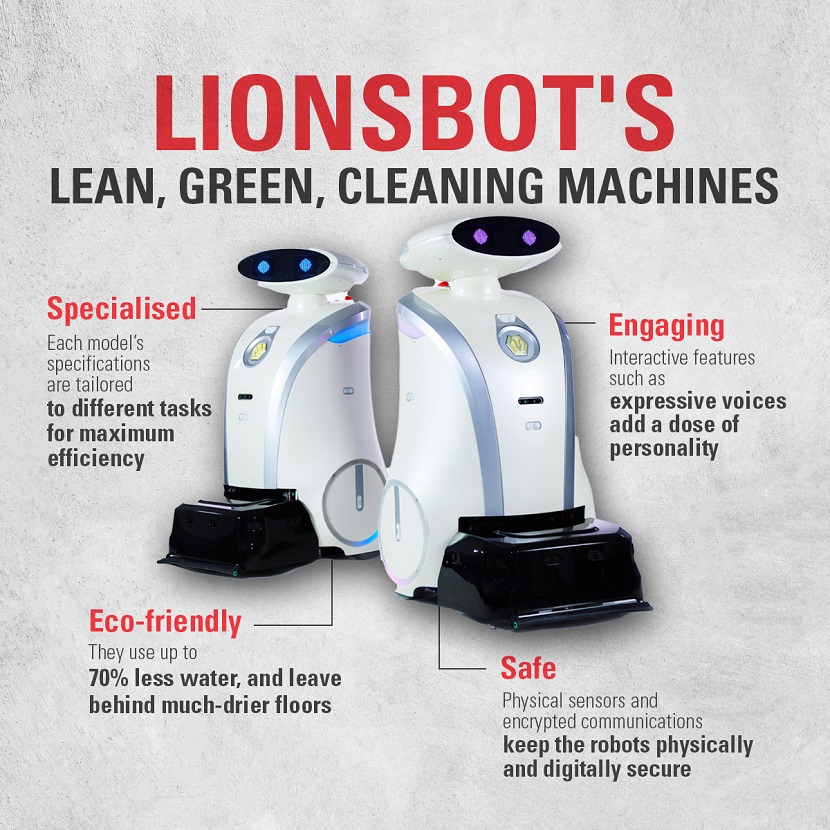 The dream solution has won the approval of partners worldwide. To date, LionsBot's machines can be found in over 20 countries – and counting. LionsBot was also the overall winner of the Amsterdam Innovation Award in November 2020, beating out 86 other global competitors. It was the first Asian company to receive this accolade.
Another feather in LionsBot's cap is the attainment of the SS ISO 13482 certification in 2020 for one of its models LeoScrub. This signifies that the product complies with safety standards in both the EU and Singapore. By meeting the rigours of the internationally recognised certification, LionsBot is well-placed to conquer more opportunities here and abroad.
Articares: Providing a helping hand for ageing populations
With COVID-19 accelerating the adoption of remote healthcare services, Articares is striving to make the transition easier for stroke patients and their therapists. The medtech firm, helmed by scientists from National Technological University, has developed H-man, the first portable robot that can help patients with arm rehabilitation outside the hospital.
H-man weighs just 14kg, compared to other rehabilitative robots that typically go up to 70kg. This means, patients are able to lease the robot for use at home—it even fits within a taxi. In addition, the device is able to detect the user's arm movements and strength level so therapy is automatically adapted to suit each patient.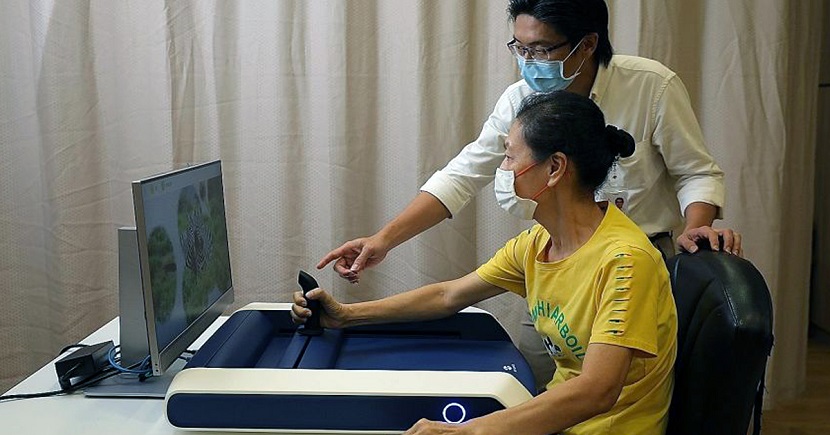 After a series of trial programmes in various healthcare institutions, H-man has been put to use in countries including Australia and Germany. Articares now has offices in Singapore, China and Pakistan, and a partner network in Korea, Australia and Thailand. The company is also working on co-innovation projects with partners in the UK to develop a next-generation product.
Singapore standards as pathfinders
It isn't just Singapore's technological innovations that are turning heads though. Over the years, Singapore has also developed a range of best practices and guidelines spanning multiple industries.
These standards and technical references are helping companies near and far navigate the new normal – with local firms taking the lead.
Safe event management for the MICE and events industry
For example, technical reference (TR) 84, a newly launched set of best practices for planning and organising events in a COVID-19 world, covers hygiene and sanitation, safe distancing and crowd management and emergency protocol. Homegrown events firms that have adopted TR84 include Constellar Holdings (formed through the merger of SingEx Holdings and Sphere Exhibits), Kingsmen Exhibits, Clarion Events and First Wave.
TR 84 serves as an essential guide for economies and industries that are planning for the resumption of large-scale events anywhere in the world. It lends confidence to overseas organisers holding events in Singapore; these events then serve as references for others held elsewhere.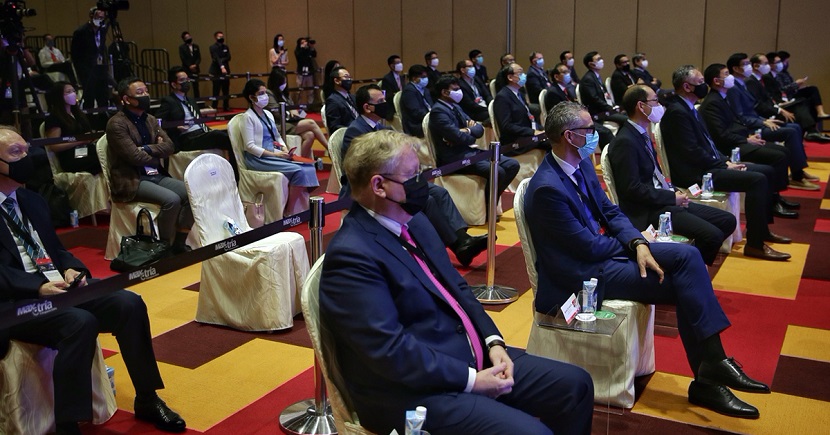 Guidelines for electronic commerce transactions
Additionally, there is TR 76, a set of technical references created to meet the rise of e-commerce and cross-border online trade; a fraudulent experience is the last thing anyone wants while buying or selling on the Internet. TR 76 provides guidelines to ensure a safe and secure all stakeholders in a transaction so dealings are fair, transparent and ethical.
Businesses can refer to the guide as a checklist when designing their consumer journey and store policies. Governments may even find the checklist helpful when developing standards for their economies—the Philippines took reference from TR 76 to derive national guidelines for online transactions.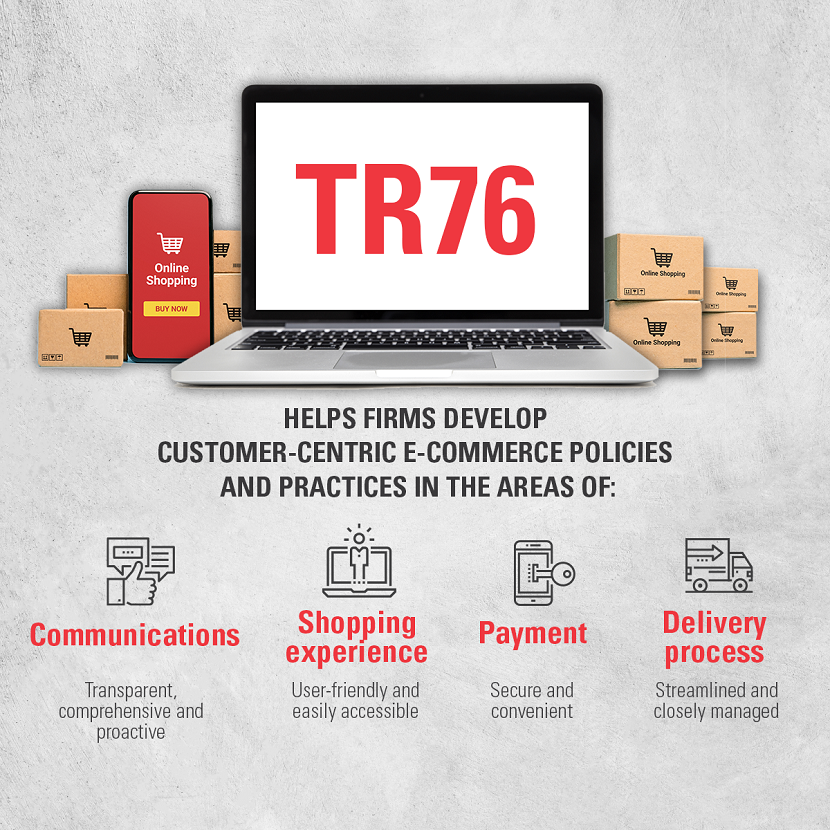 Onwards and upwards
Feeling proud and inspired? To find more instances of how our enterprises are flying the Singapore flag high, click here.