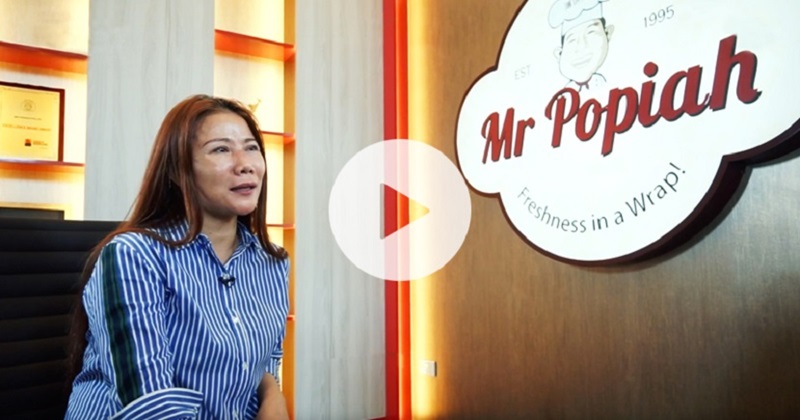 Mr Popiah's humble origins began in 1995 at a coffee shop in Bedok North, where Mr Tan Tok Hoo and Madam Li Li Hong started selling traditional popiah (a local Chinese fresh spring roll originated from Fujian, China).
The sudden passing of the elder Mr Tan in 2015 required Lewis to take over the business. It was a tough beginning, with his mother Madam Li Li Hong making the deliveries his late father used to do, and him having to pick everything up about the business at the drop of a hat.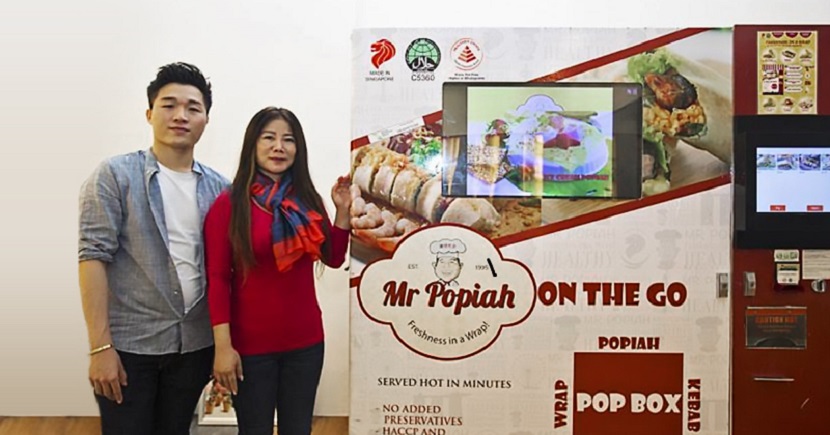 However, this mother-son dream team has come a long way and they are now cooking up many innovative products to share with the world.
"She's always thinking of new ideas - some of them can get quirky - but they work," said Lewis of his mother.
Some of those "quirky" ideas include selling popiah in a vending machine, and chocolate-coated kueh pie tee (a local Peranakan crispy pastry tart shell traditionally filled with fried vegetables and shrimp).
Elevating the humble popiah to an international snack
At an industry gathering years ago, Madam Li recalled other businessmen questioning the viability of a popiah wrap making business. That spurred her belief that the only way for her business to succeed was to always find new ways of doing things efficiently and take the brand overseas.
Inspired by their visit to the 2015 ANUGA food fair in Germany on the recommendation of Enterprise Singapore, Mr Tan and Madam Li saw the potential to expand globally and become "popiah ambassadors".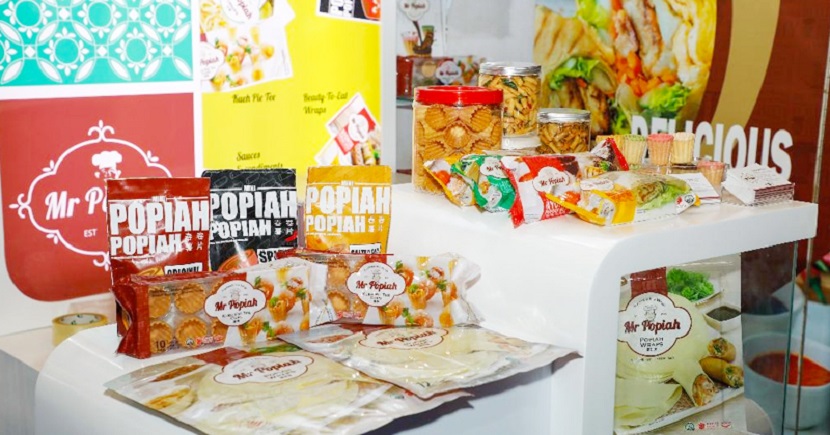 Mr Tan lamented "Yes, [Singapore has] famous dishes such as chicken rice and laksa, but why can't popiah be as famous as them? It's easy to eat and convenient."
What it needed was manufacturing and engineering expertise, as well as ways to get products into overseas markets.
The first steps of transforming the business
First, it started with the popiah wraps. Madam Li noticed the growing popularity of wraps, which tend to use thicker tortillas to wrap ingredients in. She started thinking about how wraps made with popiah skin would taste even better when adapted to different formats. However, quality popiah wraps are hard to produce and usually hand-made.
This led Mr Popiah on the road to automation. Madam Li recalled, "In the last three years, we had to fly all over the world to meet with engineers and machinery vendors to come up with customised machines for our factory."
Mr Tan explains that when Mr Popiah first started on the automation process, its focus was on getting the product quality right. "We wanted to replicate the traditional way of wrapping popiahs by hand - so the machine needs to be able to handle the delicate skin, and maintain the right temperature for the ingredients, ensuring a certain level of freshness when packed."
In fact, maintaining freshness and minimising food waste, are aspects of the business that Madam Li and Mr Tan will not compromise.
It also automated the process of cooking ingredients such as the main turnip filling, and packaging it for convenience right down to a science. Madam Li elaborated: "I told the machinery vendors that I needed the ingredients to be stored or cooked at a particular temperature, and other specifications that their standard machines did not have."
Slow and steady steps into expanding production
Mr Popiah now has customised machines tailored for its production purposes. For instance, it has a machine that wraps 60 popiahs in one minute, while simulating the hand-made process of wrapping popiah.
Together with Enterprise Singapore's support to streamline their entire production process, they moved into an 11,000 square metres premise at JTC Food Hub @ Senoko in 2018. They also adopted lean and smart manufacturing initiatives to further increase their productivity. Since it started its operations in June 2019, they have seen an average of 3,000 popiah wraps produced in an hour.
With an exponential increase in potential volume, Mr Popiah was ready to expand its business locally and globally.
The firm started selling burritos and popiahs via vending machines that keep the products fresh, at some 10 locations across Singapore. Mr Popiah is also selling popiahs in 7-Eleven stores here, which is unusual for a traditional food item.
Mr Popiah's expansion plans overseas
With an increase in output, coupled with their innovative ways of selling popiah, the business has been attracting requests from international buyers at overseas tradeshows. Mr Popiah is now in talks with major brands in different countries, to produce popiahs customised to local preferences.
The company is aiming to enter markets such as Taiwan through convenience outlets, like they have in Singapore. Mr Popiah is also trying to do away with intermediaries and supply their products directly to brands and outlets instead, which is a model that has worked elsewhere for them.
Mr Tan noted that Enterprise Singapore had been there to support Mr Popiah in seeking new opportunities overseas. Enterprise Singapore connected Mr Popiah with various in-market partners to explore ways to bring different variations of the snack into local markets.
Speaking to international brands is only the beginning for Mr Popiah. Mr Tan is hoping the humble and convenient dish will be able to make it to the 2020 Olympics in Tokyo, across 7-Eleven stores in Japan.
"That would be a dream, to see this Singapore dish being enjoyed by all on the world stage, and we want to be popiah ambassadors."
Find out how you can work with us to grow your business.