Panelogue
Singapore SME wins over global giants with its range of eco-friendly materials
First published
23 Feb 2023
/ Last updated
30 May 2023
Panelogue
:

Singapore SME wins over global giants with its range of eco-friendly materials
First published in The Straits Times on 16 February 2023.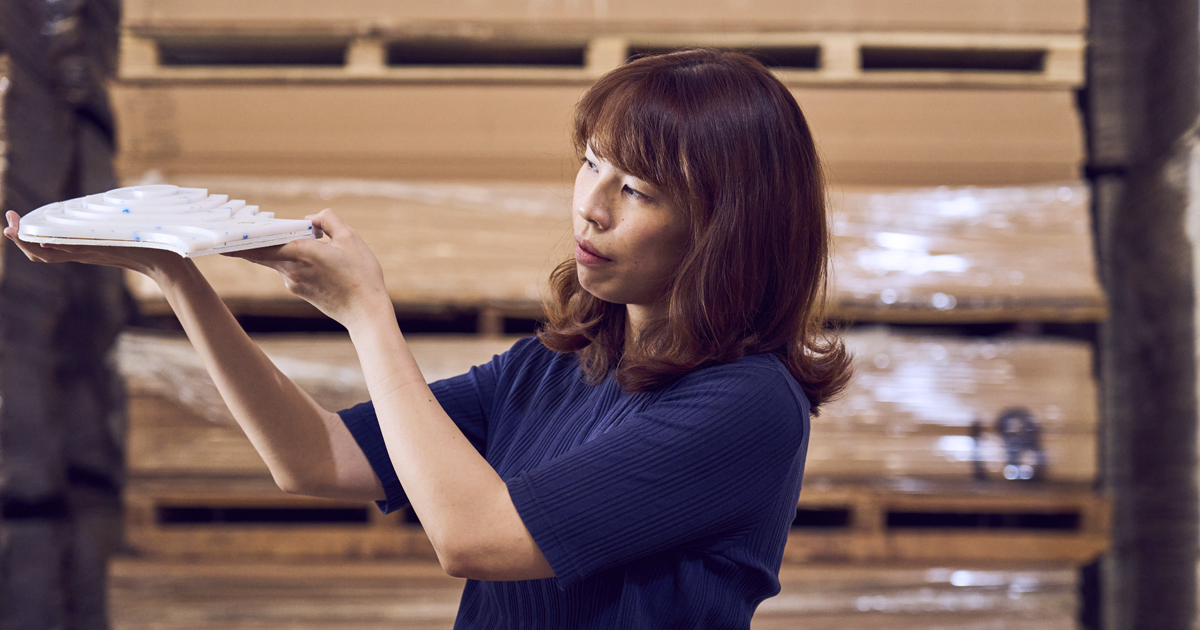 Step into offices designed with products by homegrown company Panelogue, and you might be surprised by the materials you find. Imagine wall coverings made from flowers, lichen, moss and leaves, and shiny wooden countertops with unique grain patterns.
Panelogue specialises in supplying innovative and sustainable materials to create spaces that are beautiful - and good for the environment. It was founded in 2016 by director Emily Sim, 35, as a more eco-conscious branch of her family's wood commodities business, NS Trading.
Since then, Panelogue has won over many local and multinational corporations as customers, including giants such as Google, Meta (previously Facebook) and PwC.
With its revenue growing by 10 to 15 per cent annually, it has been profitable since 2019, says Ms Sim, and reached over $1 million in sales last year.
Panelogue has also earned plaudits from its peers, including a commendation from the Singapore Furniture Industries Council (SFIC) last year for its efforts in sustainability.
For Ms Sim, the firm's success is proof that there is business value in going green. While many potential clients - and even her parents - were initially resistant to the idea of paying more for eco-friendly materials, they have come around and embraced the company's green ethos.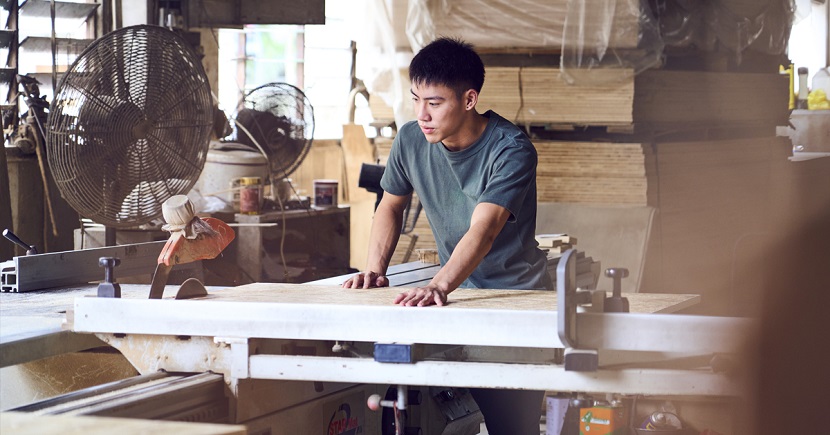 "In the past, I had to bring news articles with me to explain to people why they should switch to sustainably-grown wood," she recalls. "Now, companies already know that there is a need to protect the forests and the environment."
"They are the ones who are coming forward and asking how they can do their part," she says.
Building a sustainable brand
Ms Sim's passion for sustainability stems from a four-month apprenticeship at Japanese logging and processing firm Sumitomo Forestry in Tokyo in 2010. Even though she was studying social sciences at Singapore Management University and considering entering the civil service, she took the apprenticeship at her parents' request.
"They wanted me to give the family business a try, and that involved learning more about its suppliers. Sumitomo was one of them. I worked mainly in its overseas business division, but went to its other departments, and saw how it respects its forest plantations," she says.
Instead of harvesting wood by felling and replanting sections of the forests, which would harm their ecosystems, Sumitomo cuts down and replaces one tree every few metres. In this way, the forests become sparser but maintain their integrity. These and other sustainable practices left a deep impression on Ms Sim.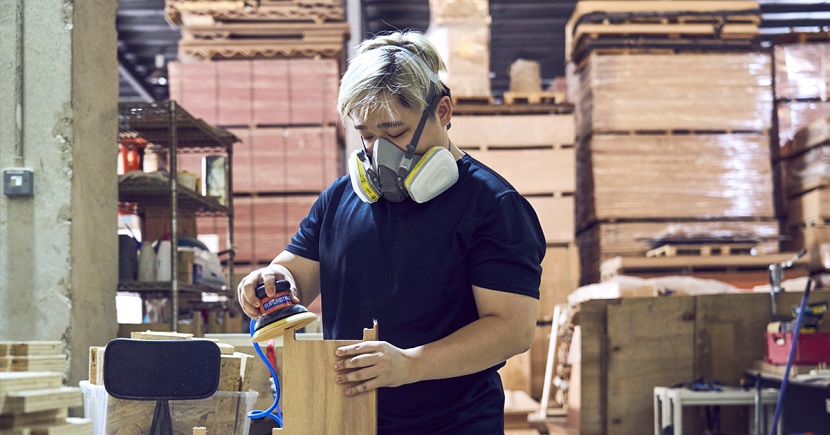 After she graduated and joined NS Trading in 2012, handling sales and other responsibilities, she convinced her parents to sell more sustainable wood products. These included products such as plywood that are certified by the Forest Stewardship Council and other independent non-profit groups, and meet low-formaldehyde standards by using more sustainable glue.
But when NS Trading urged carpenters, contractors and product manufacturers to buy the more expensive eco-friendly products, few would listen.
"They wanted the cheapest available materials. This was almost 10 years ago, when there wasn't a big push for sustainability like there is now. I knew we needed to do something different," she says.
One of Enterprise Singapore's (EnterpriseSG) SME Centres, which work with small and medium-sized enterprises (SMEs) in Singapore to help them transform and grow, introduced her to a branding consultant.
Ms Sim refined her pitch for using eco-friendly products, founded Panelogue with its origin story of a company that respects the environment, and took her case to architects, product designers, homeowners and firms.
She explains: "If we could get these end-consumers on board with using sustainable materials, the contractors and carpenters would follow. We wanted to push the conversation about the benefits of using sustainable materials forward."
A breakthrough came within months. Google wanted Panelogue's materials for its new office in Pasir Panjang. "After that, I realised that we needed to focus on tech companies and multinational corporations that were forward-thinking and wanted to project an image of sustainability."
Panelogue, which has four employees, also walks the talk in its operations. "We're paperless. We recycle. My staff work from home if they don't need to be in the office.
"Not every company needs to do what we do. There's no one-size-fits-all solution in sustainability. You just have to see what you can do."
With EnterpriseSG's help, she is growing her business network. In June last year, she took part in a business trip to Denmark, organised by the SFIC and supported by EnterpriseSG, to visit retailers, manufacturers, thought leaders and researchers, and find out more about their innovations in sustainability.
By the numbers
2017
After launching Panelogue in 2016, Ms Sim went on to establish sister firm Superstructure to design and manufacture greener products


2019
Panelogue has been profitable since 2019, despite the initial reluctance of clients to pay more for sustainable materials


$1m
Both Panelogue and Superstructure reached over $1 million sales each in 2022
She met with some suppliers too, and is in talks to buy their products. "If you think about it, wood is everywhere," she says. "From the smallest toy to the tallest skyscraper, you can use wood to build it.
"With the global shift towards sustainability, firms like ours that offer green products and services will only have more opportunities."
Designing for sustainability
For Ms Emily Sim, sustainability goes beyond just using green materials. In 2017, she established Superstructure, a sister firm to Panelogue, to design and manufacture products in ways that are better for the environment.
"When we design a product, we think about how to make it easier to assemble and take apart, so that we can recycle it easily at the end of its life," she says.
Superstructure also uses digital fabrication and computer numerical control (CNC) machining - where machines follow digital designs to cut materials and make parts - for greater precision and less waste.
Working with designers, it has created installations for PwC, automaker Mercedes-Benz and Shaw Organisation's Balestier cinema. For furniture retailer Xtra's outlet in Marina Square, it built a pavilion made out of wood bent and stitched together using cable ties.
Superstructure's revenue has also grown by 10 to 15 per cent every year, says Ms Sim, and it scored over $1 million in sales last year.
After participating in the pilot Design Innovation Programme organised by SFIC and supported by EnterpriseSG, it will launch its inaugural range of 15 furniture products this year.
The programme - which connects material manufacturers, contractors and designers to spur partnerships and provides mentorship for them - started in 2020 and was supposed to last for one year, but ended last year after a break due to the Covid-19 pandemic.
Ms Sim notes that Superstructure and Panelogue are complementary. The former hires and works with eco-conscious designers who can then use the latter's green materials to turn their ideas into reality. She says: "The goal is to make great products that are good for the planet, and inspire others to sustainability."
This is the last of a three-part series in partnership with Enterprise Singapore that explores how local firms are growing their business by embracing sustainability and seizing emerging opportunities. Find out more here.