Singapore may measure barely 50km from end to end, but we pack a big punch when it comes to business. In the decades since its founding, Singapore has earned a reputation for being innovative, competitive and ahead of the curve – no mean feat for a relatively young nation.
Here, we cast the spotlight on local companies that have made ripples on the world stage. Read on and be wowed.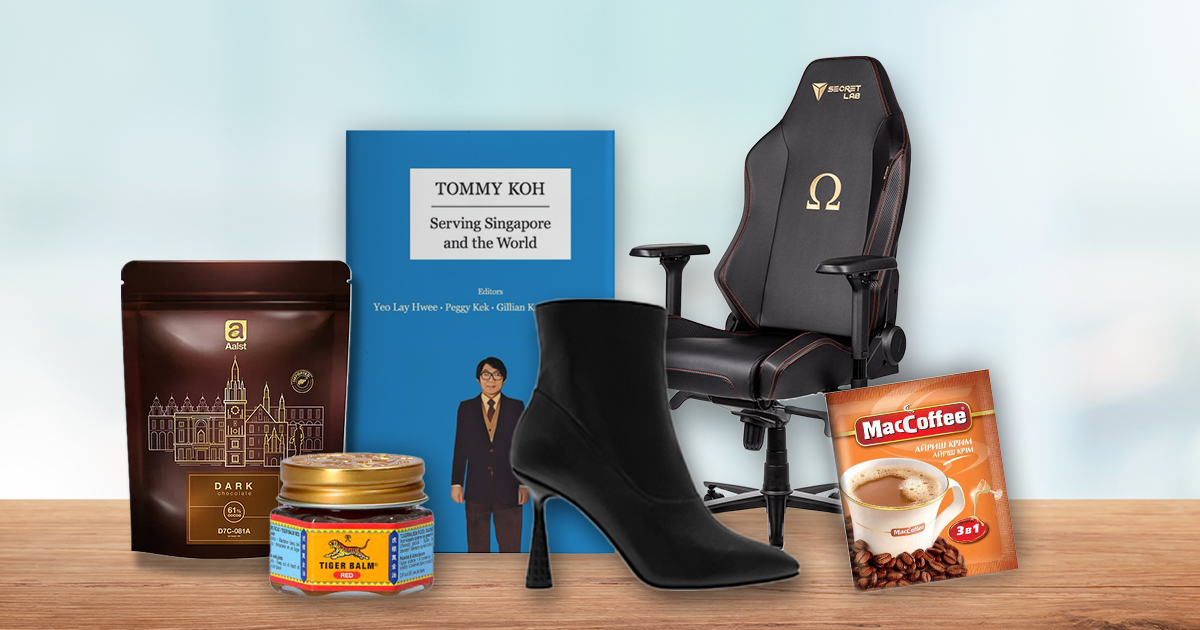 MacCoffee: Russia's number 1 instant coffee brand
MacCoffee may not be a household name in Singapore, but the instant coffee has been a favourite of huge populations in parts of Eastern Europe and Central Asia since its launch in 1994.
In such emerging markets, MacCoffee enjoyed the first mover advantage by being one of the earliest brands to introduce instant beverages to consumers. Through consistent marketing campaigns, the rich aromatic drink has also achieved strong brand equity in addition to sales figures.
Owned by Food Empire Holdings Limited, which exports a wide variety of beverages, cereal mixes and convenience foods to over 50 countries, MacCoffee is one of the corporation's flagship brands and widely found in supermarkets and convenience stores around the world.
Listed on the Singapore Exchange in 2000, Food Empire has won numerous accolades – most recently in 2020, the organisation was named one of the "Top 100 Most Valuable Singaporean Brands" by Brand Finance, a leading valuation and strategy consultancy.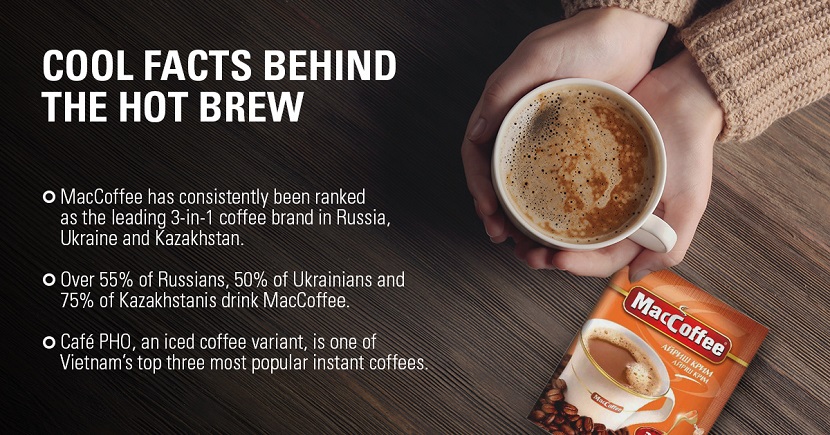 Secretlab: Favourite chair of gamers worldwide
Long before Secretlab exploded in popularity among executives looking for a customisable and sharp-looking work-from-home chair, the brand earned cult status among serious gamers. Having turned a profit within a year of founding, its founders attributed their success to fulfilling a long-standing need of gamers needing comfort (and style) for long sitting hours at play. The company has also continually improved their chairs through extensive research and development (R&D).
In August 2020, Mr Ian Ang, co-founder of Secretlab, estimated that the company produces at least 500,000 chairs a year – 60% of sales are attributed to North America and the European Union.
Starting from just one product (Secretlab THRONE) in 2015, the brand now offers over 130 chairs and accessories on its e-commerce website and employs close to 200 employees to cope with the growing demand. It has also sponsored major gaming events, such as the League of Legends World Championship 2019, which attracted a record 44 million viewers.
The future of Secretlab looks brighter than ever with the PC gaming industry estimated to reach US$7.6 billion7 (S$10 billion) in 2025, up from US$5 billion (S$6.6 billion) in 2020.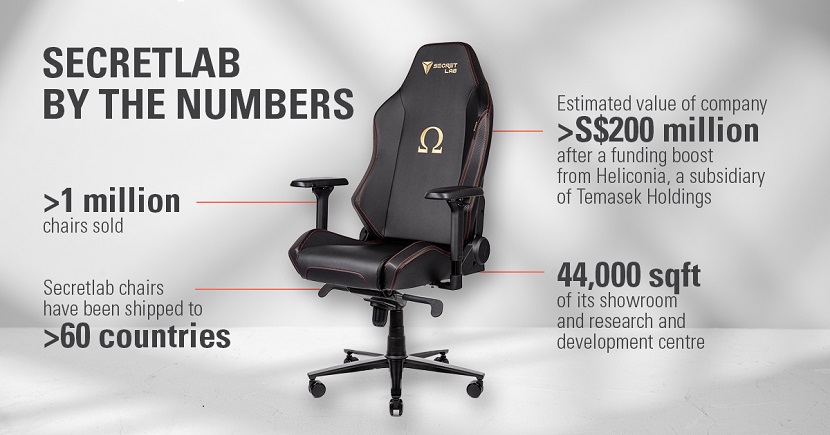 World Scientific Publishing: Largest scientific publisher in Asia Pacific
From just five employees in 1981, World Scientific Publishing has now become a powerhouse in its realm, employing 450 people in 13 cities worldwide. Its founders Professor K K Phua, a renowned educator and researcher, and Ms Doreen Liu, an economist, wanted to start the first scientific publishing house in this part of the world, building an intellectual bridge between the East and West – and they succeeded spectacularly.
Its first major breakthrough was signing a memorandum of agreement with the Nobel Foundation in 1991 to publish the entire series of Nobel Lectures in all subjects. The publishing house has also worked with many Nobel laureates on bestselling books. It was also one of the first Singapore publishers to sell its content on Google Play, Amazon, Lazada, and Apple.
Today, World Scientific publishes some 600 books and 140 journals each year in various fields including physics, chemistry, mathematics, medicine, the social sciences and more. As of 2020, more than 70% of its revenue stems from the sale and licensing of digital content. Its site, which contains some 10,000 e-books, journals and electronic archives, attracts six million visits around the world each month.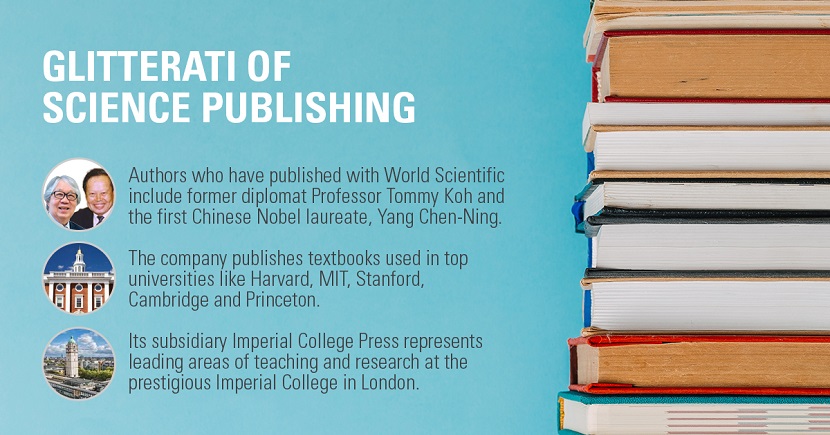 Tiger Balm: Over 100 years of success in 100 countries
"It works where it hurts." The Tiger Balm promise is well-known by generations in Singapore and beyond. The sharp ointment in the iconic hexagonal jar has been touted as a reliever for ailments ranging from headaches and colds, to muscle aches and other bodily pains.
While analgesic brands are aplenty in personal care stores, Tiger Balm stands out for its variety of textures, efficacy and rich heritage.
Founded by enterprising brothers Aw Boon Par and Aw Boon Haw in the early 1900s, Tiger Balm (first formulated by their father) quickly achieved meteoric success in surrounding countries like Malaya, Hong Kong and parts of China.
In the 1980s, the brand, under the management of banking magnate Mr Wee Cho Yaw, expanded into western countries. In the next decade, strategic endorsements by American athletes helped Tiger Balm gain a foothold in the large market.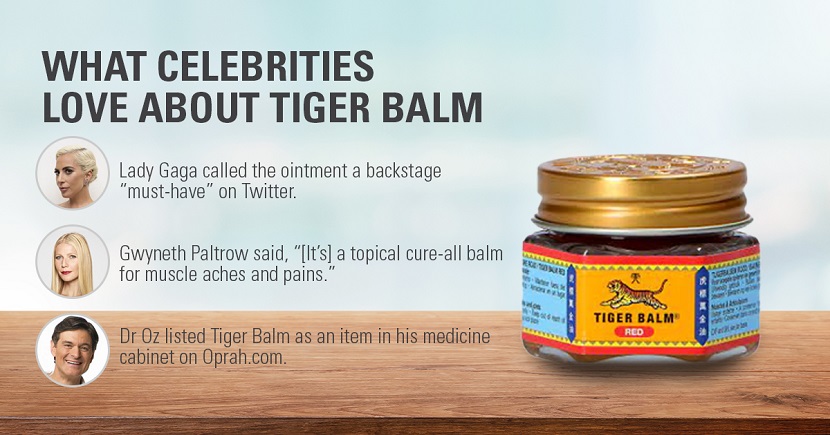 Charles & Keith: Singapore's most famous fashion brand
Since its launch in 1996, women's footwear and accessories label Charles & Keith quickly gained a reputation among local shoppers for its fashion-forward designs – all developed in-house – and friendly prices. The brand then began to occupy a new "affordable luxury" niche with their trendy and affordable products, which set it apart from competitors.
Internationalisation was always on the cards and the brand quickly made its way to other parts of Southeast Asia in 2000. The Middle East was next in 2004, followed by Egypt, Turkey, Australia, Japan and China. By 2013, there were close to 400 Charles & Keith stores overseas. Today, they have some 590 stores in 34 countries.
In 2004, the progressive brand was also the first Singaporean fashion brand to launch an e-commerce website – yet another source of business growth – to offer its footwear to markets where it had not yet established retail presence.
After L Capital Asia, the private equity fund of Louis Vuitton Moet Hennessy (LVMH) acquired a 20% stake for S$30 million in 2011, Charles & Keith received the boost it needed to make further inroads to China, India, the United States and Western Europe. In the years after, Charles & Keith has been spotted on celebrities and fashionistas at high-profile events across the world.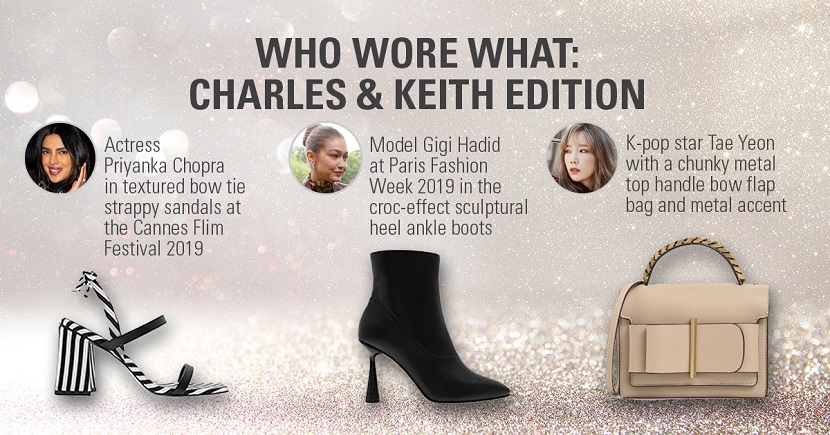 Aalst Chocolate: First Singaporean purveyor of fine chocolate
You may not already realise this, but chances are, you would have tasted Aalst Chocolate through the creations of other food manufacturers, dessert chefs and bakers either in Singapore or overseas.
Aalst is the only Singaporean manufacturer to be able to produce both couvertures – used mainly by professionals for creating artisanal chocolate bars and other premium products – and compounds. As such, the maker offers a wide variety of chocolates at different price points and qualities to suit both F&B players and general consumers.
Having an export-oriented goal from day one has been Aalst's recipe for growth, and it has done so tremendously with the support of Enterprise Singapore's global network. The owners' heavy emphasis on investing in equipment upgrades and R&D has also helped the team improve productivity and swiftly conduct product analyses, so as to meet customers' expectations.
Aalst is also a particularly appealing choice for its buyers in over 55 countries, owing to its reputation for great quality – it has won renowned food awards – and consistency. Its chocolate products are manufactured at state-of-the-art manufacturing and R&D facilities.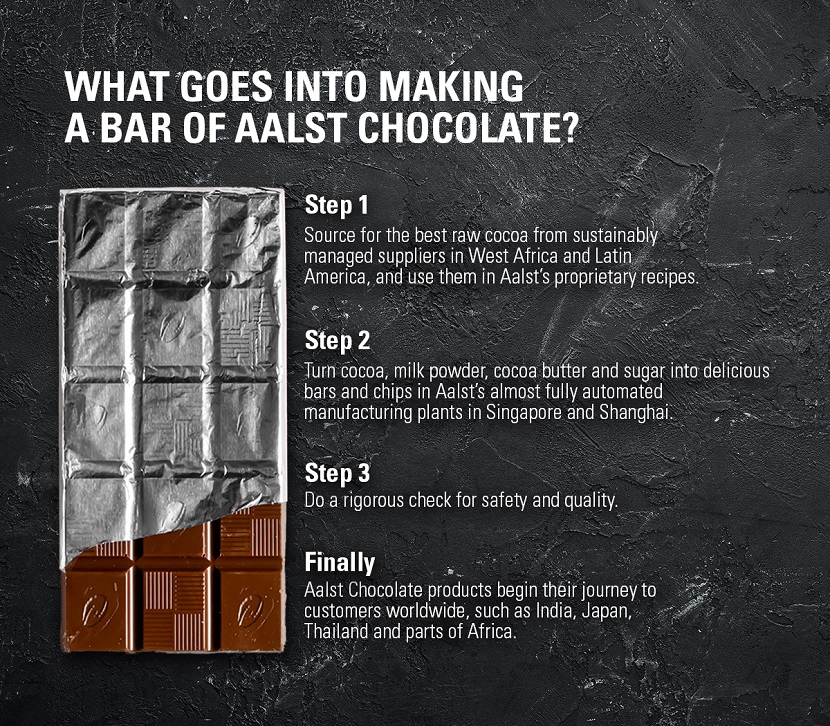 Onwards and upwards
Feeling proud and inspired? To find more instances of how our enterprises are flying the Singapore flag high, click here.