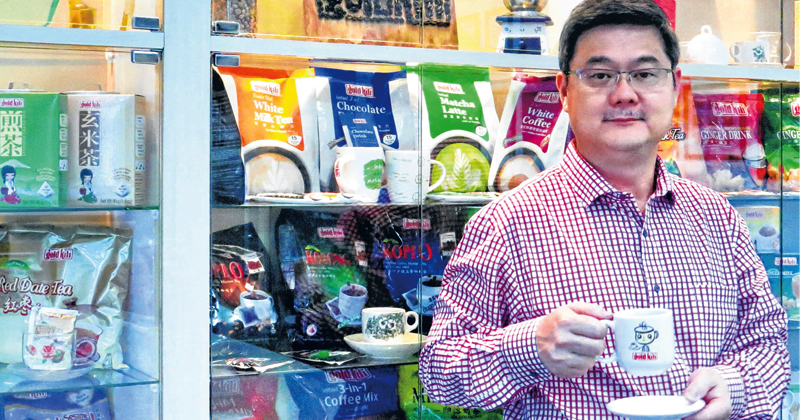 Now the company has a great selection of instant beverages which includes its ever popular instant honey ginger and instant honey chrysanthemum. Gold Kili was the first in Singapore to pack these beverages into individual sachets. Its flagship products are still the coffee powder range.
Over the years, Gold Kili has been tirelessly generating an on-going series of innovative instant beverages that are not only of the utmost quality, but also novel, enticing and extremely appealing to consumers, both locally and globally. It exports to 35 countries around the world including China.
Looking ahead, Gold Kili has plans to enter new markets such as the Middle East, some parts of Africa, Saudi Arabia and Turkey.
The company, which has a staff strength of 57, says that it continually invests in proprietary, hygienic and modern manufacturing processes to preserve the fresh taste and flavour of the natural ingredients used for all its instant beverages.
"At Gold Kili, we insist on stringent quality control at every stage of the manufacturing process," says Desmond Ng, managing director. "Our goal is to put the consumer as our top priority in all our product development, aiming to satisfy the diverse preferences of different export markets. We hope more and more people are aware of the Gold Kili brand.
"S&C assist us to put in place the various quality management systems. It boosts efficiency and allows the company to grow more effectively. We take pride in making sure that Gold Kili products are in 100 per cent compliance with food safety and quality."
Mr Ng says that adopting standards has helped to grow the company's business as product quality is assured and customers are confident with brand quality. This directly helps in revenue growth. The motivation for focusing on S&C is to improve quality and safety of the products of the company as well as to boost international trade and increase market recognition.
As a firm believer in S&C, Gold Kili has adopted several standards. These include SS 590: 2013 HACCP-based Food Safety Management, which is the new Singapore standard that has been introduced to replace the Singapore Accreditation Council (SAC) HACCP Document No 2 – Management of Food Safety based on HACCP (Hazard Analysis and Critical Control Point) – Requirements for a HACCP-based Food Management System.
It is applicable to all food-related business organisations. Implementation of SS 590: 2013 will help these organisations improve the safety and quality of their food products and services and/or gain access to targeted export markets.
Another is the International Organization for Standardization (ISO) developed Food Safety Management System Certification: ISO 22000. ISO and its member countries used the Quality Management System approach, and tailored it to apply to food safety, incorporating the widely used and proven HACCP principles and good manufacturing principles. The standard has requirements for Food Safety Management Systems processes and procedures, and requires that the organisation implement prerequisite programmes and HACCP.
Gold Kili is the first company in Singapore to conform to the British Retail Consortium (BRC) Global Standards in 2006, which is a leading safety and quality certification programme, with certification issued through a worldwide network of accredited certification bodies. The standards guarantee the standardisation of quality, safety and operational criteria and ensure that manufacturers fulfil their legal obligations and provide protection for the end consumer. BRC Global Standards are now often a fundamental requirement of leading retailers. Issue 7 was published in January 2015, setting the latest benchmarks for best practices in food manufacture.
The certification to international standards such as the BRC has benefited Gold Kili in its business growth. "A recognised quality certification can be the very first attraction for the new customer. It has been useful in helping Gold Kili stay at the forefront of the industry," says Mr Ng.
His advice to other companies with regard to certification and standards is to be committed for the long run. "To get a company certified is not a one-time deal. Instead it is a continuous compliance to the standard. Different standards have different requirements and vary across product categories. Be prepared to implement new measures if there is a revision of the quality standards in order to get certified continually."