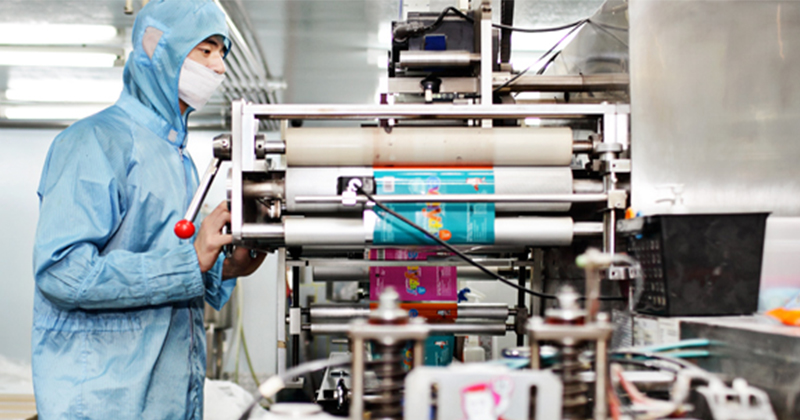 Thanks to a focus on standards and conformance (S&C) over the years, Freshening now has 5,000 food service establishments as its customers and it has grown to become a leading wet towel producer as well as a key provider of hygiene and food service products in the region.
Freshening says that its products can be found in over 33 countries worldwide. Among its customers are major airlines, leading hotels, global food chains, international cruise liners and prominent hospital groups.
The company says that it has top-notch production facilities in Singapore and Indonesia, and is looking to expand to other countries in the South-east Asian region. This is the result of relentless efforts to establish standard production procedure in wet towel production over the last two decades.
"Being early starters of the industry, it is important that Freshening is able to benchmark best practices outside its current industry," says Freshening executive director Jonathan Phoon.
"For example, one of Freshening's core customer segment is in the food and beverage sector. We, therefore, adopted the HACCP (Hazard Analysis and Critical Control Point) standards, which is widely used in the food and beverage segment to understand the standards that bind the industry."
"It is also through the adoption of standards that allows us to do cross industry benchmarking instead of being restricted to one industry," he adds.
By adhering to benchmarks, Freshening gives customers peace of mind, for they would know that the company's products are made under the most stringent standards.
"Standards also pave the way for our products to reach out to other parts of the world," says Mr Phoon.
"On the global platform, the Freshening range of brands, namely Smartowel, Zappy and HospiCare, are relatively unknown. The standards adopted by Freshening, which is typically displayed on the back of our products, give the consumer the confidence and assurance that the product is produced up to standards.
"The standards, together with the Made-in-Singapore label, have even allowed us to enter difficult and protected segments like healthcare in regions outside Singapore."
Explaining the motivation behind Freshening's S&C thrust, he says: "We are in the quest for perfection and we seek improvement in various aspects of our business that motivates us. We are motivated by the need for continual improvement. We benchmark ourselves against our international competitors."
Freshening has adopted a host of standards, each of which drives the different objectives that the company is trying to achieve. ISO9001, for example, ensures that all systems have proper documentation, to assist in consistency and accountability. It also looks into regulatory aspects and ensures that the company is geared towards cultural change for continual improvement.
As for the adoption of the ISO Cleanroom Class 8, Mr Phoon points out that a cleanroom is not a requirement for the manufacturing of wet towels or other hygiene products.
"Our Zappy and HospiCare products are used by two groups of the most vulnerable people, hospital patients and babies. Thus, we must ensure that the products are made in the cleanest possible environment. This is another way for us to assure our customers."
Freshening adopted the HACCP standard 444:1998 as HACCP is popular mainly in the food and beverage sector. "As Smartowel has a relatively high penetration rate," Mr Phoon says, "we need to assure customers (the restaurant) that their customers (the diners) are being protected. HACCP was therefore implemented.
"Understanding this standard also allows us to see the benefit of ensuring that all our critical control points are secure."
The company also has the ERS 5S Management Certificate. Adopted from the Japanese 5S system, this system has assisted the company in general housekeeping and more importantly to achieve visual management.
"Freshening is heavily reliant on the computer system and 5S has given us the reassurance that if our system is down, we will be able to cope without the system," says Mr Phoon. "5S also ensures a safe and tidy workspace. It has later been developed to a weekly event whereby the directors will highlight the areas that need to be improved."
Another certification that Freshening has is the ISO 22301, which is for business continuity management (BCM).
"With our customers being key and critical industry players in hospitals and airlines, we need to safeguard and ensure that there is no disruption to our customers,"Mr Phoon explains.
"A BCM consultant was engaged for his vast experience across the industry to ensure we can continuously supply our product in times of adversity. Various exercises on disruption have since been conducted and Freshening HospiCare has even achieved the third prize in the Healthcare Supplier Awards 2014 for operational excellence category."
For supply chain security management, Freshening is certified to ISO28000:2007, which was achieved with support from Spring Singapore's Capability Development Grant.
"Supply chain management is a key operational aspect of Freshening," Mr Phoon declares.
"The system was implemented as a safeguard for our supply chain. This encompasses both our upstream and downstream partners. This resulted in many changes in the way we handle our supply chain, including policies and audit. Having seen some of the best practices in supply chain management, it improves the robustness of the company supply chain dramatically."
At the moment, Freshening is renewing its certification for ISO9001:2015 which now includes other aspects of the business.
Freshening is also in the midst of getting the ISO22716 (GMP) certification, which is for good manufacturing practice. As a wet towel manufacturer, with the recent increased production area and 40 per cent increase in production line, the company needs to be aware of the latest manufacturing best practices.
"At Freshening, we were used to having fewer lines and with the new line, we were concerned if we were able to cope in terms of system and standard operating procedures," says Mr Phoon.
"This standard to date had made numerous changes to our system and had challenged our norms. We have already started reaping the benefits of the system given the cultural change in mindset when we heard colleagues challenging the system and work flow. With the successful implementation of the system, we are assured that the standards of our product can be further improved."
Overall, certification and standards have helped to bring about growth in the company's business, revenue, productivity gains and export opportunities.
"The cost of implementation of standards could be expensive and also disruptive," warns Mr Phoon. However, the benefits over the long term far outweigh the inconvenience and investment.
"When we implement a new policy, system or workflow, it is evident that all Freshening colleagues will challenge if it is consistent with our adopted standards," Mr Phoon notes.
"This not only enhances the standards but also helps maintain it. Hence, our sales colleagues are given the extra assurance and confidence to take Freshening brands across the region. Such assurance in product standards affects the confidence of our sales colleagues positively.
"The relationship is clear. Productivity gain is also achieved as workflow is often challenged and in many instances, resulted in reduction of work. Many standards also insisted on continual improvement. With the lower faulty product incidence, staff are now being trained to do higher value work, which is again in line with productivity gain."
"We are in the quest for perfection and we seek improvement in various aspects of our business that motivates us. We are motivated by the need for continual improvement. We benchmark ourselves against our international competitors."
—Jonathan Phoon
Executive Director, Freshening