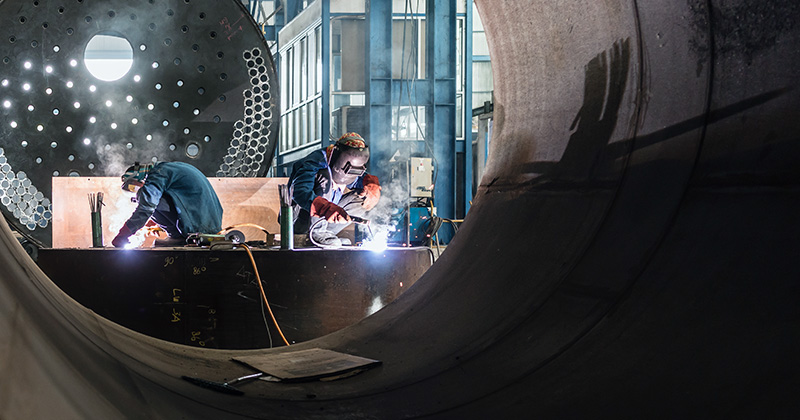 Many local businesses face increasing competition to attract skilled workers, especially in manpower-intensive sectors such as manufacturing. However, Wah Son Engineering – a local manufacturer of engine tools and ground support equipment for the aerospace industry – is not one of them.
"We have always believed that our people are our greatest asset," says Ms Lim Hee Joo, Wah Son's Executive Director. "Since 2001, we've used Enterprise Singapore's human resource capability initiatives and capability development tools, and various other talent management initiatives to strategically develop our human capital," she says.
The company firmly believes that growing and retaining its 45-strong staff – especially in the current tight labour market – is the key to business success. "In fact, I would go so far as to say that our dedicated and dependable workforce has been a cornerstone of our sustainability and growth," says Ms Lim.
Today, Wah Son supplies engineering tooling solutions to aerospace multinationals such as GE Aviation and Rolls-Royce plc.
More recently, in September 2015, the company used Enterprise Singapore's HR Diagnostic tool to identify potential areas for improvement, such as succession planning, staff career advancement and compensation. The HR Diagnostic tool helps businesses assess their HR maturity and identify gaps in areas such as recruitment, performance management and staff engagement.
Creating a succession strategy
Using the HR Diagnostic tool assessment and improvement recommendations as a guide, Wah Son set about improving its HR processes and overall framework.
First, it drew up a succession plan, ensuring that critical leadership positions in the company were filled. "A void in a leadership role that's critical to our operations could cripple our business," says Ms Lim.
The company also ensured that only highly competent individuals – with the right technical background, expertise and skills – held these positions, and it identified staff who could cover these leadership roles on a contingency basis.
This year, it took advantage of Enterprise Singapore's SkillsFuture Mentors scheme to train and develop its leadership team. Under the scheme, expert industry mentors are assigned to eligible SMEs for nine months, helping them enhance staff development systems while training company supervisors and managers. Enterprise Singapore provides full funding to companies over this period.
"The programme has helped us ensure our team members are able to seamlessly assume leadership responsibilities and duties if the need arises," explains Ms Lim. At the same time, the company plans to engage a HR consultant to develop a comprehensive career progression and salary structure.
This new framework will allow Wah Son to fast-track its promising staff for development and promotions. "This will further motivate our team members to stay and excel in their roles, and prepares them for higher positions and responsibilities."
Hiring and retaining older workers
Wah Son has a simple strategy for tackling local hiring challenges – older workers. The company believes hiring older staff helps maintain a reliable, dedicated and skilled workforce.
In November 2014, the company hired Mr Tan Lee Kuan, a 58-year-old local technician – but it did not stop there. Wah Son enrolled him in a Singapore Workforce Skills Qualifications diploma and specialist diploma in Precision Engineering (Mastercraftsman Skills), which it fully sponsored, to further develop his knowledge and technical skills. "Once he graduates, we plan to promote him to Section Leader," says Ms Lim.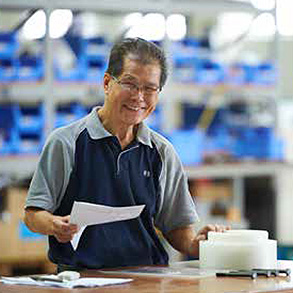 Wah Son also recently created a new role for a 75-year-old staff, Mr Wan Chan Kiong, who yearned for a meaningful job after retiring from a local government-linked company. "We highly value such 'assets', who possess strong work ethics, robust knowledge and experience," Ms Lim adds. "Our older workers also make excellent mentors and role models, which contribute to building a cohesive work culture in our multi-generational workforce."
A future-ready workforce
Wah Son is a shining example of a company that may qualify for the Special Employment Credit (SEC) scheme, which has been extended for a further three years under Budget 2016. Under this scheme, employers enjoy wage offsets of up to 8% when they hire Singaporeans older than 55 for positions paying up to S$4,000 a month.
Wah Son sees this as a twofold solution. "On the one hand, it enhances the employability of older local workers, and on the other, it helps local businesses cope with the tight labour situation," says Ms Lim.
As for next steps, the company will focus on equipping its staff with skills for the future. Ms Lim believes that the skills of today may be of little relevance 10 years from now, as shifting market conditions may create demand for different skill sets.
"That's why we will continue to keep our team up to date with the latest skills and knowledge in the aerospace tooling industry, while staying true to our traditional values and foundations – all of which are crucial to our company's long-term growth."
To find out how your business can work with us to attract new talents as well as accelerate staff development, click here.