Fong's Engineering and Manufacturing recently made headlines for being the first Singapore SME to launch a fully-automated production line. Not a small feat for a family-run business that had its beginnings in a Toa Payoh flatted factory in the early 1980s!
From Overseas Design Manufacturer (ODM) to Product Owner
Fong's started out as a manufacturer of metal components, supplying individual parts to sectors such as electronics, defence and oil & gas in 1982.
In less than 40 years, the company has transformed itself into a product owner and now specialises as a manufacturer of high-end medical devices, such as endoscopy and surgical power tools.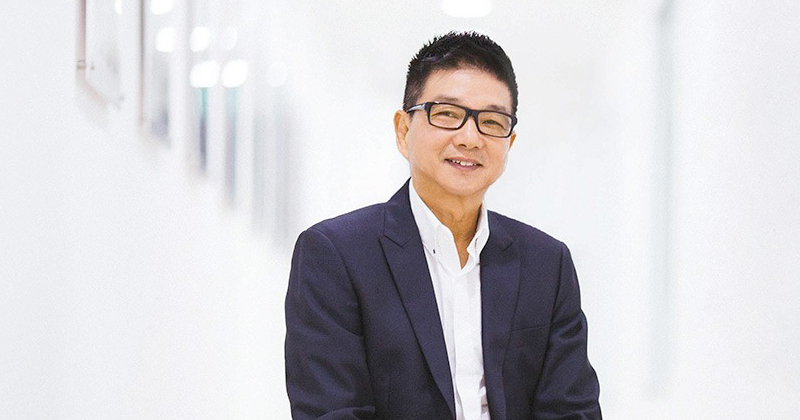 According to Mr Jeremy Fong, CEO, transformation was the only way to go if they wanted to stay competitive.
And this shift was carefully thought out, too.
"We realised we needed to focus all our resources towards growing and sustaining the company within one industry. We decided on medical devices as we had built strong relationships serving key medical devices companies in the United States for more than a decade," said Mr Joseph Wong, Project Manager (Technology and Transformation, Smart Manufacturing).
Making Strides towards Industry 4.0
The team at Fong's was also increasingly motivated to review its manufacturing processes. They had initially outsourced production to external vendors in a bid to keep costs low, but this arrangement meant that they did not have full control over the entire manufacturing process.
New technological solutions were thus necessary to re-centralise production in-house and regain management on all aspects of production. "Technology is rapidly changing. It is inevitable for companies to digitalise and transform in order to sustain growth," said Mr Wong.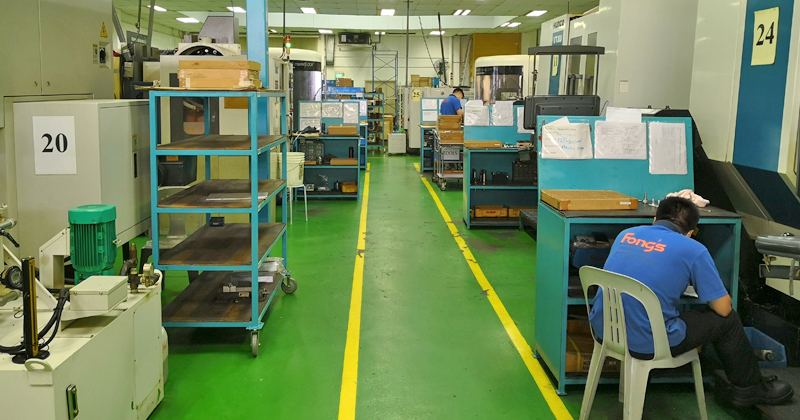 It was not all a bed of roses though. Fong's had to upgrade its machines, people and processes, while making sure normal operations continued apace and customers continued to receive their orders. Just imagine changing a car's tyres while it's still in motion! The factory floor needed to be renovated, older machines phased out, new ones purchased and installed...the list went on.
To solve this, the company carefully charted out their Industry 4.0 (I4.0) journey and adopted an agile approach to project management; they couched the upgrades in a series of stages, in order to avoid delays in delivery and minimise disruptions to day-to-day operations.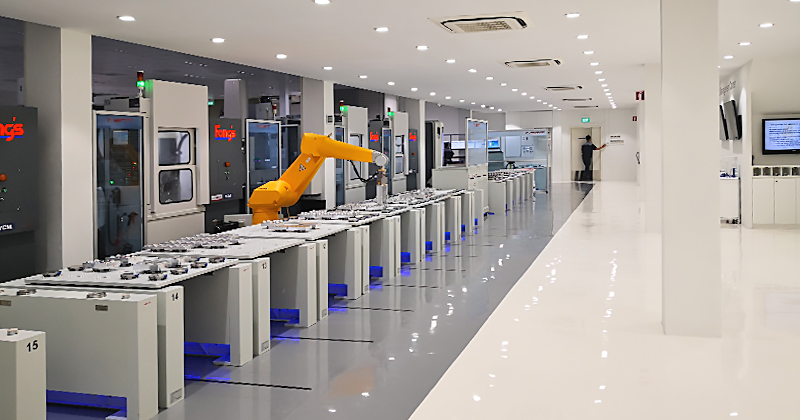 Even now, Fong's is not quite done with the transformation process – a fully-equipped smart factory is slated to be completed in 2024. When this is ready, Fong's will have a 'lights out' factory that can work through the night with minimal human intervention, and expects a 20 percent year-on-year growth in revenue. This is made possible with advanced robotics, autonomous intelligent vehicles and an integrated system with Industrial Internet of Things (IIoT) capabilities.
In mid-2019, they unveiled a sneak peek at their factory of the future – Singapore's first fully-automated production line by an SME.
According to Mr Wong, productivity on the new smart line has already jumped more than 30 percent. Morale has visibly improved as the work has become less menial, and workers can be redeployed and retrained to take on higher value tasks.
Investing in Talent, Partners and the Future
Mr Fong believes that training his workers are just as important as innovating the company's business model, processes and products.
To make sure that no worker was left behind, Singapore Polytechnic was roped in to assess the team's existing competencies and update them according to the necessary I4.0 skills needed.
To fill the necessary gaps, the company also worked with organisations like Employment and Employability Institute (e2i), Skillsfuture Singapore, and Workforce Singapore to help its workforce stay up to date with the new equipment and technology. Some employees even attended part-time diploma courses with Nanyang and Temasek Polytechnic.
The company also invited an overseas expert in I4.0 to train its executives and even sent some workers overseas for capability upgrading.
One such team member is Han Myo Thaw, Manufacturing Engineer. After on-site training by experts in China on a smart factory line, Mr Han is now equipped with I4.0-related skills that allow him to embark on higher value tasks, some of which include robot management and data analytics. In contrast, his previous work was more manual, involving the loading/unloading of parts, cleaning and quality checks.
Aiming for High Standards
Part and parcel of the medical devices industry is a robust and stringent quality control system.
To foster trust in its products, Fong's must operate at the highest quality, and ensure its processes and equipment comply with the necessary regulations.
"Without quality, customers will leave and the business will lose out, so people need to put their heart in it," said Mr Fong.
With the help of Enterprise Singapore, Fong's attained ISO 13485:2016, a standard which supports medical device manufacturers in establishing stringent and effective work processes.
In fact, adopting this standard improved the company's credibility as an established purveyor of high quality medical devices, especially since many of its clients assess their suppliers based on this standard.
"The adoption of such standards helped us in refining our quality management system to ensure compliance with customer requirements and applicable medical device regulations," shared Mr Wong.
Fong's also attained ISO 14971, which helps manufacturers establish a risk management process to manage potential hazards and risks in the different life cycle stages of medical devices.
To cater to their clients in the US, Fong's is also compliant with in-market standards such as Food and Drug Administration (FDA) 21 CFR Part 820, a Quality System Regulation to ensure that medical devices in the market are of high quality and are safe for use.
Never one to rest on its laurels, the company plans to adopt more standards to safeguard its business. It is considering ISO 22301, a standard for business continuity management systems to manage disruptive incidents, and minimise disruption to businesses.
"Achieving this certification would be a major milestone...Our clients can rest assured we take quality seriously enough to comply with best practices and regulatory requirements, and that we have better control over our manufacturing processes for constant improvement," said Mr Wong.
Interested to embark on your own transformation journey? Find out more Industry 4.0 and standards adoption.
Read all stories here.