Vietnam
From its large, expanding consumer market to a vibrant manufacturing landscape supported by a young and abundant workforce, Vietnam offers prime business opportunities.
US$3,756.5
GDP per capita (2021)
The World Bank
S$26.92b
Total bilateral trade in goods (2021)
UN Comtrade Database
11th
Trading partner rank (2021)
Enterprise Singapore
Sustainable infrastructure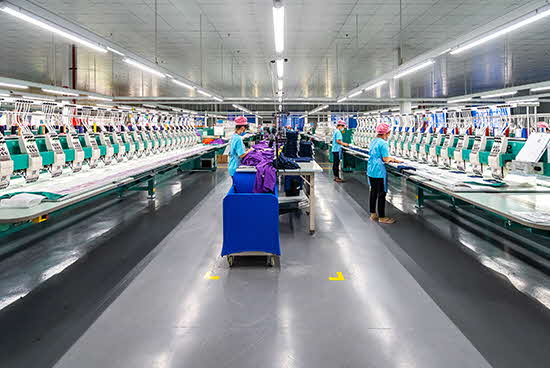 With robust taxation policies, competitive labour costs and multilateral free trade agreements, Vietnam is emerging as a major manufacturing hub in Asia. The country also aspires to move up the manufacturing value chain, with a focus on high-tech products and R&D activities.
Manufacturing is a significant industry in Vietnam, contributing 25.1% to its GDP in 2021 and accounting for 23.1% of total employment. It has a balanced structure of high value manufacturing such as smart phones, electronics and components, and low value manufacturing such as clothing, footwear, and food. Against the backdrop of geopolitical developments and global supply chain disruption, Vietnam continues to stand out as an ideal location for manufacturers due to its fast growing economy, abundant and competitive-cost workforce, extensive free trade agreements and strategic location. Building on this trend, the Vietnam government planned to increase the share of manufacturing to 30% of the national economy by 2030, focusing on attracting more foreign direct investments, especially into higher value-added manufacturing in Vietnam. Recent notable investments by global manufacturers are shaping up Vietnam's high value industries: Apple has moved 11 factories of Taiwanese enterprises in its supply chain to Vietnam. Other firms such as Foxconn, Luxshare, Pegatron and Wistron are expanding their production facilities in Vietnam. Samsung built its largest research and development centre in Southeast Asia (worth US$220 million) in Hanoi and plans to expand its existing factories in Vietnam. In light of these developments in its manufacturing sector, Vietnam presents opportunities for i) Singapore manufacturers to diversify your international supply chain and/or support your current operations; ii) Singapore companies to look for original equipment manufacturer (OEM) partners; and iii) Singapore companies to provide advanced manufacturing solutions and technologies to support Vietnam's manufacturers in moving up its value chain. Vietnam's government has taken steps to help the country's manufacturers transit into higher value-added activities. This reflects an opportunity for advanced manufacturing solution providers to work with local manufacturers in Vietnam and offer your services in areas such as automation, additive manufacturing, the industrial Internet-of-Things, and robotics.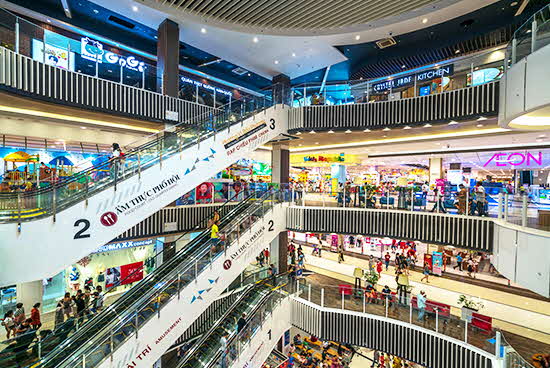 With a population of 97 million and a growing middle class, Vietnam is experiencing a consumer spending boom fuelled by the growth of discretionary income. The middle-class in Vietnam, currently accounting for 13% of the population, is expected to double by 2026. Disposable income per capita is estimated to reach US$3,062 by 2023. The urban population is also expected to grow at a compound annual growth rate (CAGR) of about 3% from now until 2025. These factors are driving the growth of the consumer sector, especially in F&B and education. The Vietnam government's target of raising consumer online shopping to US$35 billion by 2025 with a 25% yearly increase also opens doors for Singapore businesses to leverage e-commerce for their expansion plans. Companies can take their first steps into the market through online sales, a fast and capital-light approach to market entry, or tap on e-commerce platforms to accelerate their expansion without being constrained by an offline presence. The Singapore brand name is often associated with quality and trust by Vietnamese consumers. Singapore is among the top preferred partners for Vietnam companies, especially in sectors such as education and healthcare. This gives a head start to Singapore companies seeking to enter the market.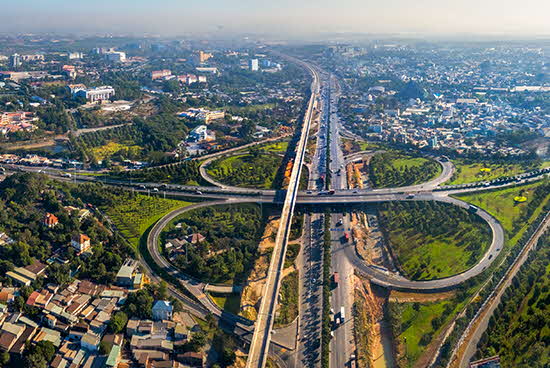 The Global Infrastructure Hub estimates that Vietnam will require up to US$605 billion of infrastructure investments by 2040. These investments span the energy, telecommunications, transport and water sectors. While 5.7% of Vietnam's GDP is invested into its national infrastructure annually, there is still a financing gap that requires private sector participation to support the country's infrastructure development plans.
There is potential for Singapore companies to work with Vietnamese corporates to provide financing, technology and operating expertise to Vietnam's green energy, smart cities infrastructure, and water & wastewater treatment.
Renewable Energy
Following COP26, the Vietnam government is working towards achieving net-zero by 2050 while ensuring energy security. There is now strong impetus to shift from a coal-centric energy strategy to incorporate solar and wind power. This is to diversify Vietnam's energy mix as it aims to tap on solar and wind power to generate 50% of its energy requirements by 2045, and concurrently meet the growing demand for energy.
Singapore companies can offer solutions across the value chain, from the development of renewable energy assets to the operation and maintenance of such assets, as well as solutions for energy management and renewable energy credits.
Smart Cities
There has been growing interest amongst public and private sector stakeholders in developing sustainable and smart townships, as 41 out of 63 provinces in Vietnam proposed plans for developing smart cities. Some of their key priorities include transformation into a cashless economy and developing its ICT infrastructure, data centres, public safety and cyber security, and smart mobility sectors.
Singapore companies can work with system integrators and end-adopters amongst the public and private stakeholders to offer their solutions, with the track record of past successful deployments in Singapore.
Water
The Vietnam government is reviewing regulations on water quality and standards for wastewater treatment considering long-term environmental concerns and water security. The push towards more stringent environmental protection regulations is also in line with multinational companies' increasing demand towards their suppliers. For example, the textiles and garments industry is under pressure from their end clients to adopt more sustainable practices, including more efficient use of water and the re-use and recycling of wastewater.
This presents opportunities for Singapore companies to offer proven water treatment and water recycling technologies for both urban and industrial applications.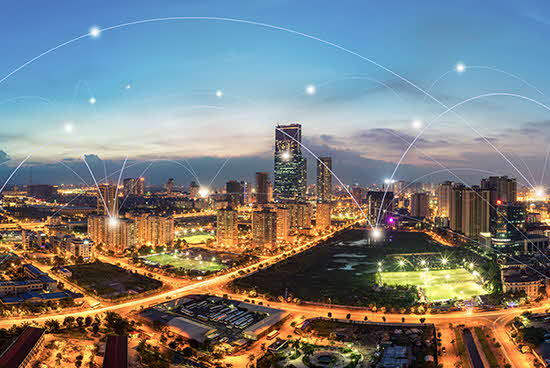 As of December 2021, Vietnam is home to four unicorns and more than 3,800 startups. In 2021, total funding going to Vietnam startups reached a new high of over US$1.3 billion, 1.6 times the prior record set in 2019.
With a large pool of cost-competitive engineering and IT talent, many foreign companies find Vietnam an appealing location to set up their R&D or tech development centres. With mobile phone penetration of over 70% and 70% of the population under the age of 35, Vietnamese are also rapid adopters of new technologies.
EnterpriseSG expanded the Global Innovation Alliance network to Vietnam in 2019, to create more opportunities for Singapore startups to gain overseas experience and connections, and collaborate with partners in Vietnam. More than 50 Singapore startups from sectors including real estate, healthcare, smart mobility and education have participated in the programme to date.
Bring your business solutions to Vietnam's shores and expand into this high-growth market.
Learn about Vietnam's business hubs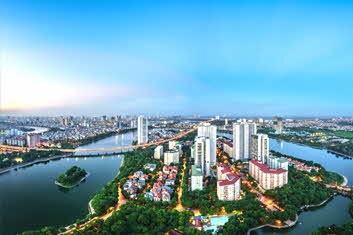 Hanoi
Hanoi is Vietnam's capital and second largest city, with a population of 8 million people.
Besides being Vietnam's political centre, Hanoi is also the 2nd largest economic power house, contributing nearly 20% of the national GDP and the 2nd most attractive city for foreign direct investments in Vietnam. The fast urbanisation and sizable consumer market in Hanoi present promising opportunities for foreign companies in urban infrastructure solutions and lifestyle services to capture. Being home to 80% of universities, research institutes and key national laboratories, Hanoi is regarded as the capital of science and technology in Vietnam. It is emerging as an attractive place to global technology firms. For instance, Samsung opened its R&D center in Hanoi, the largest research facility in Southeast Asia. Vietnam also is building its first ever kind of National Innovation Center in the city as part of the national efforts to develop its innovation infrastructure and ecosystem. This is expected to drive more investments in innovation and R&D activities in Hanoi once completed.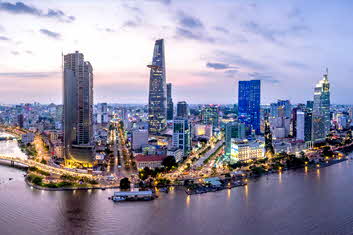 Ho Chi Minh City
Ho Chi Minh City is widely regarded as the financial and economic hub of Vietnam, contributing to nearly 25% of Vietnam's GDP.
With a population of approximately 10 million people, more than 50% of its residents are under the age of 35. With increased disposable income and spending, this has also enabled foreign food and retail brands to tap on a new target market that has become more perceptive and open towards trying new products and brands. Ho Chi Minh City is also becoming a key innovation and technology hub in Vietnam. Strong government support and abundant tech talent have drawn a steady stream of startups and investors to the city, as the Ho Chi Minh City government focuses its efforts in digital transformation and developing a knowledge-based economy.
Ways for you to start in Vietnam
Learn about doing business in Vietnam and tap our range of programmes to set your business up for success.

Get in touch with partners, government agencies, and Singapore associations to help you enter Vietnam.