As they continue to hone their craft, find out how Chan Yew Leather embraced digital change to keep up with times, to serve a new generation of customers.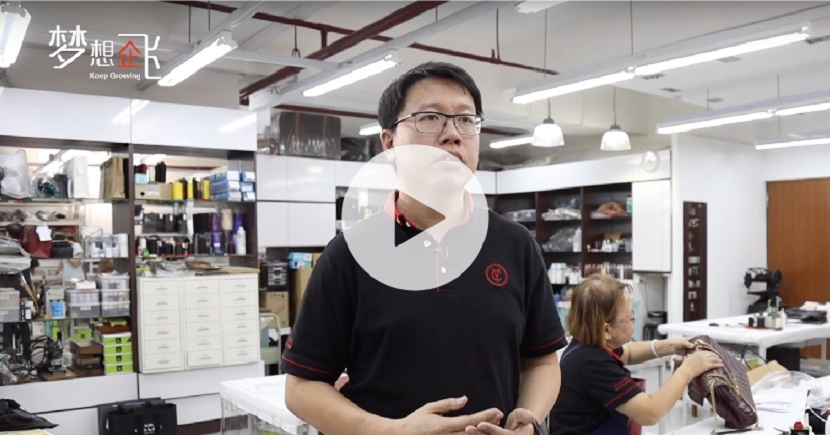 Early years of leather making
Chan Yew Leather opened its doors for business in 1941 on Prinsep Street. When it was passed on to second-generation owner Mr Chan Siew Wen (currently 72 years old), he never imagined that his own children would one day take over the traditional leather-making trade.
He shared: "As I got older, and business waned, I did not intend for my children to take over because they had their own careers.
To his surprise, the younger Mr Chan, 37, expressed an interest in taking over Chan Yew Leather over a family dinner.
He did so with one goal in mind – to modernise and transform the business, so they could diversify their offerings.
With each generation of owners that have come onboard, Chan Yew Leather has transformed and adapted with the changing times. The business first began in the manufacturing of handbags, belts and leather accessories. Today, it specialises in manufacturing bespoke leather goods and restoring luxury leather goods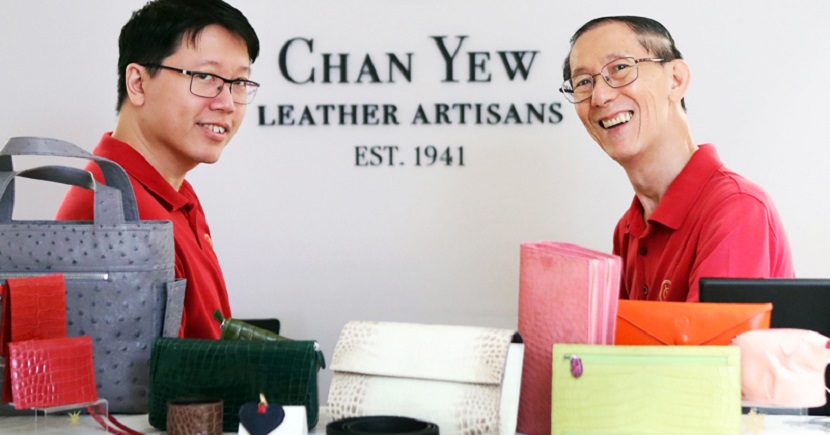 Doing more with digital solutions
When the elder Mr Chan took over in the 1970s, the company had already developed deep knowledge of bag and leather accessory designs. In the 1980s, the astute Mr Chan noticed a burgeoning demand among consumers for luxury goods and started offering repair services for luxury leather goods. As Chan Yew Leather's reputation grew in esteem among the industry, it caught the eye of major French and Italian luxury fashion houses, which started to work directly with the company for the repair works needed for their products.
Chan Yew Leather approached an SME Centre business advisor from SME Centre@ASME (Association of Small & Medium Enterprises) to explore ways to transform the business and expand beyond Singapore.
The advisor identified several areas of improvement for Chan Yew Leather. It had to strengthen its intellectual property (IP) protection, work on developing a franchise model and human resource capital development, as well as think about automating core processes and embarking on Service Excellence.
Before implementing any changes, however, the younger Mr Chan had to get his own house – or more accurately, workplace – in order first. "Imagine a workshop where tools and materials are all over the place. Employees would still jot down orders in a physical book."
Hence, he introduced digital systems, and told employees that order was necessary so that they could focus on their tasks, and workstations had to be tidy.
With that structure in place, he was able to focus his efforts on Chan Yew Leather's expansion, which included taking the business beyond Singapore.
First, the company embarked on conducting IP diagnostics, which includes business and legal diagnostics – a necessary step to prepare the company for internationalisation. Mr Chan needed to better understand the instrumental role IP played in his business, and the strategies required to bring Chan Yew Leather abroad while protecting its ideas.
Next, the company worked on developing a franchise model and branding. This resulted in the creation of a brand new website that not only encapsulated elements of its rich history, but also its mission to deliver premium goods.
The younger Mr Chan was also aware of the need to upskill his employees and automate manual processes, which would help in attracting new talent as well. Chan Yew Leather thus set out to redesign job scopes, and investing in machines that would complement these same jobs and older workers.
For instance, the company bought high-tech sewing machines that were able to stitch hard-to-reach areas, as compared to traditional sewing machines, which only offered manual stitching. With the introduction of new equipment, Chan Yew leather saw a drastic improvement in productivity.
Since the younger Mr Chan took over, the company has grown from an operation of fewer than 10 people, to 30 employees today. Orders for its goods have also increased by four times.
Chan Yew Leather recognised the need to go beyond just taking orders. It needed to develop a customer relationship management system to anticipate customer needs. This was necessary to improve existing business relationships with customers and acquire new ones. These factors will eventually drive sales growth, which is what Chan Yew Leather has been striving towards.
These are all part of the growing pains of an SME with big dreams.
Offering quality product to the rest of the world
Today, Chan Yew Leather makes small leather goods and handbags, with advanced technology and quality materials. For instance, 90 per cent of the leather used is from local tanneries that get their source from farmed Nile Crocodiles in Africa and farmed alligators in South America.
Mr Chan told Today: "Singapore tanneries have better quality, technology and skilled labour to process these raw materials into high-quality crocodile leather to be used by top manufacturers/fashion houses in the world."
The company has also opened its first store in Kuala Lumpur, Malaysia in September 2019, and hopes to expand to other Southeast Asian countries in the near future.
These new milestones, in his journey into the world of bespoke leather goods production, are no accident.
He was able to draw from the personal stories he has heard while serving SME clients in his previous role. "I started to understand then that having your own business was an achievement in itself. I soon realised that if I did not take over, Chan Yew Leather would shutter its doors sooner - or - later.."
To give our local businesses greater access to business advisory, we Enterprise Singapore have teamed up with five trade associations and chambers to set up a network of 5 main SME Centres and 6 satellite centres. They are here to support you in your various challenges and spotting new opportunities to grow your business.
Find out how you can grow your business with our business advisors.