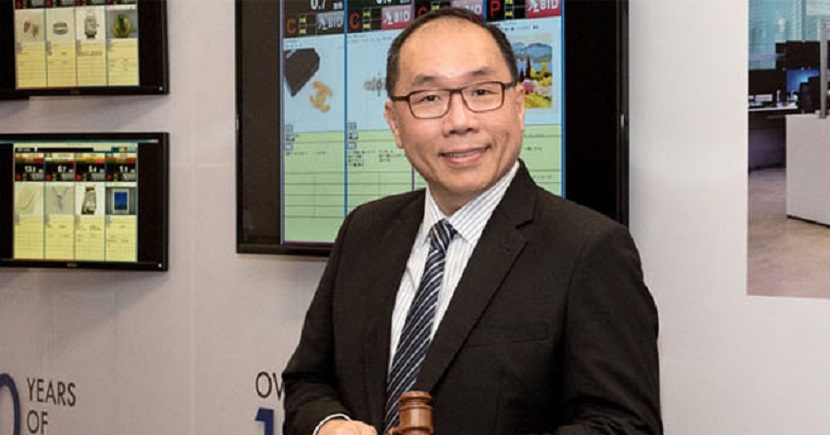 Moneymax's chief executive Peter Lim expanded his conventional pawnbroking business from one outlet to more than 50 within a decade in the most unconventional way.
In 2015, MoneyMax introduced Singapore's first digital pawn platform. Supported by a Capability Development Grant ¹, from SPRING Singapore (now Enterprise Singapore²), it developed MoneyMax Online, a business-to-consumer (B2C) web and mobile application platform for customers to shop, sell and receive appraised values of their precious items.
In 2016, the listed company pioneered the pawning, selling and trade-in services for pre-owned luxury bags in Singapore. Today, Dr Lim is looking to get global customers with his latest business - SG e-Auction.
A joint venture between MoneyMax and Tokyo-listed Aucnet, it will be Singapore's first real-time business-to-business (B2B) online auction platform when it is launched in early 2018. Aucnet has been enabling auction services for more than three decades and its luxury-brand B2B auction is Japan's largest, with an item sold every three seconds .
As with Aucnet's Japanese e-auctions, SG e-Auction will be a marketplace for only licensed and registered businesses. They must also sign up as members, said Dr Lim. "We must protect the interest of the B2B community." SG e-Auction will be an exact replica of what Aucnet offers in Japan, complete with technology and know-how — save for the localisation tweaks that serve to further enhance the user experience.
Outlining SG e-Auction's allure, he said: "As a seller, my aim is to sell. Doesn't matter to which country, as long as it's sold, and sold at the best price. You don't need to go to Japan to buy — just go through us, and get the price and the quality you want. Imagine how much you'll save on cost and time."
Should all go well, SG e-Auction will be a catalyst to spur the vibrancy of not just the Singapore market, but that of the wider ASEAN region.
MoneyMax's Dr Peter Lim shares five factors that played a part in his latest wholesale digitalisation undertaking:
Why should an already successful wholesale business expand overseas?
"The problem is the small market here. However, our Singapore brand is trusted globally — it represents quality. A good brand in Singapore that is doing very well should not be restricted locally. We should go beyond our shores."


How important is money in a partnership?
"Money is not all that matters. People may say that financial resources are very important when looking at investing overseas. But it's not the most important consideration. Partnership is about identifying complementary strengths. You have the technology, I have the market, let's cooperate. I told Aucnet: 'Together, we will open up your business to Singapore and Southeast Asia.'"


How important is it to remain focused, when there are so many things to take care of?
"When we do things, we must be focused. People always say, go to this place, that place, or China to do business. A lot of companies only see far, and miss the market in front of us. We forget that we have a stronghold in Southeast Asia. Our Japanese partner also believes in being focused. They don't dabble in anything unfamiliar. Cars, motorbikes, luxury goods and medical equipment — yes. They won't sell candy as it's not their specialty. This is what I appreciate about them. You are the buyer so you know the product. I am the platform operator — I also know the product."


What if employees are apprehensive?
"My employees are excited. Initially, they could see the idea but had doubts. But now, there's a teacher (Aucnet), so success is guaranteed. We have chosen our best people to take part in the training programme. They will be equipped with holistic knowledge, from managing a traditional distribution channel to a new online platform. AucNet has also agreed to send a team over to facilitate the knowledge transfer. The collaboration will offer an exchange of minds and talents."


It's easy to be overwhelmed when thinking about going overseas. Who can help?
"IE Singapore (now Enterprise Singapore²) guided us and gave valuable advice, especially in partnership meetings. They gave us funding support as well. With IE's help, our globalisation path was shortened, with fewer obstacles and mistakes. In Japan, the IE officer accompanied us to business meetings as a translator, because language posed a problem. IE will help with whatever information you need. Some are only preoccupied with how much money IE provides. But why talk about funding when you've only just started looking at overseas expansion? Along the company development process, IE will take on other roles, like negotiations and providing clarifications on taxes."
Inspired by MoneyMax's transformation story? Find out how we can partner you to take your business to new heights today.
Read all stories here.