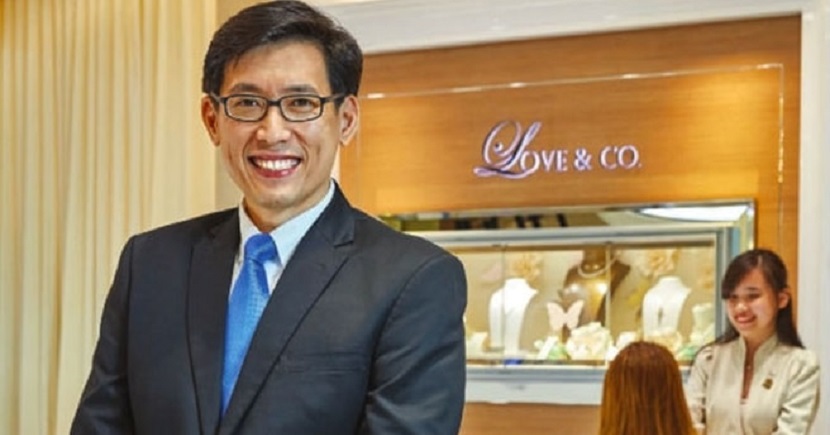 Seeing is believing when it comes to investing in something as valuable as a diamond. The need to visualise the 4Cs – carat, colour, cut and clarity – and feel the precious stone first-hand is a key part of the buying decision.
Yet, a common practice by jewellers is to provide a two-dimensional graphical sketch using computer-aided or hand drawings based on customers' requirements a few weeks before the first prototype is ready. If subsequent design changes are required, the process can be dragged out even further.
Soo Kee Group takes the 'miss' out of this hit-and-miss process by providing customers with a three dimensional (3D) model of their design using their own 3D printers. A process that used to take three weeks now just takes three days.
The quicker turnaround enabled the company to produce up to eight times more designs and pay greater attention to the quality of prototypes.
As a result, Soo Kee, which sells its products through its line of retail outlets, such as SK Jewellery and bridal jewellery brand Love & Co, has seen an improved conversion rate of such sales by 10 per cent. Customers are far more likely to buy after viewing the 3D model, as opposed to a 2D sketch.
Updating the jewellery experience
While 3D printing is not new, producing a jewellery prototype requires a high level of precision due to the intricate details that need to be captured. Adapting the 3D printing technology for the jewellery industry is one of several research and development (R&D) initiatives that Soo Kee has done to move up the value chain from a middleman to a jeweller that develops its own products. The company now hires almost 20 employees as part of their R&D team.
Through the use of this technology, they have transformed and enhanced customer experience. "We want to play a bigger part in the consumer journey and R&D is the key to doing so," said Mr Daniel Lim, CEO of Soo Kee Group.
Soo Kee's transformation was prompted by keen competition within the industry, as well as a new generation of customers that wanted more personalised products that could be delivered quickly.
"It is all about adding value and differentiating yourself from the competition. In order to do that, we need to embrace change and look towards technology for solutions. This concept of disruptive thinking is something I encourage in my team," explained Mr Lim.
Developed with funding support from SPRING Singapore (now Enterprise Singapore¹), the 3D printing technology has helped Soo Kee enter into a new business segment: corporate firms who desire bespoke items to be given out to their customers or staff on special occasions.
The jeweller now produces personalised products for organisations such as banks, insurance companies and hospitals. "It is an important business for us and has a lot of potential for growth," revealed Mr Lim.
With the belief that an informed customer is the best customer, Soo Kee introduced the digital diamond report in 2017, offering customers additional information regarding the quality of a diamond beyond the 4Cs.
The technology was obtained through a partnership with Israeli technology firm, Sarine Technologies.
Currently available at its Love & Co. showrooms, what customers get from this service is a digital report that scientifically and objectively measures the light performance of a diamond grade based on four parameters – brilliance, sparkle, fire and light symmetry. Customers are also able to see a rotational 3D magnified view of the diamond on a tablet.
Soo Kee has already seen a pick-up in sales following the launch of the service.
Click-to-brick
Innovation does not stop there. To better reach out to potential customers and draw them into their stores, Soo Kee has adopted a 'click-to-brick' strategy that fuses their online and physical retail platforms into one seamless experience. The company is also working to optimise its website so that customers are able to make an informed decision before coming to the store for the actual purchase.
Moving up the value chain
Beyond leveraging technology, Soo Kee has also embarked on a strategy of diversification and internationalisation to sparkle its growth.
In July 2016, the company launched SK Bullion – a platform that offers buying, selling and insured storage services for investment-grade gold, silver and other precious metals.
Today, it is looking to grow its international presence beyond Singapore and Malaysia, where it has over 60 outlets. In addition, it entered into a joint venture with Thailand's Aurora Group in February 2017, marking its entry into the Southeast Asian nation with the Love & Co. brand.
Even as Soo Kee plans to open 20 outlets over the next five years across Thailand, Singapore will remain an important base for the company to develop and test new innovations.
"While the market size is limited, Singapore is an excellent platform to showcase and test what we think is good," Mr Lim said.
"The investments we make in talent and equipment here can help us with the next few years of growth."
Are you looking to improve your business's productivity? Find out how Enterprise Singapore can help you today.
Read all stories here.