When bulk orders from corporate clients came piling in, bespoke mobile tailoring service A Gentleman's Tale was faced with a tedious and lengthy process. It took two sessions lasting three hours each, to finish individually measuring 70 employees from a car showroom company—leaving a toll on its tailors who had to do it by hand.
Seeking a more efficient way to take measurements and cut down waiting time for busy executives, it found a solution in the form of a 3D body scanning machine in 2018.
"The scanner captures body measurements directly into a customer database, reducing the time needed for us to manually record details. This ramped up speed and convenience is certainly a welcome relief, especially during busy seasons when we can get up to 200 orders a month," said co-founder Lyn Chan, who was previously from the fashion industry.
The quirky travelling tailor — Version 2.0
Ms Chan recalled the time when she and her business partner Kenneth Chia started the business in 2015. They had to lug suitcases—containing fabric samples and sewing tools—and rely on public transport to meet clients.
As business grew—mostly via word-of-mouth, the pair invested in a van, which doubled up as an office and a means of transport. Doing so allowed A Gentleman's Tale to stay true to its roots of bringing a holistic tailoring experience to the doorsteps of customers.
Its mobile tailoring showroom comes fully equipped with a full-length mirror, pop-up changing room, and racks outfitted with clothing samples and shoes. The sleek interior is designed to mimic the feel of a retail space.
Its newest outfit is a bigger, customised van that is installed with the 3D body scanning technology.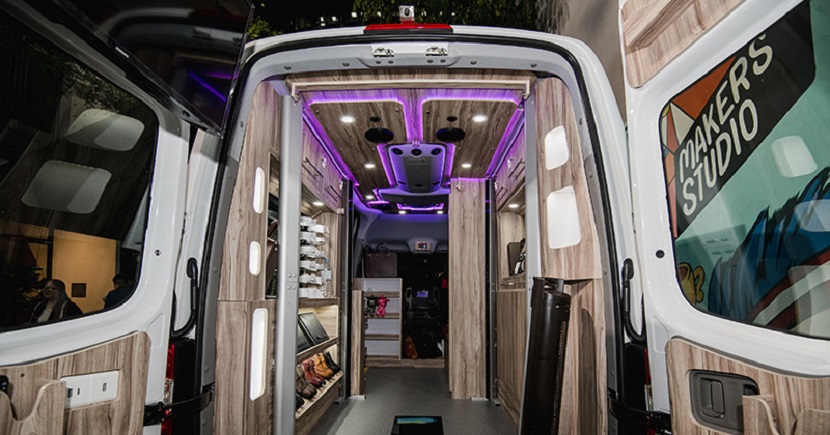 "Customers could simply stand there and let the 3D scanner's 16 infrared points do the work. Precise body measurements will be churned out—all within a matter of two seconds, as compared to six minutes previously," Ms Chan said.
With a 98 percent measurement accuracy, the technology also significantly lowers the risk of human errors.
Moving with the times
One of the biggest challenges A Gentleman's Tale initially faced was having to navigate the sheer volume of information online to get help. But Ms Chan acknowledged that they were fortunate to have met business advisors at SME Centre @ Association of Small and Medium Enterprises (ASME), who pointed them in the right direction.
She was introduced to the 3D scanning technology through a project led by SME Centre @ ASME—which aims to raise productivity for the tailoring sector—under Enterprise Singapore's Group-based Upgrading (GBU) initiative.
The use of this technology has opened up a world of exciting possibilities for the company, giving them the opportunity to expand into events, pop-ups and roadshows. It also allows them to explore branching out to online shoppers.
"Customers can come to us just once to take a full body measurement, and use the measurements to tailor different kinds of outfits without having to physically come down. They can also use that data to find the most accurate clothing size when shopping on other platforms," explained Ms Chan.
Ms Chan enthused about the huge potential that the 3D scanning technology may bring. She envisions a future where measurements can be translated onto fabrics directly through a laser machine—pieces can be cut and sewn right after an order is placed.
Ms Chan also hopes to bring A Gentleman's Tale unconventional mobile tailoring services on the road to nearby countries one day.
"Adopting innovative technology is a step forward for people like us in a traditional industry. It breathes a new life into a dying trade—one which the younger generation are less keen to enter," Ms Chan added.
Thinking about adopting an innovative technology to increase productivity, but not sure where to get started? Speak to our SME Centre business advisors to find out how you can grow your business. Click here for tips to make the most out of each business advisory session.
Read all stories here.