Year-In-Review 2019
Find out how we helped enterprises transform and grow.
Overview
2019 may have been a challenging year but that didn't stop Singapore enterprises from stepping up and pushing forward with their transformation efforts.
Last year, we saw more than 11,000 enterprises embark on over 13,000 projects covering productivity, innovation and market access. These projects will support companies to build resilience, strengthen competitiveness and better position themselves for the future.
All these efforts are expected to create $17.3 billion in value added and 21,700 PMET jobs.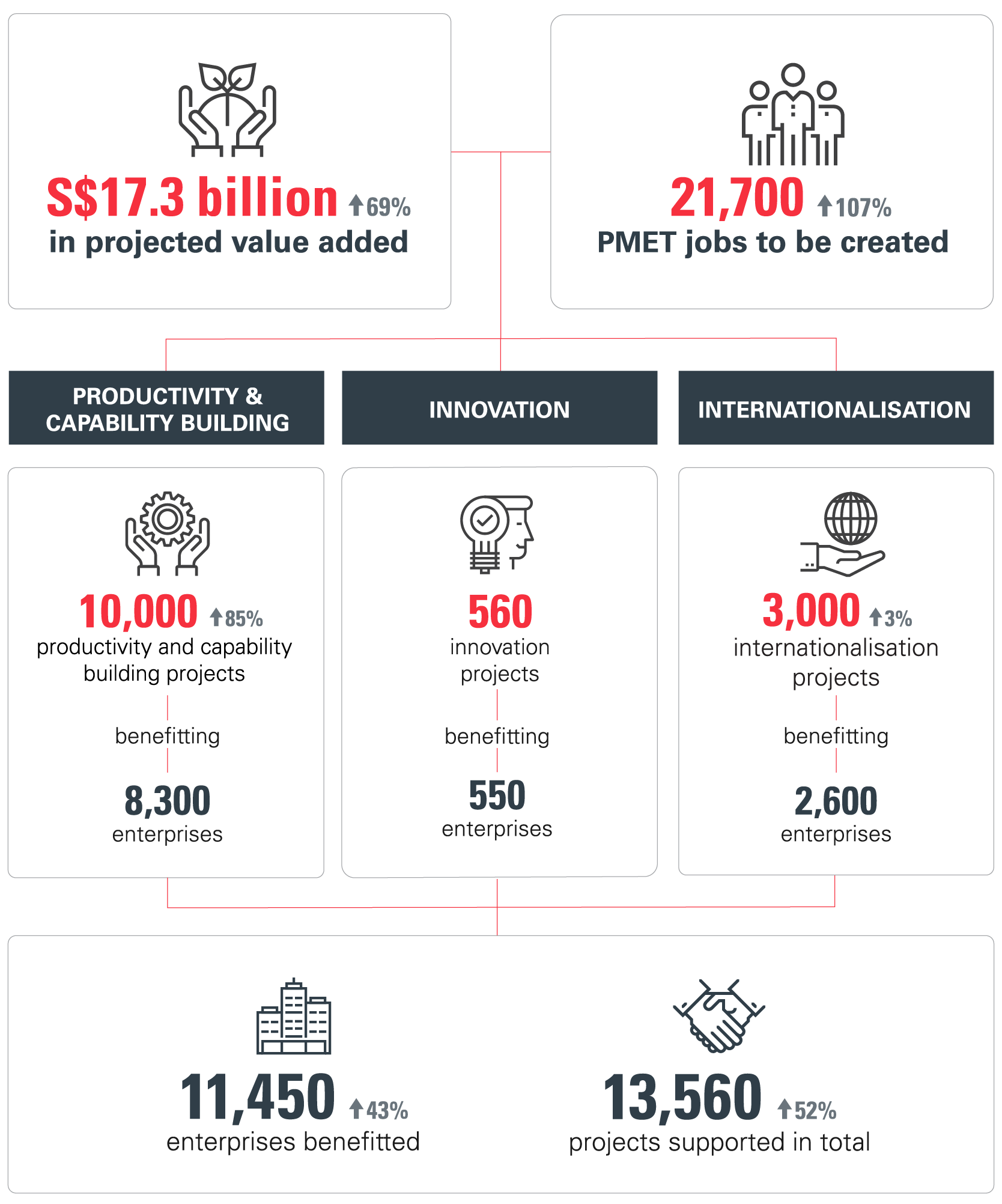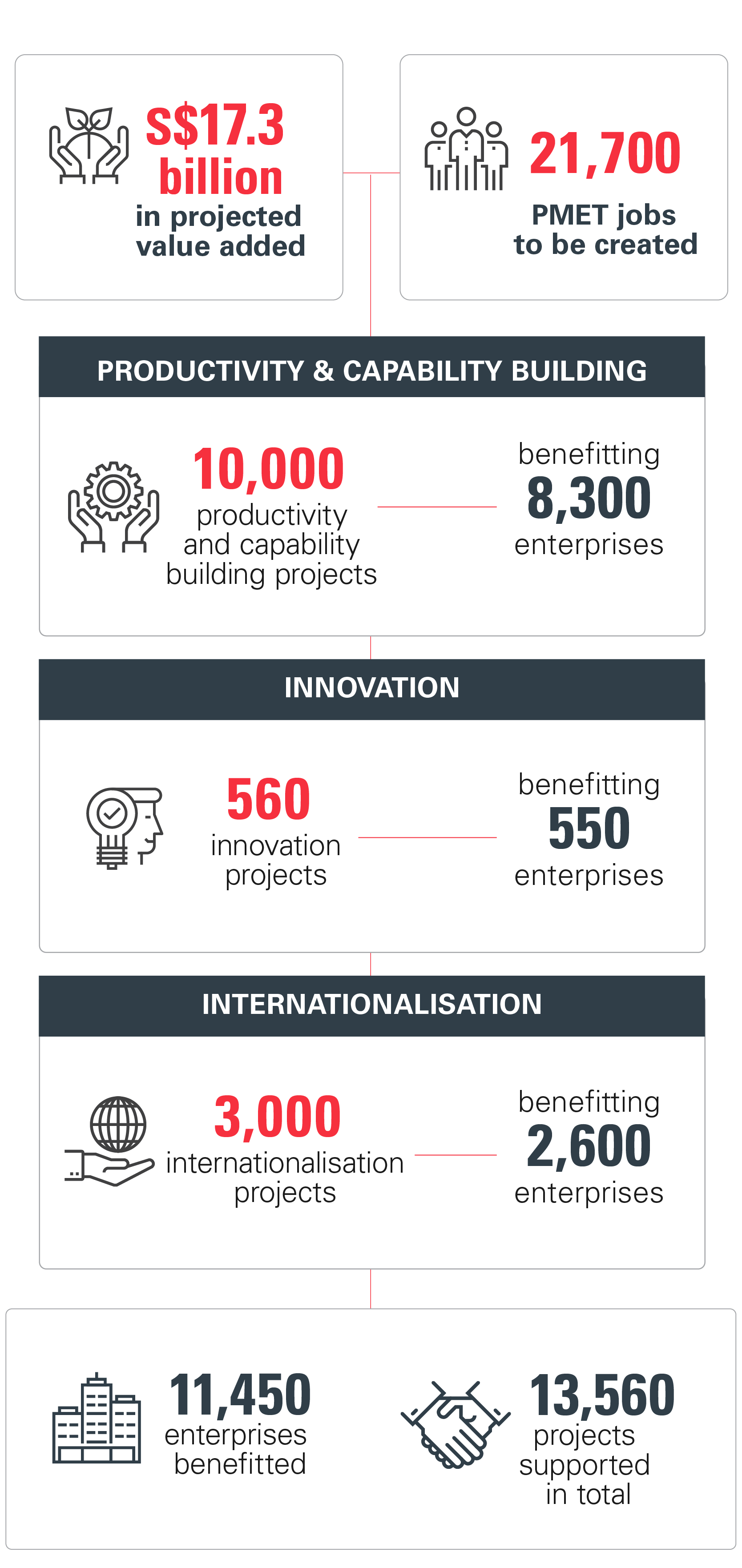 ---
Working with companies in three focus areas
We doubled down on working with companies to upgrade capabilities, strengthen innovation, and accelerate internationalisation – the three priorities we announced in our Strategic Plan. These enterprise development strategies gained significant traction over the past year, with both the number of enterprises and projects supported increasing (43% and 52% respectively) year-on-year.
Productivity and capability upgrading

Number of projects increased by 85% as compared to 2018
Over 60% of enterprises embarking on projects came from the services sectors – lifestyle, trade, transport and logistics – in line with a priority to become manpower-lean
Many efforts to automate and digitalise were done through easy-to-adopt solutions supported under the Productivity Solutions Grant

GKE Corporation

Third-party logistics provider GKE is working with us on a process redesign project to digitalise manual documents such as delivery orders and packing forms. When completed, this will link its warehouse management systems with mobile devices for faster and more accurate updates via online dashboards.

Many SMEs participated in open innovation calls and co-innovation platforms initiated by large corporates and government agencies
We launched two new Centres of Innovation (COIs) – Ecolabs Centre of Innovation for Energy and Aquaculture Innovation Centre – to better support SMEs
120 enterprises collaborated with ten COIs on 180 innovation projects
2,000 startups gained access to funding, incubation and mentorship opportunities under a strengthened startup ecosystem
We appointed 17 new Accredited Mentor Partners (AMP) and 23 new accelerators to groom high growth startups

Senserbot

Robotics firm Senserbot exemplifies how innovation enables enterprises to disrupt traditional sectors and ways of doing things. The firm developed a shelf-reading robotics solutions for libraries to locate and identify mis-sequenced books, thereby revolutionising a manpower-intensive process that was prone to errors. Senserbot is currently speaking to potential customers in Japan and Korea to deploy its solutions there.

SFF X SWITCH

International platforms, such as SFF X SWITCH and SLINGSHOT, bring the startup community together. In 2019, SFF X SWITCH drew 60,000 participants from over 140 countries, while marquee startup competition SLINGSHOT received 2,400 startup applications from over 120 countries.

60% of enterprises came from wholesale trade, professional services, ICT (information and communications technology), and retail sectors
We co-led 3,360 enterprises on 230 overseas missions and tradeshows to seek new opportunities and partners
We curated a series of pop-ups in Manila, Tokyo and Bangkok for Singapore food and retail companies to gauge market receptivity and generate business leads
China and Southeast Asia were the top markets based on number projects we facilitated
Emerging markets such as India, Middle East, Africa and Latin America also saw significant interest

Benns Chocolate

Premium chocolate manufacturer Benns Chocolate made their first foray into the Philippines after participating in the Singaporium pop-up in Manila. They formed a partnership with local Filipino distributor FDI to sell their products at 900 supermarkets, hypermarts and convenience stores across Metro Manila.
---
Working with partners and intermediaries for enterprise development
Given that the large and diverse local business landscape, we couldn't have managed to do what we did all by ourselves. Our network of partners and intermediaries played – and will continue to play – an important role in amplifying our reach and engagement with local enterprises.
Financial institutions and insurers extended S$2.2 billion worth of loans (with us co-sharing the default risk) to 7,900 enterprises. 90% of these enterprises tapped the Enterprise Financing Scheme – Working Capital Loan for SMEs.


Local banks and telcos offered over 10,000 pre-packaged digital solutions to SMEs under the Start Digital initiative. The programme aims to provide young firms with foundational digital solutions such as digital transactions, accounting and cybersecurity to help them optimise their processes from the get-go.


SME Centres serve as a first stop of assistance for Singapore enterprises. They offer a suite of services ranging from business advisory and diagnosis services to capability workshops to group-based upgrading projects. In 2019, over 28,000 companies benefitted from these activities.



Trade Associations & Chambers (TACs) play a lead role in industry development. For example, the Singapore Malay Chamber of Commerce & Industry's Kampong Gelam digitalisation project helped small businesses adopt digital solutions, while its Protégé Kita initiative equipped aspiring entrepreneurs with the knowledge and resources to develop business strategies.
---
Facilitating industry collaboration and growing networks
Industry-level projects uplift sector capabilities and result in win-win partnerships for all involved. By tapping complementary synergies and pulling together expertise and networks, both large corporates and small firms can accelerate their pace of growth.
A comprehensive global network of trusted partners also makes it easier for Singapore companies to grow. That's why we've been working to expand our network of in-market partners to better facilitate the flow of technologies, ideas and opportunities.
We facilitated 70 industry collaboration projects – including industry-specific and cross-industry projects – that involved the government, multinationals and large local corporates
We expanded the Global Innovation Alliance network to four new cities (Shanghai, Ho Chi Minh City, Bangalore and London) in 2019
Over 100 startups and tech SMEs benefitted from GIA, which currently spans 13 cities across 10 markets
KrisShop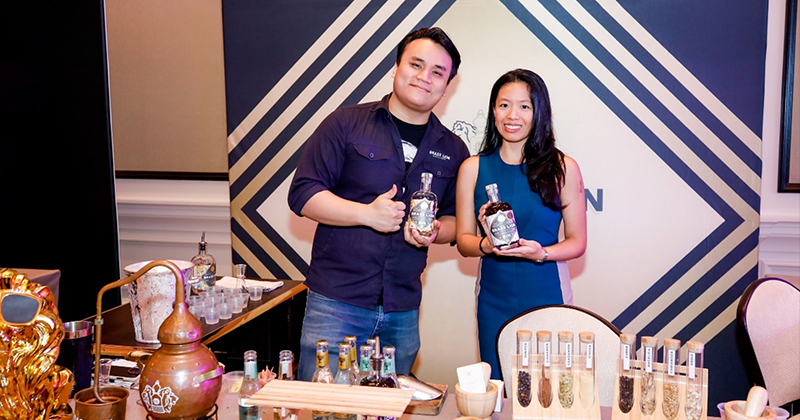 KrisShop is working with close to 20 brands to develop travel-retail ready products for its online store. One of these brands is Brass Lion Distillery, which worked with KrisShop to develop a gift-able 700ml bottle of gin to sell in-flight and online – marking the first time Brass Lion Distillery sold their gin outside of Singapore.
---
Looking Ahead to 2020
We know companies face many uncertainties on both the external and domestic fronts. Even so, we urge all firms to maintain their momentum in business transformation and we will continue to support their journey. This step in the right direction will enable your business to better compete amid intensified competition when the economy picks up. Together, we can make Singapore a vibrant economy with competitive local enterprises.
---
Additional resources
---